What is L-glutamine and do I need glutamine supplementation?
Glutamine is an amino acid that actually delivers results and helps your body in many ways. According to Wikipedia (The Free Encyclopedia on the Internet) it claims that L-glutamine has a variety of biochemical functions and many uses. Glutamine has been studied extensively over the past 10-15 years and has been shown to be useful in the treatment of serious illnesses, injuries, trauma, burns, cancer, and its treatment-related side effects as well as in wound healing for postoperative patients.
However, L-glutamine is mostly marketed as a supplement used for muscle growth, and muscle recovery and to aid in protein synthesis in weight training, weight lifting, bodybuilding, and other sports which require endurance. Upon extreme physical activity (like bodybuilding and weightlifting), your body draws large amounts of L-glutamine from the most abundant source you have – muscles. Therefore, a lack of this important amino acid can lead to muscle breakdown (aka catabolism). However, Nutrex Research Glutamine Drive is here to help!
By consuming a balanced diet of fresh veggies, lean meats, fish, and dairy, you'll ensure you're getting a good dose of natural L-glutamine from those foods to help with muscle recovery. If you're looking for an added boost, protein shakes (since they contain at least 3 g of glutamine), and separate L-glutamine powders (like Nutrex Research Glutamine Drive ) are widely available. Supplementing with L-glutamine can help maintain muscle integrity, support immune function, and aid in muscle recovery—all the things needed to build a better body.
Brief product description & key product features
Description
Nutrex Research Glutamine Drive delivers 5g of pure L-glutamine per serving to rapidly replenish glutamine levels in the body after strenuous workouts in order to support faster post-workout recovery. Therefore, the main purpose of this product is to reduce muscle breakdown caused by training, poor diet, or stress as quickly as possible.
Glutamine Drive is designed as a post-workout recovery drink. However, it also makes sense to consume it before training to ensure that your body doesn't run short during your workout. Even if it is taken before the training you have to be fully aware that glutamine will not have the effect of improving your athletic performance during the training like most pre-workout supplements do. You can't expect L-glutamine will boost your energy, and promote enhanced endurance and mental focus so you can go longer and harder with your workouts.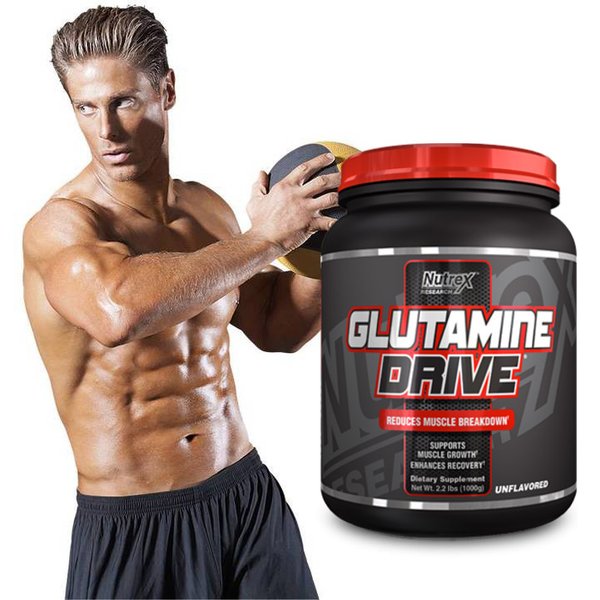 Key product features
5 g of L-glutamine per serving (1 scoop)
60 or 200 servings per container
Unflavored, fast-dissolving powder form
Ideal for muscle recovery
Contains no fillers or additives
Key product ingredients and their positive impact
Ingredient list
Glutamine Drive from Nutrex Research contains 100% pure L-glutamine which is one of the most widely studied supplement ingredients. There are no other ingredients in this product.
L-glutamine: 5 g per serving
Positive impact
All the numerous proven effects of glutamine as a dietary supplement can be attributed to Nutrex Research Glutamine Drive:
Reduces muscle breakdown caused by training, diet, or stress
Enhances muscle recovery post-workout
Promotes protein synthesis (helps maintain a positive nitrogen balance in muscle tissue)
Boosts the immune system
Increases the production and release of growth hormones
Helps in increasing the liver glycogen stores
Helps support optimal digestion and nutrient absorption
Promotes a healthy gut flora essential for overall health
Key benefits of Nutrex Research Glutamine Drive
These are the key benefits of Nutrex Research Glutamine Drive:
Ideal for daily consumption
Highest quality, ultra-pure L-glutamine
Enhanced muscle recovery
Replenish plasma glutamine
Banned substance free
Free of any artificial flavors, colors, sweeteners, and fillers
Great mix factor – can easily be added to any beverage of your choice
Downsides of Nutrex Research Glutamine Drive
Given that it is such a simple product – with only one ingredient, it is difficult to find any flaws or illogicalities. We have only two recommendations:
This product comes flavorless. It would be good if there was a variant with at least one flavor – for those who consume glutamine exclusively with water and don't mix it with other beverages or other flavored supplements.
Nutrex Research Glutamine Drive is not fermented (or, better to say produced by fermentation). Without going into too much detail we'll just say that fermented L-Glutamine provides an easier form of glutamine for the body to absorb.
The container is entirely too tall, making it difficult to get your hand in enough to scoop. This is especially true if you have bigger hands and when it's halfway done.
The scoop handle is too short.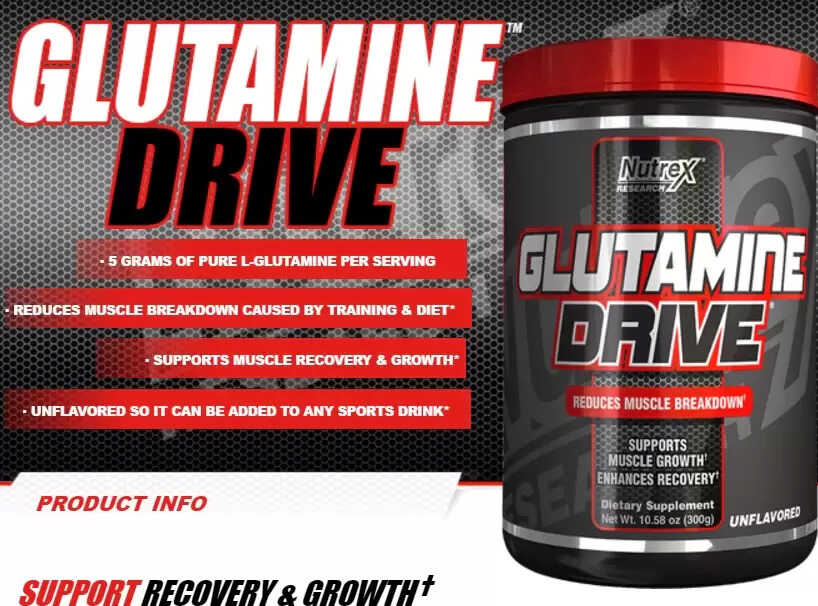 Flavors, mix, and taste
Glutamine is perfectly tasteless and odorless and mixes easily on its own or into any other product you're already using.
Side effects and warnings
Studies have shown that short-and long-term glutamine supplementation is safe in humans.
Do not use it if pregnant or nursing. Consult a medical doctor before starting a diet or exercise program.
Which company is behind this supplement?
Nutrex Research was founded in 2002 and operates out of its' own 80,000 sq ft, state-of-the-art facility in Oviedo, Central Florida. Their focus has always been on developing innovative, high-quality supplements with superior taste powered by the most effective ingredients.
Nutrex Research first hit the industry by storm with its advanced liquid capsule technology making LIPO6® a household name that became symbolic for stronger and faster weight loss results. Since then we have been a trusted brand for almost 20 years as we continued to develop a wide array of results-oriented products.
Today their supplements are distributed and used around the globe in 100+ countries. They are driven by the desire to offer the best possible product solutions so you can reach your physique and fitness goals faster. They are committed to providing continuous and standout product innovations to create stronger and healthier bodies.
Suggested use (method of application)
Mix 1 scoop with 6-10 oz of water or your favorite sports beverage and consume 1 to 2 times daily. For best results, take 2 scoops per day. On workout days, take 1 serving 45 to 60 minutes before your workout and 1 serving after.
Do I need Nutrex Research Glutamine Drive if my whey or casein protein already contains a sufficient dose of L-glutamine?
No, in this case, you don't need a separate (standalone) L-glutamine supplement. Many brands of meal-replacement products and protein supplements contain glutamine, making separate supplementation totally unnecessary. Every better whey protein already contains glutamine (and all other necessary amino acids) in a sufficient dose. For example, 100% Whey Gold Standard from Optimum Nutrition (the best whey protein on the market) contains 4 g of glutamine per serving. This satisfies all your daily needs for L-glutamine. Or even better, Kaged Muscle Kasein Protein Powder contains even 5.0 grams of glutamine & glutamic acid per serving (1 scoop or 35.6 g). However, if you consume 1 protein shake a day you can still take an additional 5 g of L-glutamine from a separate glutamine supplement.
Best supplements to pair with
This flavorless and odorless formula stacks and mixes easily with other supplements including BCAA, EAA, protein, creatine, pre-workout, and post-workout drink. Keep in mind that whey protein and casein already contain some amount of L-glutamine. The same can be true also for some pre-workout, and post-workout formulas.
Where to buy & pricing?
If you decide to buy this product the safest option is to make a purchase directly from the company's official website to ensure original products are delivered to you.
It costs $25.99 if you choose a 300g container (60 servings). That's $0.43 per serving.
1000 g container (200 servings) will cost you $59.99. That's $0.30 per serving. By purchasing a larger package, you save $0.13 (or 30%) per 1 serving.
The price of this product is quite reasonable, especially considering that this product is produced under stringent quality control standards to ensure proper purity and potency.
Just for comparison, Optimum Nutrition's Glutamine Powder costs $26.99 per 58 servings (300g container). That's almost $0.5 per serving. If you decide to buy a larger container (1000g, 194 servings) you'll pay $61.99 or $0.32 per serving). By purchasing this larger package, you save $0.18 or 36%.
Fermented, 100% plant-based (vegan), and quick-absorbing L-Glutamine from Kaged costs $24.99 (one-time purchase) for about 100 servings. That's almost $0.25 per serving.
Please note that all prices were valid at the time of writing this article and were taken from the manufacturer's official website.
Products of similar rank
Universal Nutrition: Glutamine Powder
MuscleTech Platinum 100% Glutamine
Gaspari Nutrition: Pure L-Glutamine Powder
Testimonials
Closing thoughts and summary: Should you buy Nutrex Research Glutamine Drive?
Adding a scoop of Glutamine Drive® to your post-workout drink or meal will greatly enhance muscle repair and primes your body for faster muscle tissue growth.
Nutrex Research Glutamine Drive Review
Worth trying! You can't go wrong with L-glutamine. Glutamine helps support increased cell volume and protein synthesis. Protein synthesis is the key to building muscle and recovering quickly after training. Glutamine also helps support increased glycogen replenishment – another key component in supporting muscle recovery.
User Ratings (

2

Votes)