What is a pectoral strain?
A pectoralis major strain is a tear in the main muscle across the front of the chest, commonly known as the 'pec'. Pectoral tearing – also referred to as pectoral strain or a pulled pec – is not uncommon among serious weightlifters. In this post you will find out more about your injury, and what you can do to recover from it.
What's going on in there?
The primary chest muscles are the pectoralis major and minor. The pectoralis major is the big muscle running from your sternum to your upper arm (the humerus bone). It's one powerful muscle, and it's the foundation of any arm movement.
The pectoralis minor is a smaller muscle, but it's also strong and dense. It runs on the side of your chest from the ribs to the shoulder blade (the scapula).
Pectotal strains aren't as common as, say, hamstring strains, but when they happen, they take you out of the game because they take your arms out of the equation. Moving your arms and lifting things will be painful.
The most common source of pec strains, not surprisingly, is weight lifting, especially doing bench presses. Contact-sport athletes (football, hockey, wres­tling) are also at risk from a direct impact on the muscle, an explo­sive movement, or overuse.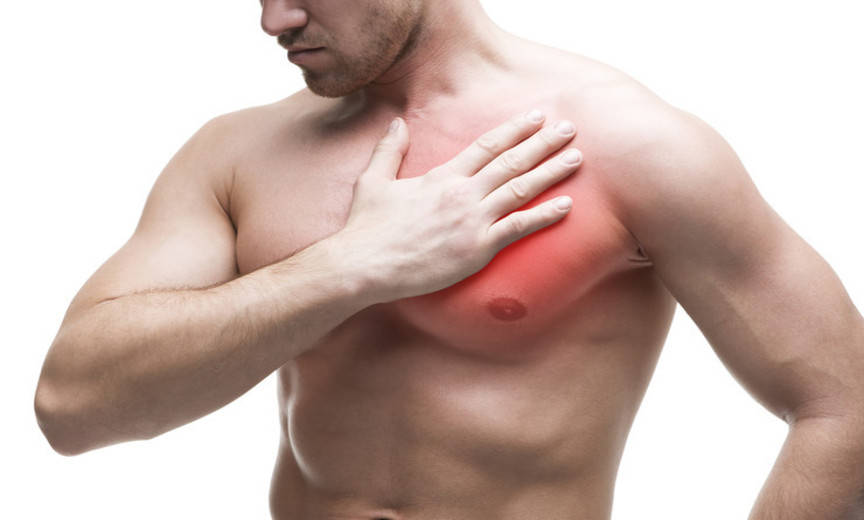 What are the signs and symptoms of a pectoralis major strain?
Nasty pain in one of the chest muscles and difficulty lifting things and moving your arm across your body. Bruising and swelling are possible. With more severe pectoral strains, you could have weakness in the muscle as well. An injury to the tendon attaching the muscle to the upper arm will give you pain closer to the arm and shoulder.
More precisely, the following effects are usually encountered in a pectoralis strain:
Pain is one of the dominant symptoms of this condition. It may be accompanied by a tearing or "pop" sound.
Bruising may be seen in the chest and arm.
There may be weakness when bringing the arms to the front of the body.
A pocket (dimpling) may be formed above the armpit, indicating a tear.
Decreased range of motion may be observed at the humerus (upper arm) as a result of the rupture.
Types of pectoral rupture
There are three types of pectoralis rupture:
Type 1: Rupture at the humeral insertion (tendon ruptured from the bone).
Type 2: Rupture at the musculotendinous junction (rupture in between the tendon and the muscle).
Type 3: Rupture of the muscle belly (rupture in the muscle itself).
Usually, Type 1 ruptures are full tears, while Type 2 and Type 3 are typically partial ruptures.
Predisposing factors
The following factors predispose to the condition:
A weak and tight pectoralis major muscle, resulting from lack of proper conditioning in the pre-match period;
Fatigue;
Overexertion;
Lack of proper warming up prior to exercise (cold weather requires extra warming up);
Steroid use, which is known to weaken the tendons and may be a contributory factor;
Treatment for a pectoral strain (how to fix it)
So what should you do if you have a pectoralis major strain?
Employ dynamic rest. Get out from under that barbell and avoid any activity that fires your pecs. And there are a lot of them: Any lifting or fast arm movements can aggravate the injury. Avoid core work – it's just too easy to engage your chest, even involuntarily. Use lower-body workouts to stay fit. As long as you can do it pain free (by not engaging your arms), jogging and stationary cycling can work.
Ice it. Apply ice for 15 minutes 4 to 6 times a day for the first 2 days.
Try an NSAID. An anti-inflammatory like ibuprofen or naproxen can help with swelling and inflammation.
Rehab it. Once you're pain free, start with stretching and light resistance activities like pushups, building up the number of reps over several weeks. Once you have the full range of motion and better strength, incorporate light bench presses into your workouts and gradually build back up to your pre injury level. Also add more dynamic exercises to your routine. Don't go too hard, too fast. You'll certainly want to, but you'll risk re-injury.
Pectoralis strain rehabilitation exercises.
When to call a doctor?
If your pain doesn't improve within a couple of weeks, see a doctor. Also, make an appointment for a more severe pectoral strain. The pectoral muscles are so important to not just sports performance, but everyday movements like lifting. Tears in the muscle or tendon should be evaluated to ensure that the injured area returns to full function and health.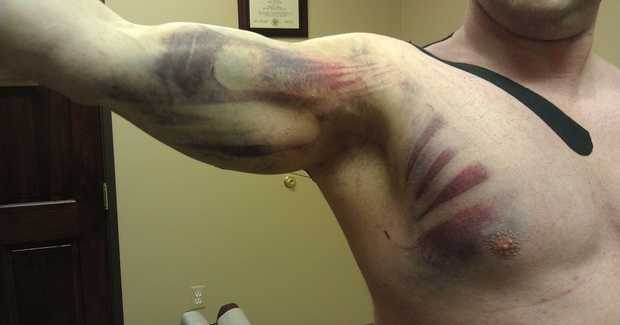 Do you need surgery?
Grade 3 strains – full ruptures — can require surgery. In some cases, athletes never fully recover their strength, power, or range of motion. This is one main reason to back off activity at the first sign of any grade of pec strain. You don't want to risk the worst-case scenario here.
Closing thoughts
This weight-lifting injury most commonly occurs when the pectoralis muscle is put under tremendous tension or supplementary forceful tension. It occurs most often in weight lifting (more than 50% of cases), especially with the bench press maneuver. Apart from this, the strain may occur in athletes participating in racquet games, swimming, water skiing, and rowing. Traumatic injuries such as those suffered in wrestling, American football, and rugby may also lead to a pectoral strain.