Unilateral training: Pros & Cons
Unilateral training refers to training one side of the body at a time. It does not separate training days into left-and right-side workouts. Unilateral training simply uses exercises that are performed with one limb at a time—such as the one-arm dumbbell bench press, one-arm biceps curl, the one-leg squat, and even the one-leg, one-arm dumbbell deadlift. When training unilaterally you will train both sides of your body on each training session, however, you will train them one at a time.
Most training programs neglect unilateral training; at best, some include a one arm or one-leg exercise here or there, such as the concentration curl or one-leg leg press. This is unfortunate, since research confirms that when you train unilaterally the muscles are able to produce more force, and more muscle fibers (particularly fast-twitch muscle fibers) are active. Also, training only bilaterally can lead to imbalances in muscle strength and development.
It's also one of the most effective ways to elicit change from stubborn or lagging muscle groups and can add productive variety to your stale routine. So get ready to find out why you should put your best foot (or other limb of choice) forward in the gym — this time, with purpose.

Bilateral versus unilateral exercises
Most exercises require the use of both arms or both legs working simultaneously (bilaterally). Therefore bilateral exercises use both sides of your body symmetrically. Examples include squats, deadlifts, bench presses, push-ups, and pull-ups. All barbell and most machine exercises simply force you to train both sides of the body at the same time.

Some exercises allow your arms or legs to move one at a time (unilaterally). Examples include single-leg squats or lunges, single-leg deadlifts, single-arm chest presses with a dumbbell, and single-arm pull-downs with a cable. Unilateral exercises use the sides of your body asymmetrically. While all barbell and most machine exercises force you to train both sides of the body simultaneously, dumbbells allow you to train each side separately if you wish. Therefore, dumbbell chest press can be performed either simultaneously (bilaterally) or unilaterally (using one arm at a time).
Variations of unilateral training
There are two variations of unilateral training:
Alternating unilateral training
Pure unilateral training
Alternating unilateral training
In the example of the dumbbell biceps curls, you contract the right biceps. Only when the right arm returns to its starting position does the left arm begin its work.
The advantage of this technique is that the right arm can rest while the left arm works.
The disadvantage is that the nerve impulses must constantly shift back and forth between the left and the right, which is not ideal. However, certain sports require this criss-cross (for example, running or swimming the crawl). If this is the case in your sport, this particularity should be a part of your weight training exercises so that your nervous system is well prepared for this difficulty. If not, you can choose the second variation.
Here is another example of alternating unilateral exercise: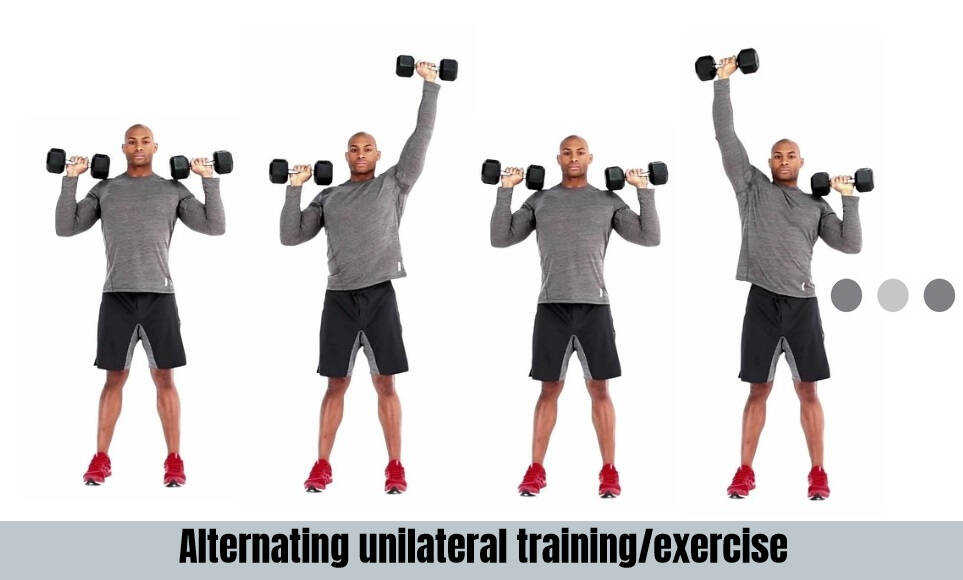 Pure unilateral training
In this version, only one side of the body is worked out. You do an entire set with the muscles on the right side. You rest a bit before doing your set with the muscles on the left side. Again, you take a small rest before returning to the right side.
The central nervous system can express its full power in this configuration. The contraction as well as the concentration on the working muscles will be at their maximum. Athletes whose sport requires such work (shot put, for example) should use this technique generously.
The disadvantage of this technique is that it increases the overall workout time, because you are doubling the number of sets that you need to do.
Here is an example of pure unilateral training using dumbbell shoulder press exercise: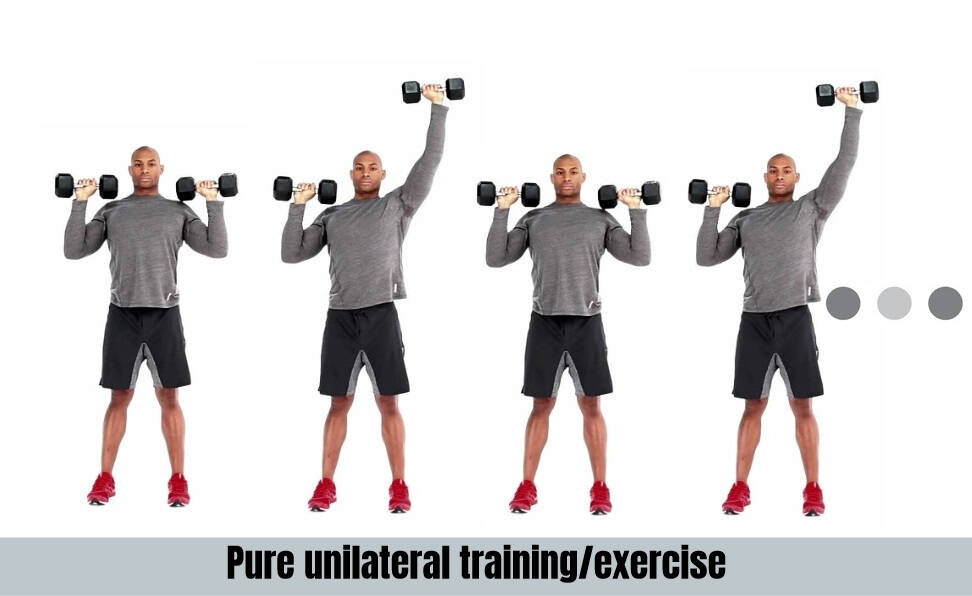 Are we humans more unilateral or bilateral beings?
Humans are unilateral beings. Like walking or running, most of your movements are unilateral. You contract the muscles on only one side of the body at a time.  We are the opposite of rabbits, because they use two of their feet simultaneously to move forward. This symmetry of movement is not found in everyday gestures, though. Humans move forward one foot at a time, using unilateral muscle work.
What are the main advantages of unilateral training?
Our strength is about 10 percent greater when we work unilaterally rather than bilaterally. If you can do biceps curls with a maximum of 110 pounds using both arms simultaneously, then unilaterally, the sum of both arms (what you can lift with the right arm, then what you can lift with the left arm) will not be 110 pounds, but about 121 pounds. This is a well known

phenomenon called "bilateral deficit". Maximal force produced by both limbs contracting bilaterally is smaller than the sum of the limbs contracting unilaterally.

For instance, when curling with your right arm, that biceps must recruit more of its own fast-twitch fibers than it would for a two-handed barbell curl since it receives no help from the left biceps.

Better overall muscle contraction. Unilateral training allows you to concentrate better on each muscle. Scientists have determined that when you train both sides at the same time, the brain has to split the nerve impulse. When you train each side separately (or in an alternating fashion) the entire nerve impulse is directed just one way. That way you work more total muscle fibers than you would with traditional, two-sided exercises.
Most of us are stronger on one side than the other; for example, the right arm and leg are usually stronger on a right-handed person. Thus, training one side or limb at a time encourages more balance between your right and left sides, both in terms of power and muscular development. Unilateral training allows you to take the dominant side out of the equation, isolating the weaker side and thus forcing it to become stronger and/or more developed.
Training this way also results in greater joint and core stabilization. Physiologically, unilateral training can require higher levels of core activation to maintain balance while working one side and not the other. That equates to more work for your abs and lower back without yet another day of crunches and Russian twists. And its superior core activation means unilateral training is a welcome change of pace for those who typically don't lift this way.
What are the main cons of training only unilaterally?
Clearly, unilateral training has a number of advantages that might warrant using it more often, but — you knew there was a "but" coming, right? — consider these factors before diving into a unilateral program:
Unilateral training is not always easy to do. For example, it is difficult to do push-ups or pull-ups/chin-ups with only one arm at a time. But you can find unilateral exercises for every muscle.
It can be too advanced for beginners. People may try to get too fancy with the exercises or go too heavy and lose the benefits because they must compensate by cheating or bouncing. Unseasoned lifters should experiment with lighter loads to master unilateral moves and progress injury-free.
It can be time-intensive. Doing three sets of one-arm triceps pushdowns will take twice as long (six sets total) as its two-arm counterpart. So those wanting to train this way must be able to see the payoff ahead and be willing to sacrifice the time it takes to get there.
It's not for those whose attention wanders. Unilateral trainees must also be keenly observant of their own weaknesses to determine proper loads and lifting volume. Training your weaker side with too little weight or volume can result in a persistent imbalance, so constantly challenge yourself to bring up any that you notice. On the other hand, training with too much weight or volume on one side can result in overtraining of the muscle, regardless of your strength.
Do the benefits of unilateral training outweigh the drawbacks? It's up to you to decide.
Incorporating unilateral exercise
into your workout routine
Here is a list of some unilateral exercises you can incorporate into your workouts:
We're convinced that if you think about it you can come up with dozens more unique unilateral exercises of your own. Start by adding one unilateral exercise to each body-part workout and if you are finding that you are getting excellent results, perhaps add a second and third one. Actually, we have had some of our very best and most intense workouts by training exclusively unilaterally. Just remember that some unilateral exercises can be difficult to perform at first and until you have it mastered, you might not get the full benefit from it. For example, it is difficult to do push-ups or pull-ups/chin-ups with only one arm at a time.
Also, it certainly takes a few workouts to get used to single leg squats and deadlifts, but once you do, you can rest assured that you will see new gains in muscle and strength rather rapidly. Stick to each new unilateral exercise for about 6-8 weeks before you switch to another, but don't be afraid to "play with" and tweak your form a bit each workout until you find what feels best to you.
Closing thoughts: You should include unilateral exercises in your training
Most weight training exercises are done bilaterally, which means contracting the muscles on both the left and the right sides simultaneously. This is the more traditional approach to exercise selection.


Unilateral training, however, offers a number of advantages over its bilateral counterpart, including snuffing out strength and physique imbalances, as well as increasing core engagement.

To take advantage of the added strength that unilateral training offers, you should periodically do one-arm and one-leg exercises. If you want to gain strength, train unilaterally early in your workout. Since these moves often require more stability, it's best to do them when you're fresh and can exert the most force, which is key to handling greater loads and getting stronger.

Therefore, unilateral training — in which you submit your inherently weaker side to the same workload as the stronger side — is all the more relevant.

In conclusion, optimal strength training may involve the inclusion of both bilateral and unilateral contractions, with the ratio of bilateral to unilateral contractions based on the needs of the sport.