Is L-carnitine really as good as it sounds? In this article, we discuss L-carnitine supplementation for exercise performance and weight reduction.
What exactly is L-carnitine?
L-Carnitine is often referred to as an "amino acid-like" substance. The body synthesizes carnitine from the amino acids L-lysine and L-methionine. Our body makes it in the liver and kidneys and stores it in the skeletal muscles, heart, brain, and sperm. Usually, your body can make all the carnitine it needs. High levels of carnitine can be found in animal meats, especially red meats, from cows, lamb, and sheep. Therefore, most animal foods provide an excellent dietary source of carnitine, but because of losses in cooking and preparation of foods, there are few data on the total content in the diet. Carnitine has many functions in the human body but is best known for its ability to shuttle long-chain fatty acids across the membrane of cells so they can be burned (oxidized) for energy by the mitochondria.
What are the food sources rich in L-carnitine?
As already mentioned, animal products like meat, fish, poultry, and milk are the best sources. In general, the redder the meat, the higher its carnitine content.
| Food | Milligrams (mg) |
| --- | --- |
| Beef steak, cooked, 4 ounces | 56–162 |
| Ground beef, cooked, 4 ounces | 87–99 |
| Milk, whole, 1 cup | 8 |
| Codfish, cooked, 4 ounces | 4–7 |
| Chicken breast, cooked, 4 ounces | 3–5 |
| Ice cream, ½ cup | 3 |
| Cheese, cheddar, 2 ounces | 2 |
| Whole–wheat bread, 2 slices | 0.2 |
| Asparagus, cooked, ½ cup | 0.1 |
What is it supposed to do?
Carnitine has many functions in the human body but is best known for its ability to shuttle long-chain fatty acids across the membrane of cells so they can be burned (oxidized) for energy by the mitochondria.
Mitochondria are often referred to as the "powerhouse" of cells where energy is produced. The actual process of how carnitine shuttles fatty acids to the mitochondria is fairly complex and detailed. Suffice it to say, it involves several enzymes and steps before the fats you want to burn to end up being utilized by the mitochondria. So, the carnitine shuttle system is essential for the body to be able to burn fats as energy and this is why companies sell carnitine as a "fat burner."
Therefore, these are potential situations for the use that are of particular interest to exercisers and athletes:
It has been suggested that carnitine supplementation might enhance fatty acid transport and oxidation.

Carnitine is a popular component of supplements claimed to enhance the loss of body fat.
An increase in fatty acid oxidation during exercise could benefit endurance athletes if it resulted in a sparing of glycogen during events in which carbohydrate stores are otherwise limiting.

If carnitine supplementation could increase CoA availability, it might enhance flux through the citric acid cycle and enhance the activity of the enzyme pyruvate dehydrogenase, which is otherwise inhibited by high levels of acetyl-CoA. Increased oxidative metabolism of glucose could enhance high-intensity exercise that might otherwise be limited by excess lactate and hydrogen ion accumulation.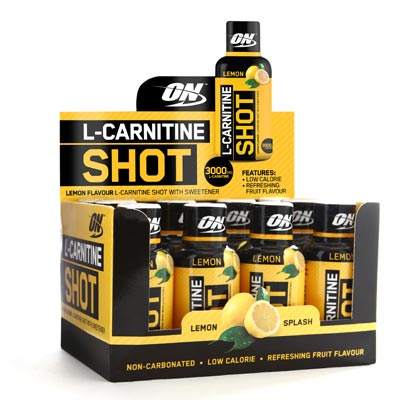 What does the research say about athletic performance?
Studies that have focused on weight loss in people using carnitine as a supplement are few and conflicting. There are far more studies that look at carnitine as a sports and energy-enhancing supplement, with some studies suggesting carnitine may help endurance athletes.
In animals, some studies have found increases in the use of fat for energy with high-dose carnitine supplementation, but human studies are mixed, with some showing effects on endurance while others find no effect.
The difference may be the dose and or the nutritional status of the athletes being tested. Doses used are generally high, in the 2 to 5 g range (2.000 mg – 5.000 mg) or higher.
Carnitine does appear to have real health uses and is even listed in the Physicians Desk Reference (a.k.a. the PDR) for certain pathologies involving the heart. Many alternative doctors swear by it for that use. Carnitine may also help reduce cholesterol and increase HDL cholesterol, the "good" cholesterol. Acetyl-L-carnitine in particular has potential uses as an "anti-aging" supplement. It also appears to have neuroprotective and cognitive effects. There are a couple of studies that indicate L-carnitine might have some uses for recovery (less muscle damage after strenuous exercises).
What about real-world athletic performance?
Although it may very well have potential health benefits in certain people, carnitine's performance-improving and "fat-burning" abilities are questionable until more conclusive research is carried out.
Studies that have investigated the effects of carnitine supplementation on exercise metabolism or performance have found little evidence of enhanced outcomes during submaximal or high-intensity exercise.
The effect of carnitine supplementation on body fat levels, although widely publicized in supplement advertising, has not been studied in athletic populations. A study on moderately obese sedentary females did not find evidence of enhanced loss of body fat with carnitine (Villani et al. 2000).
Unfortunately, L-carnitine has been disappointing as a fat-loss nutrient. People who wish to try carnitine will need to use at least 500 milligrams (mg) or more several times daily, with some studies using 5g to 6g (5.000 mg-6.000 mg) or more, daily.
What about L-carnitine safety and dosage?
In general, there are no known risks to taking any of the avail­able forms of L-carnitine in dietary supplements.
Doses of 2-6 g/day over 6 months have been studied with no observed adverse side effects. Doses of 2-6 g/day are typically recommended for cardiovascular, sports performance, and weight loss benefits, although the effectiveness of any dose of carnitine for sports or weight loss effects is not impressive. As a "heart health" nutrient, approximately 2 g/day of carnitine may provide some benefits in terms of promoting general bean function.
It is important to note that some supplemental forms of carnitine actually contain the physiologically inactive form of carnitine (D-carnitine) rather than the form that is active in humans (L-carnitine). Oversaturation of the tissue with D-carnitine could displace the active form of carnitine in tissues and lead to muscle weakness.
What are the most common types of L-carnitine?
Carnitine supplements come in a number of different forms. The most common are L-carnitine-L-tartrate, acetyl-L-carnitine, and propionyl-L-carnitine.
Acetyl-L-carnitine (ALC) is a form of carnitine developed for rapid absorption by the brain, as it crosses the blood-brain barrier. It is especially suitable for anyone who wants to enhance memory, learning, or concentration. Studies have shown that ALC may ward off Alzheimer's disease or other dementia, as well as improve mental function in healthy people. And, because ALC protects neurons in the brain and the central nervous system, it can also lessen peripheral nerve damage associated with diabetes.
Many studies of the role of carnitine in the treatment of heart disease have used another form of carnitine known as propionyl-L-carnitine (PLC). This form was not available as a dietary supplement in the United States until recently, when a proprietary form of carnitine supplements, known as AminoCarnitines, became available. These contain the PLC form of the supplement. The formulation of AminoCarnitines is based on scientific literature that shows that certain amino acids, such as glycine, arginine, and lysine, which are precursors to carnitine, improve the metabolic performance of the nutrient. When AminoCarnitines are manufactured, a proprietary, patented process is used to bind molecules of specific amino acids with L-carnitine in carefully controlled proportions.
When should you take L-carnitine?
If, as an athlete or physically active person, you still decide to use L-carnitine then we recommend taking it prior to working out. More precisely, about one hour prior to exercise. However, if you want to take advantage of the other alleged benefits (recovery and weight loss support), taking it after exercise can also be effective.
Carnitine supplements are therefore likely to be much better absorbed on an empty stomach.
Closing thoughts about L-carnitine
As a dietary supplement, carnitine is marketed to enhance endurance, increase fat metabolism, lower choles­terol and triglyceride levels, and improve cardiovascular performance (as a general cardioprotective).
For general cardioprotective benefits, carnitine supplementation may be beneficial to help maintain blood lipid profiles and promote fatty acid utilization within the heart muscle.
As a weight loss supplement, carnitine does not appear to be particularly effective for either promoting weight loss or enhancing fat burning.
For endurance athletes, carnitine supplements are of little value, except possibly for vegetarians who may not consume adequate levels of camit­ine or its precursor amino acids (lysine and methionine) in their diets. In this particular case, it may be worth a try, albeit an expensive try if you follow the doses used in the studies.
If everything can be summed up in one single sentence: For general health and other uses, carnitine gets a thumb's up. For anything else it gets a thumb's down. People who still wish to try carnitine in the hope to see some results will need to use at least 500 milligrams (mg) or more several times daily, with some studies using 5g to 6g (5.000 mg-6.000mg) or more, daily.