You can't escape it. News about calcium is everywhere – in magazines, on TV, and in newspapers. Everybody's talking about the need for extra calcium to prevent osteoporosis. The reason for this is that 98 percent of all calcium is needed to continuously make bone. But if you think that calcium's only job is to build strong bones, you're mistaken.
It is very attractive to bring down the nutrition exclusively to the intake of energy (kilocalories) and macronutrients (proteins, fats, and carbohydrates) and believe that if we satisfy these three components, everything else will fall into place. However, it is never that simple. Nutrition is much more than that. Proper nutrition is also prevention. Often, we don't pay enough attention to the intake of micronutrients (vitamins and minerals), that is, to the strategic selection of foods and their combination that will ensure them, as well as optimal absorption. As an example, we can use calcium, a mineral of great importance whose inadequate intake in one period of life can later have disastrous consequences.
Calcium basics
Calcium is the most abundant mineral in our bodies. It occupies about 1.5-2% of the total body mass, and over 99% of it is stored in our bones and teeth where it performs its structural role. The other 1% of calcium participates in numerous other processes in the body such as the transmission of nerve impulses, intracellular signaling, maintenance of muscle tone, etc.
In addition to its supporting function, bone tissue also serves as a calcium store. Moreover, bone tissue is highly dynamic, that is, it stores or releases calcium into the circulation depending on other needs of the body and calcium intake from food. For this reason, bone tissue is rebuilt throughout life, and the speed and direction will be closely dependent on the age and hormonal status of the individual.
The recommended intake of calcium
The human need for dietary calcium intake begins after birth. A newborn can absorb 55-60% of calcium from breast milk, and this figure is slightly lower if the newborn is formula-fed (about 40%). For this reason, there is almost twice as much calcium in formulas as in breast milk. The estimated intake of calcium in newborns who are fed exclusively with mother's milk is about 202 mg/day.
Calcium deposition in bones is a continuous process during childhood and adolescence and reaches its maximum speed during the growth spurt in puberty. Bone density measurements in research have shown that girls between the ages of 11 and 15 gain about 37% of their total bone mass. Thus, the needs and recommendations for calcium intake gradually increase during life with a recommended intake of 700 mg/day for children aged 1-3 years, 1000 mg/day for children aged 4-8 years, up to 1300 mg/day for children aged 9 – 13 years and adolescents up to the age of 18, when the recommended intake of calcium is the highest during life.
Maximum bone density can be achieved at the beginning of adulthood, and the possibility of maintaining it will depend on factors such as genetic predisposition, physical activity, and total calcium dietary intake. After puberty, bone remodeling is in balance, which is why the needs and recommendations for calcium are quite stable (1000 mg/day).
In later life, the loss of bone density due to aging affects both men and women, but the reduced level of estrogen in women after menopause drastically accelerates the loss of bone mass. Research shows that this happens just before, during, and after menopause, and the cause is not exclusively hormonal changes. The loss of bone mass in the period of 7 out of 10 years around the onset of menopause reaches a rate of 3 to 7% per year but slows down gradually after the age of 65 to 0.5-2%. For men, after the age of 65, the rate is about 1-2%. Because of this, calcium intake recommendations increase to 1,200 mg/day for women over 51, as well as for men over 70.
We must not forget pregnant and lactating women for whom adequate calcium intake is extremely important due to the development of the fetus and milk production. However, the recommendations (depending on age) have not been increased despite this because at the beginning of pregnancy the percentage of calcium absorption in the digestive system doubles, and it continues in the later period as well. Excessive intake of calcium in this case is not desirable because it increases the risk of kidney stones.
Furthermore, although most of the calcium in mother's milk comes from bone stores, and bone density in the period of 2 to 6 months of exclusive breastfeeding can drop by 5-10%, it returns to its original state after 6-12 months. Therefore, breastfeeding does not increase the risk of a decrease in bone density and the development of osteoporosis.
What are the needs for calcium at different ages? See the table for the recommended intake of calcium by group: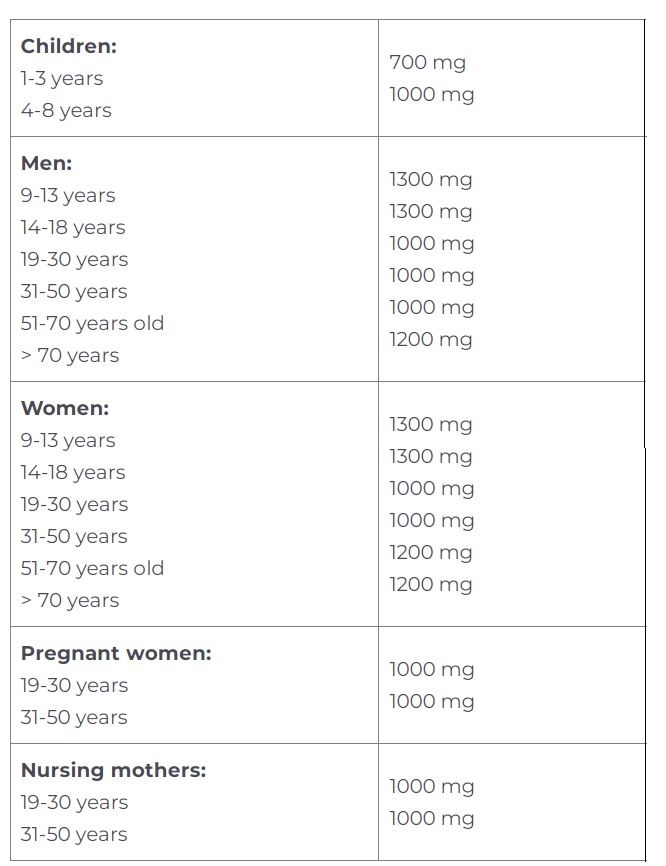 Make sure your body can use calcium
Calcium doesn't work alone. In order to perform various functions, it requires cofactors like magnesium and phosphorus, along with vitamins A, B6, C, D, and E. Of all the cofactors calcium needs, magnesium is perhaps the most important. It helps carry calcium into the bones, and it allows muscles to relax after calcium causes them to contract.
Dairy products are high in calcium, but they don't have enough magnesium to help move them into your bones. Whole grains and green leafy vegetables, on the other hand, contain calcium as well as many of its cofactors. A combination of a little dairy along with some whole grains and green vegetables may be your best approach to getting sufficient calcium in your food.
However, dairy is not essential. Even vegans can get plenty of calcium if they eat a healthy diet. Before your body can use calcium, it has to be absorbed. Some calcium supplements are poorly absorbed; others are better absorbed. Calcium seems to be best absorbed when it is in the presence of some kind of acid. This acid may be in your food, or it may be the acid secreted by your stomach to help with digestion.
The form of calcium you take helps determine how much of this mineral gets into your body. Calcium carbonate, for example, is low in acid and is very poorly absorbed by people who have low stomach acid compared with the more acidic calcium citrate.
The importance of adequate calcium intake
The development of osteoporosis, i.e. the loss of bone mass and the reduction of bone quality in later life, is one of the most important reasons why we must ensure an adequate intake of calcium precisely in the period of adolescence and in later life. Namely, the decrease in bone mass greatly increases the risk of bone fractures (eg hip, forearm, and vertebrae) due to falls.
This scenario significantly increases the mortality of people who are often condemned to bed rest after such injuries, and we know that physical activity along with proper nutrition is one of the main factors that protects us from the development of cardiovascular diseases (today the biggest cause of death in humans).
Unfortunately, the development of osteoporosis does not only affect the elderly. Osteoporosis comes in a bundle with an eating disorder (too low energy intake) and amenorrhea (menstrual cycle disorder) called the athlete's triad.
It often occurs in female athletes who engage in sports that require a slim body structure (or in sports where weight limits are defined by categories) and somewhat less often in men who can also notice hormonal disorders that result in lower fertility.
In addition, your body needs calcium to help transmit nerve impulses along nerve cells to send messages across your nervous system. Calcium also helps blood to clot and is involved in many other chemical reactions throughout your body. One of calcium's major jobs is to help all of the muscles in your body to contract. Magnesium, on the other hand, helps them to relax. Together, these minerals regulate your heartbeat by contracting and relaxing as necessary.
So, calcium is vital to a healthy heart. The right amount of calcium helps maintain a regular heartbeat, but too much or too little calcium can cause an irregular heartbeat, called an arrhythmia. Because too much calcium can contribute to health problems, it's important to take just the right amount.
The importance of calcium for bodybuilders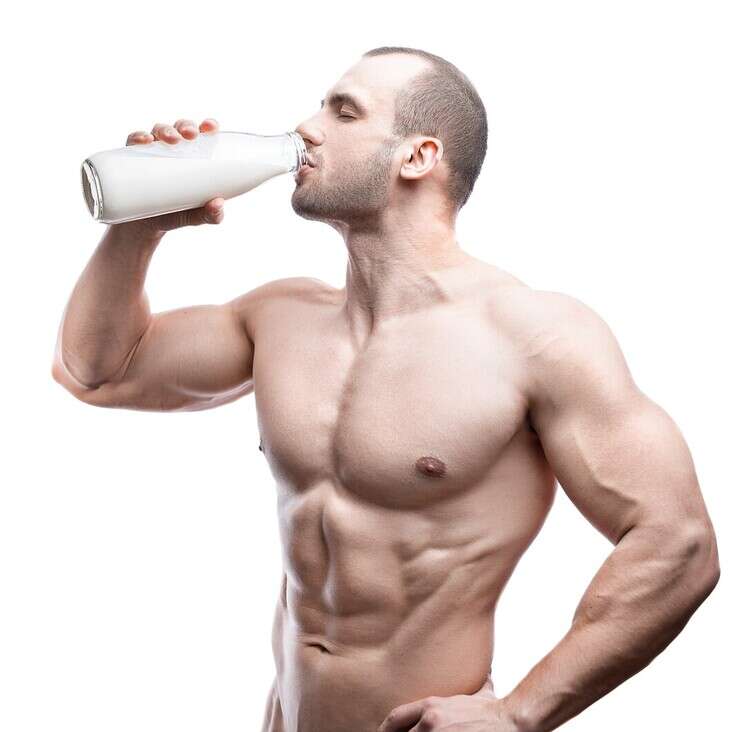 Is calcium good for bodybuilding? Yes! Calcium regulation is an essential part of muscle contraction and therefore, building muscle. After all, a release of calcium into your muscles jump-starts every contraction they make – whether you're typing on the computer or running on the treadmill. Too little calcium and you can't relax your muscles. Therefore, Balanced levels of calcium will help you as you're working out, leading to bigger returns.
Signs and symptoms of calcium deficiency
Mild calcium deficiency can cause nerve sensitivity, muscle twitching, brittle nails, irritability, palpitations, and insomnia. Signs of severe deficiency include abnormal heartbeat, muscle pains and cramps, numbness, stiffness, tingling of the hands and feet, and depression. Children can suffer from rickets, a disease characterized by excessive sweating of the head; slowness in sitting, crawling, and walking; insomnia; bone deformities; and growth retardation. In adults, deficiency can lead to osteomalacia with symptoms of bone pain, muscle weakness, and delayed healing of fractures.
Those at risk of calcium deficiency include the elderly, people who don't eat dairy products or other high-calcium foods, athletes, those on high protein or high fiber diets, and those who drink a lot of alcohol. High dietary levels of phosphorus cause calcium to be removed from bone and excreted. Phosphorus is found in many common foods such as meat, cheese, processed foods, and soda drinks, and people who consume a large amount of these foods are at increased risk of calcium deficiency.
People on weight-reducing diets are also at risk as they may avoid high-calorie foods, which are often good sources of calcium.
Studies have shown that calcium is deficient in the diets of many women. The National Osteoporosis Foundation estimates that the average adult in the US gets only 500 to 700 mg per day. Calcium deficiency is relatively common in many countries.
Calcium supplements
If you have lactose intolerance and are instructed to avoid all dairy products, make sure you supplement your diet with 1,000 to 1,500 mg of calcium daily. Of all the calcium supplements on the market, calcium citrate and calcium citrate/malate appear to have the best absorption. Since vitamin D is necessary for calcium absorption, 400IU of vitamin D is usually taken with calcium. A daily multivitamin/mineral supplement is also recommended since calcium competes with other minerals for absorption.
Calcium-related side effects
The most common calcium-related side effects are bloating, constipation, and gas. Other side effects include diarrhea, excessive thirst, headache, heartburn, loss of appetite, nausea, vomiting, and weakness. Rarely, kidney stones result from excessive calcium ingestion. Milk alkali syndrome is another rare side effect that occurs when people combine a dairy-rich diet with calcium carbonate supplements.
Special considerations
Do not take calcium supplements without your physician's permission if you have a parathyroid disease or kidney problems. Calcium should not be taken by people with bone tumors, digoxin toxicity, kidney failure, kidney stones, hyperparathyroidism, sarcoidosis, ventricular fibrillation, or a history of elevated blood levels of calcium or calcium in the urine. Also, do not take calcium if you are dehydrated, on a fluid-restricted diet, or have a history of decreased bowel motility or bowel obstruction.
Conclusion
In conclusion, we can say that it is of great importance throughout life to pay attention to calcium intake. This is especially true if you find yourself in one of the groups of people such as those with lactose intolerance, milk protein allergies, and those who don't consume dairy products at all which are the most important source of calcium in our diet. In that case, they should find some alternative sources of calcium such as small fish consumed with bones, certain vegetables such as broccoli and kale (which are rich in calcium and do not have oxalates and phytates – antinutrients that bind calcium and prevent its absorption), plant-based milk enriched with calcium or dietary supplements.
Calcium in food supplements most often comes in the form of calcium carbonate and calcium citrate. Fewer calcium carbonate tablets will generally be needed to achieve the same dose of calcium compared to calcium citrate. However, calcium citrate is not as dependent on the acidic medium of the stomach to help absorb calcium in the small intestine, so it is less often associated with indigestion and can be taken separately from meals. It is therefore recommended to take calcium carbonate with a meal rich in proteins that contribute to the secretion of stomach acid.
In addition, for the health of the bone tissue, it is recommended to engage in physical activity, especially that which involves mechanical stress on the bones, such as weight lifting, because it promotes the formation of bone tissue. Finally, pay closer attention to the status of vitamin D, which is necessary for the absorption of calcium from the digestive system.