Recently, intermittent fasting has gained great popularity. This is not at all strange if we take into account the fact that this way of eating works effectively in the fight against excess weight and fatty tissue, but also has a proven positive effect on our health. Therefore, if you need to lose weight, look great, reduce inflammation, boost your immunity, or a myriad of other benefits, then you should consider one of the various intermittent fasting methods.
In this article, you will be able to learn what fasting is, what it's not, the history behind fasting, the science of fasting as well as actual techniques, methods, practical advice and tips that you can apply when you're ready to start fasting. It's always crucial to get the right answers because so many people still mistakenly believe that fasting is about starving yourself. That simply is not true! Real, effective intermittent fasting is actually an unbelievably powerful method with many different protocols that have changed thousands of lives already. After reading this post you'll have the whole picture about this powerful method of losing fat.
What exactly is intermittent fasting?
Intermittent fasting is an eating pattern where people alternate between periods of non-fasting and periods of fasting.
Therefore, as can be seen from the name itself, with this way of eating, fasting intervals are alternated with intervals in which it is allowed to consume food. During fasting intervals, you can drink water, unsweetened black coffee or tea (or you don't consume absolutely nothing at all).
During the periods when you do eat, try to follow a healthy diet rich in whole grains, fruits, vegetables, and lean protein.
The duration of fasting periods may vary as well as the type of fasting (as you'll see latter in this article). There are only 2 states the human body can be in at one time: the fed (high-insulin) state or fasted (low-insulin) state. Either we are storing food energy or we are burning food energy. If eating and fasting are balanced, then there is no net weight gain.
In theory, every human being fasts even though they don't know it. An average American who doesn't fast and eats 5 to 6 meals a day still wakes up in the morning in a fasted state. The first meal of the day is called "break-fast" because you are breaking your nighttime fast with it. Intermittent fasting has no standard duration, anytime you are not eating; you are technically fasting.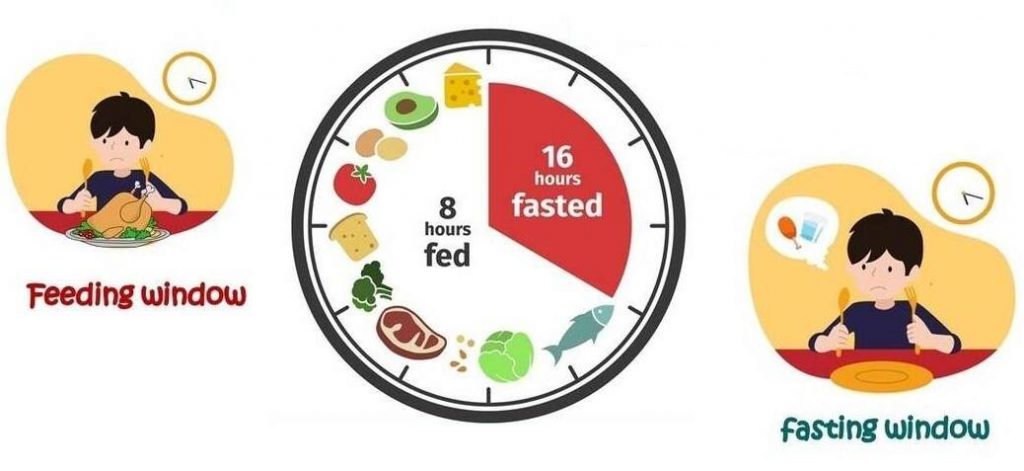 A brief history of intermittent fasting
Long before the invention of modern cultivation, our hunter-gather ancestors used to hunt for food and stay without food for days if they couldn't find anything to eat. Food wasn't plentiful and people had to struggle to collect food. Intermittent fasting is a means of getting in touch with our inner hunter-gatherer. In today's society, we are surrounded by food everywhere we go. This abundance of food and constant eating has brought about its own disease, including obesity, diabetes, and cancer. The affluence of food has made the average person overweight, ill, exhausted, and slothful.
Intermittent fasting has a long and rich history rooted in many nations and societies around the world. Intermittent fasting has been practiced by princes, and paupers; noblemen, and commoners.
Hippocrates of Cos (c. 460-c. 370 BC) was one of the early fasting advocates. Ancient Greek scholars Plato and Aristotle were supporters of fasting. The ancient Greeks believed that fasting is a part of medical treatment. The 2nd-century physician and philosopher Galen was the personal physician of Emperor Commodus. Galen often prescribed and used intermittent fasting facts and recommended fasting. Paracelsus (1493-1541), a German-Swiss physician wrote, "Fasting is the greatest remedy – the physician within." Benjamin Franklin (1706-1790), one of the American's founding fathers wrote, "Resting and fasting are the best medicines."
How and why intermittent fasting actually works so good?
You need to understand the difference between your body's fed and the fasted state to know how intermittent fasting works and causes weight loss.
After you have eaten your meal, your body goes into a fed state and starts to process, digest and absorb the food you consumed. Usually, the fed state begins when you start eating your meal and last for 3 to 5 hours as the process mentioned above continues. During this stage, it is very hard for your body to burn fat because your body's insulin level is high. Yes, the key hormone involved in both the storage and use of food energy is insulin, which rises during meals.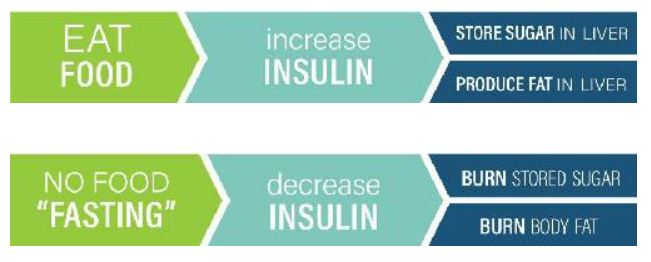 Once your body finishes digesting and absorbing foods, your body goes into a post-absorptive state. In this stage, your body isn't processing any food. This post-absorptive stage lasts for 8 to 12 hours after your last meal. This post-absorptive stage is the ideal time to start your fast and enter into the fasted state because your insulin levels are low at this stage. This makes it easier for your body to burn fat. Your body can access body fats that were inaccessible during the fed state (because of high insulin levels) and burn them successfully.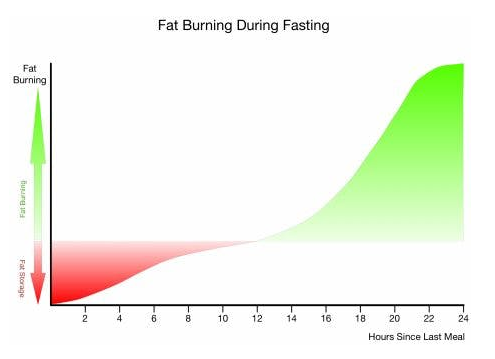 Intermittent fasting VS Starvation
Fasting is completely different from starvation in one crucial way: control. Starvation is the involuntary abstention from eating. It is neither deliberate nor controlled. Starving people have no idea when and where their next meal will come from.
Fasting, on the other hand, is the voluntary abstention from eating for spiritual, health, or other reasons. Food is readily available, but you choose not to eat it. No matter what your reason for abstaining, the fact that fasting is voluntary is a critical distinction.
For the simple fact that not everyone can undergo fasting or because some people cannot sacrifice their meals, myths and misconceptions about intermittent fasting begin to emanate.
How long are fasting periods?
Fasting has no standard duration – since it is merely the absence of eating, anytime that you are not eating, you are technically fasting. For example, you may fast between dinner and breakfast the next day, a period of twelve hours or so. In that sense, fasting should be considered a part of everyday life.
There are different forms of intermittent fasting so if you want to fast responsibly, then you should find the type of fasting that suits you best.
Random meal skipping. There is no regime for this type of fasting. The rules are highly flexible. You skip one or two meals every now and then and fast for several hours.
Fasting on alternate days. In alternate day fasting, you fast every other day. Suppose on Monday, you would eat any time between 7 to 8 am to 7 to 8 pm. You fast on Monday night, and then all day and all night on Tuesday. Then again, you start eating again from Wednesday at 7 to 8 am and then continue in that same order.
24-hour fast. You fast for a complete 24 hours once or twice every week and eat healthy food on non-fasting days.
16-hour fast. You fast for 16 to 17 hours, then eat normally during the 8-hour eating window. For example, you start fasting from 9 pm on Monday evening until 12:30 to 1 pm on Tuesday afternoon. This is by far the most popular type of fasting.
20-hour fast. 20-hour fast is known as the warrior diet. This fast allows you to eat a small amount of food during the fast time, and you consume the majority of your daily food intake during the 4-hour eating window.
The 5:2 diet. This fasting approach is invented by Dr. Michael Mosley. The 5:2 diet consists of five normal eating days. On the other two fast days, you can eat around 500 calories. These two fast days can be done on consecutive days or spaced apart.
36 hour fast. To complete a 36 hour fast, you do not eat for one entire day. For example, finish your dinner at 7 pm on day 1, fast immediately – you skip all your meals on day 2 and not eat again until breakfast at 7 am on day 3. Total 36 hours of fasting.
Therefore, intermittent fasting has no standard duration, anytime you are not eating; you are technically fasting.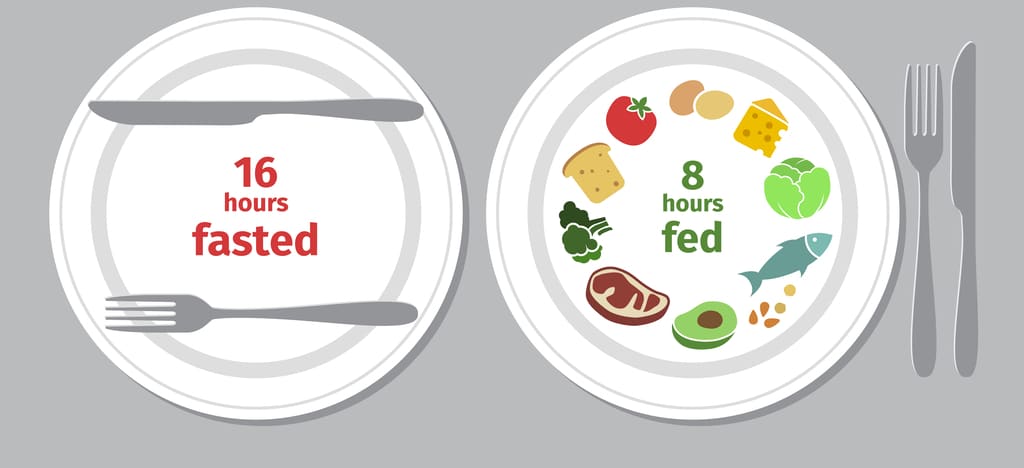 What are the main types of fasting?
It is very important that you become thoroughly acquainted with the main types of fasting so that you can decide which one you want to practice. Here it's all about would you consume (if anything) during your fasting period.
JUICE FASTING. This is the most popular kind of fasting. With juice fasting, you extract the juice from fruits and veggies using an appliance known as a juicer. During whatever period of time you are fasting, you drink only the juice and water. No solid food is ingested.
WATER FASTING. Water fasting is basically exactly that: drinking water only – not eating anything.
ABSOLUTE FASTING (also known as dry fasting). This is the grand daddy of all fasting methods. It is about going through a period of time without drinking water or eating. There are two types of absolute fasting: soft and hard. Soft dry fasting is where you do not drink water or eat anything but DO take showers or go swimming. In other words, you can have contact with water "on the outside" only. The other form of absolute fasting is the "hard" type. Hard dry fasting is where you do not drink any water or eat, OR have any kind of external contact with water. Dry fasting, by far, is the fasting type that produces the most weight loss in the least amount of time. Dry fasting is dangerous and should not be practiced unless one is VERY experienced in fasting and calorie restriction.
You can also opt for an option to take black, unsweetened coffee and tea.
Benefits of intermittent fasting
Intermittent fasting can help you lose weight and dangerous belly fat the right way;
Reduces the risk of autoimmune and chronic diseases;
Beneficial for heart health: Lowers the level of bad cholesterol and triglycerides, etc.;
Lowers oxidative stress and inflammation in the body: Oxidative stress can lead to premature aging and various chronic diseases;
Decreases your risk of diabetes – intermittent fasting can have a protective effect on people who are at risk of developing type 2 diabetes;
Increases the oxidation of fatty acids;
Increases the level of good cholesterol, growth hormones and sensitivity to insulin;
Can help prevent Alzheimer's disease: Currently, there is no cure available for Alzheimer's disease;
Closing thoughts about intermittent fasting
Lose fat faster than you even thought possible! Intermittent fasting has worked for millions of people around the world, and it will help you too. With intermittent fasting, you'll be shedding those pounds in no time! There are so many crazy fad diets out there these days that come and go within months or a few years. They don't stick around because they don't work. The simple strategy of intermittent fasting however has stood the test of time. With a few key recent refinements that are grounded in solid scientific research and nutritional science data, intermittent fasting has been the most effective way to lose fat and get healthy for thousands of people all over the world!