The 3 Most Efficient Core Exercises You'll Ever Try
The core is not just the four major muscles making up the abdominal group. When many people think of core training, the first thing that often comes to mind is sculpting the "six pack", so they focus primarily on training the rectus abdominis (the abs you see when you look in the mirror). However, the core is a term to describe more than just your abdominal muscles. It's a collection of muscles which stabilize and move your spine, pelvis and shoulder blades.
Developing core strength is a gradual process. The following three exercises are some of the most advanced out there. They will not only help to strengthen your six-pack abs but also a lot of other muscles at the same time. The following exercises will help you put together an advanced  killer core workout—the perfect solution to a core routine that is becoming too easy. Because the movement can potentially cause injury when performed with poor form, you should only attempt it after you have mastered a good range of basic core exercises.
Now it's time to discover the three most efficient core exercises you'll ever try – real core killer exercises.
Advanced core exercise #1: The dragon flag
The first exercise on our list is the dragon flag. Apart from your core, you will also need strength in your legs, chest, traps, quads, biceps, triceps, brachialis, forearms, and lats. Make sure you're able to perform simpler movements before attempting this movement.
This exercise became popular in the movie Rocky IV when Sylvester Stallone used this as a part of his training. The name Dragon comes from one of Bruce Lee's nicknames, "little dragon".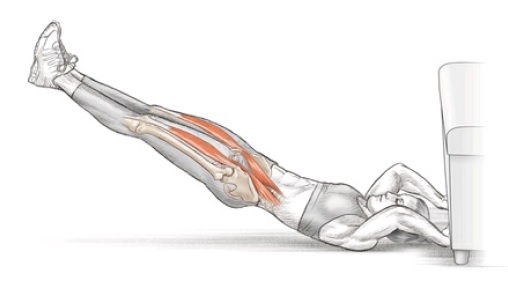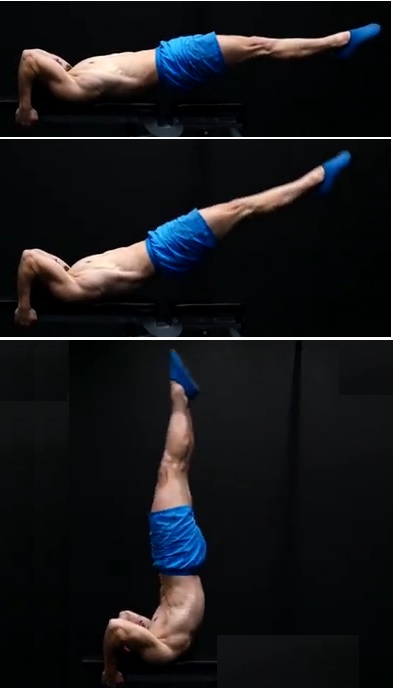 A dragon flag is typically performed lying face-up on a bench or on the ground with your hands grabbing an object behind or above you for support. That way you will prevent your body from rolling forward. The grip should be firm.  A strong connection needs to me made with the upper back and hands grasping the bench. From there you raise the rest of your body (legs, hips, and lower back) upwards until it's almost vertical while your shoulder blades stay firmly planted on the ground. You will create a strong line from the shoulder joint to the ankle joint.
From there you lower yourself down without allowing any part of your body to touch the ground except for your upper back. The goal of this core exercise is to keep your body completely straight without arching your back or bending your legs. This is really important because if you arch your back you will load up your spine with unnecessary pressure while doing the whole movement with the strength of your upper body and the arms and not your core.
If this exercise is to hard for you, you can decrease the lever by doing it with only one leg or doing it in an L position.
Advanced core exercise #2: The ring roll out
The next exercise is the ring roll out. To do this movement you will not only need a solid amount of core strength but also a huge support from your chest, lats, serratus anterior, triceps, quads, hip flexors, and your forearms. As with the dragon flag exercise, it's really important to hold the body tension and not arching your back. Always aim for a posterior pelvic tilt and decrease the progression if you're not able to hold this position.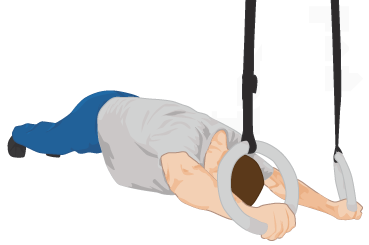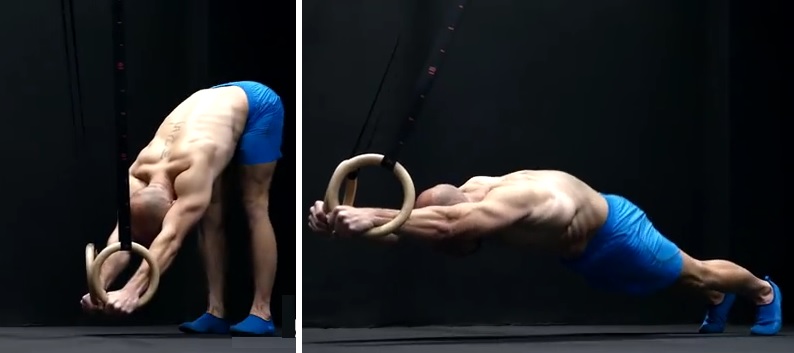 To make this exercise easier you have a ton of option. All those options are following the same principle – decrease the lever. You can do that by executing the exercise on your knees, moving the position of your feet forward or setting the rings higher. We strongly suggest you to choose one of the last two options. If you do the ring roll out on your knees you will easier fall into an arched back position because of the bent legs.
When it comes to the grip you should do it with a normal grip or with a false grip. It's a tiny bit easier to do it with the false grip because you will decrease the lever a little bit. Don't allow your wrists to do a passive extension under the pressure and always air for a stabilized position.
You can also do this movement without rings, using ab wheel instead. It's very similar. Here you can use a wall to progress with this movement to higher levels.
Advanced core exercise #3: The windshield wipers
The third exercise is called hollow body windshield wipers. The windshield wiper is an extremely advanced exercise. Don't try it until you have mastered more basic core movement patterns.
This core exercise will not only train your rectus abdominis but also your obliques. Instead of just laying on your back and moving a straight legs from one side to the other you also raise the shoulder blades up from the ground (not shown on the first image below) and hold yourself in this hollow body position.
As with the two other exercises before, you should avoid an arched back position. So always take care that your lower back has contact with the ground. To stabilize your body you have to place your arms on the ground but the goal is to use as less arm support as possible.
This side-to-side motion is like windshield wipers tracking from 9 o'clock to 3 o'clock and back again.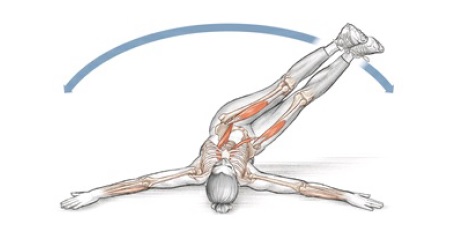 Always place your arms to the sides and in line with your hips. If you place them behind you it will be much easier because you don't have to raise your shoulder blades actively from the ground anymore.
In our opinion these are the 3 most efficient core exercises you'll ever try. Tell us if you are aware of any other core exercise that deserves to be on out list of the most efficient core exercises.

Closing Thoughts
It can take a bit of time to build core strength, so don't start the advanced exercises too early if you aren't yet mastering the basic core exercises. The worst thing you can do is try to perform an exercise you aren't ready for. Doing so can make you perform the exercise with poor form, causing an injury. Your form is very important in all exercises, but it's especially vital for these advanced core exercises. These are the 3 most efficient core exercises known to man so be careful while performing them.