It's a fact that increasingly men and boys have become dissatisfied with their body shapes and sizes. They begin working out, which can be part of a healthy exercise routine but sometimes becomes an obsession. That is, some boys and men become so concerned about their bodies that on a daily basis they give up any social life to spend hours in a gym or at home with workout equipment to improve their muscularity. Even then, they do not believe they are in good enough shape to be seen in public. And this is where a serious problem arises – condition (psychiatric disorder) we call muscle dysmorphia.
What is muscle dysmorphia?
Muscle dysmorphia is a sub-type of BDD (body dysmorphic dosorder). The main characteristic of muscle dysmorphia is the belief that one's body is too small or insufficiently muscular or "puny". This is the opposite of anorexia nervosa. Anorexics starve themselves because they believe they are too fat, while people with muscle dysmorphia believe they are too small and underdeveloped (not muscular). Even though they look normal, or in some cases very muscular, these men want to become even more muscular. They also worry about not gaining fat. Therefore, at the root of muscle dysmorphia is a distortion of body image.
What behaviours are associated with muscle dysmorphia?
It is important to distinguish muscle dysmorphia from working out or body building. Most men who go to gyms and pump iron do not have muscle dysmorphia. We are diagnosing this disorder across three levels: the way people think (cognition); the way this makes them behave; and the impact of this on their lives.
COGNITION
the perception that your body is not sufficiently muscular;
the drive to gain weight without gaining fat;
BEHAVIOUR
excessive exercise;
dietary compulsions;
use of performance-enhancing drugs (supplements, anabolic steroids);
extensive mirror checking;
asking other people if they look muscular enough;
continuation of behaviour despite adverse outcome such as muscle injury or overtraining;
wearing big, bulky clothes or many layers of clothes to look bigger;
comparing your own body size and muscularity with other men's bodies and with men in muscle magazines;
IMPACT
A restricted repertoire of social/occupational activities;
What causes muscle dysmorphia?
We know less about this disorder than anorexia nervosa or bulimia. We strongly suspect a genetic, biological element. In the same way that some people with anorexia are triggered into extreme weight loss by dieting, it appears that certain physiologies are at risk of muscle dysmorphia in response to over-exercise.
Again comparable to anorexia nervosa and bulimia, psychological factors such as childhood teasing and past traumas seem to render people at risk. There seems to be a particular link to having witnessed your mother as a victim of domestic violence — the powerlessness of childhood being compensated by the exaggerated muscularity of adulthood.
There is a big overlap with depression. Over half of all people with muscle dysmorphia have suffered from major depression. There is also an overlap with anorexia nervosa and bulimia. There is some overlap with anxiety. Almost a third have suffered from an anxiety disorder, such as social phobia (very extreme shyness). There is also an overlap with steroid abuse, but in most cases the use of steroids seems to stem from the muscle dysmorphia rather than vice versa.
Finally, cultural factors create a climate in which "heroic men" are portrayed as having excessively defined musculature.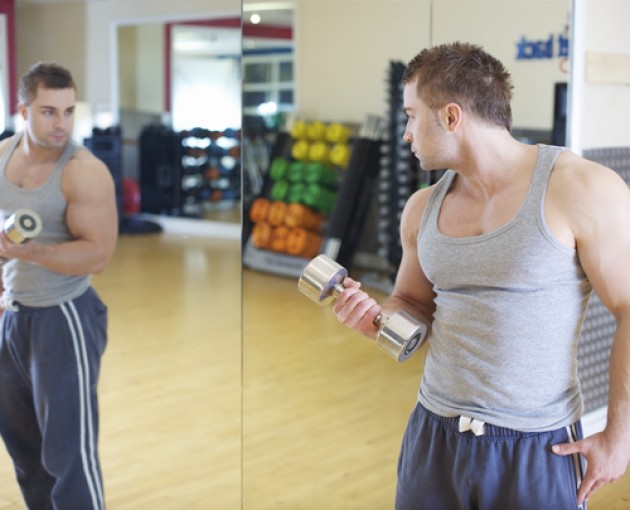 Treatment of muscle dysmorphia
There have been very few studies of treatments for muscle dysmorphia. Those that exist point towards the same treatments as anorexia nervosa and bulimia.
Closing thoughts
Men have become trapped between the male "body image industries" and their own inability to articulate their feelings. Behaviours associated with muscle dysmorphia include spending extensive time at the gym (even when severely fatigued or injured), extensive mirror checking, camouflaging, maintaining a diet low in fat and high in protein, and the use of nutritional supplements and anabolic-androgenic steroids. All of these in an attempt to help them reach their impossible ideal of an Adonis-like body.
Although we typically associate this disorder with males, it can occur in females also. It can have catastrophic physical consequences including kidney failure, heart disease and musculoskeletal injuries. Effective treatments for muscle dysmorphia use the same approaches as eating disorder treatments.