The dark face of anabolic steroids
The side effects of anabolic steroids are well-known. Nevertheless, many guys wish to appear big and strong because they notice how body definition generates attention and respect. This natural desire may cause a guy to try anabolic steroids or other muscle enhancers. However, these substances can be very dangerous if not used under the control of a physician.
Anabolic steroids are synthetic chemicals that, when put in the body, act similarly to male sex hormones like testosterone. The major effect that anabolic steroids can produce is growth of the muscle tissues. Testosterone, the active ingredient in anabolic steroids, does work. It boosts muscle mass and turbocharges your sex drive. The problem is that testosterone, like any other drug, has potentially harmful effects.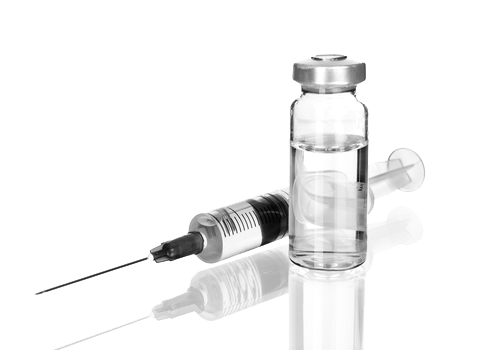 Once seen almost exclusively in competitive male athletes, anabolic steroid use is also seen among men who may not be athletes but want buff, athletic bodies. Steroid use has also become increasingly common among female athletes.
Because of their potential health risks, anabolic steroids are classed as illegal drugs and banned by many sporting organizations.The only way to legally obtain steroids is through a prescription, but a huge illegal drug trade has grown out of selling steroids to athletes and others who wish to grow bigger, stronger muscles.
How dangerous are these drugs? What are the side effects of anabolis steroids? Are we to believe the shocking media reports of steroid-related deaths and the scare tactics employed by health professionals? If steroids are so dangerous, how come thousands of bodybuilders use them? In this article we examine the hazards of steroid use in more detail.
What are the odds of developing a complication?
So, if you take anabolic steroids, what are the odds of developing a complication? The answer isn't straightforward because many factors determine the frequency and severity of side effects.
In surveys, more than 80 percent of steroid users report some kind of steroid-related complication. In other words, at least four of every five steroid users experience unwanted symptoms. These data imply that if you take large doses of anabolic steroids on a regular basis, your chance of experiencing a side effect is 80 percent or greater.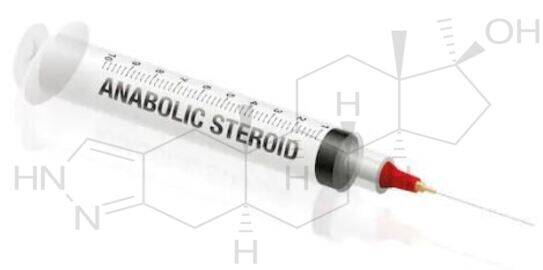 Using anabolic steroids is therefore dangerous activity. However, the following is what makes the use of steroids even more dangerous with disastrous consequences.
Some bodybuilders take ten times the recommended dosages.
People who misuse steroids also typically "stack" the drugs, meaning that they take two or more different anabolic steroids at the same time, or mixing oral and injectable formulations.
Most people taking steroids do not even understand the basics of biochemistry. There is a lot of knowledge that is required to use steroids. A person should definitely not use steroids unless they are prescribed by a physician, or they have at the very least done their homework and understand how steroids act on the body.  Learn everything you can about steroids  and your bodies chemistry.
Absence of post cycle therapy that is absolutely necessary in most cases.  In order  to do steroids right you have to take care of your body when coming off of them.
What are the main side effects of anabolic steroids
Using anabolic steroids can have unpleasant side effects. The side effects of anabolic steroids depend upon the amount and duration of administration.
The most common of these is an increase in male characteristics like body hair and a deepening voice. These particular side effects may be difficult to detect in men, but they are usually quite noticeable in women who abuse steroids.
Short-term treatment usually causes reversible side effects whereas chronic treatment may cause permanent (irreversible)  changes.
Changes that can be reversed include reduced sperm production and shrinking of the testicles (testicular atrophy). Irreversible changes include male-pattern baldness and breast development (gynecomastia) in men. Unfortunately, with extensive  long-term use, a male could become infertile permanently.
Life-threatening side effects may include heart attack and liver cancer.
A complete description of the side effects of these agents is presented in the table below: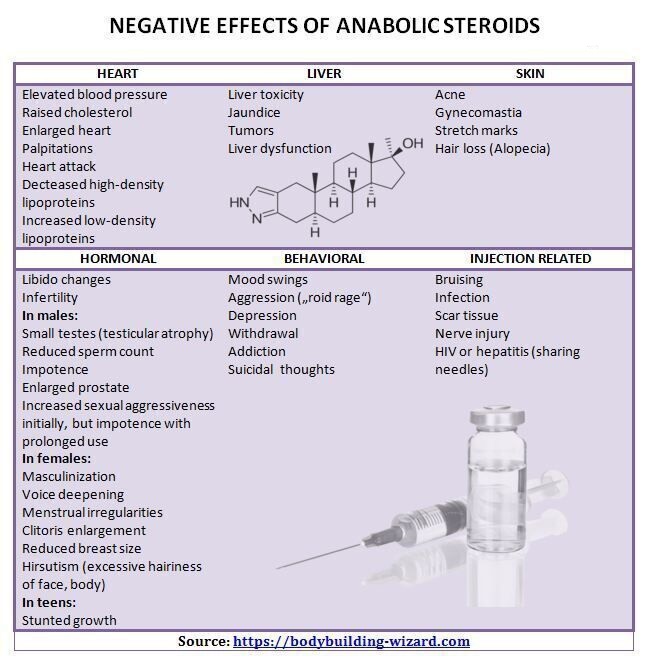 What are the risks of anabolic steroid use in women and adolescents?
Especially women and adolescents should absolutely avoid anabolic steroids.
In women taking anabolic steroids causes irreversible virilization (masculinization). Women taking steroids experience reproductive complications also. In addition to increased facial hair, male-pattern baldness, and deepening of the voice, enlargement of the clitoris and menstrual irregularities may occur. Extended use of steroids could also result in infertility in women.
Steroids taken for a long period of time also can cause stunted growth and accelerated puberty in adolescents. They accelerate bone growth, so if they're misused by adolescents who haven't yet had the growth spurt associated with puberty, the drugs can cause premature ageing of the bones and restricted growth.
Closing thoughts: Health should come first

When most people think about anabolic steroids they think about muscularity for good reasons. Almost every imposingly muscular body that exists today is a product of heavy and prolonged anabolic steroid use. Nevertheless, there is much more to anabolic steroids than the muscles that they build. Most people don't think about the potential addiction, denial of such addiction, violent behavior, hostility, aggression, likelihood of promoting narcotic abuse, suicidal behavior, premature death, and the heightened sexual appetite that the abuse of anabolic steroids can cause. It is almost impossible to enumerate all the possible side effects of anabolic steroids that can easily occur.

Testosterone's anabolic action builds muscle, but its androgenic properties can adversely affect several body systems, including the cardiovascular, hormonal, reproductive, gastrointestinal, and nervous systems, as well as the skin.

A person should definitely not use steroids unless they are prescribed by a physician, or they have at the very least done their homework and understand how steroids act on the body.