Why Exercise With a Heart Rate Monitor?
Many exercise accessories are available to help you measure your fitness level, monitor your progress, and make sure your exercise routine is safe and effective. While many are unnecessary, the following cardio exercise tools can be quite helpful:
pedometer;
calorie counter;
heart rate monitor;
What is a heart rate monitor and how it works?
Heart rate monitors are helpful accessories during cardio exercise for everyone from beginners to professional athletes. It shows you in detail the effect of exercise on your body by measuring your heart rate. In other words, it tells you very important fact – how many beats per minute. A heart rate monitor has two basic compo­nents – a transmitter strapped to the chest and a wristwatch receiver. The chest strap is the more critical piece, as it detects the heart's electrical activity and wirelessly transmits it to the receiver.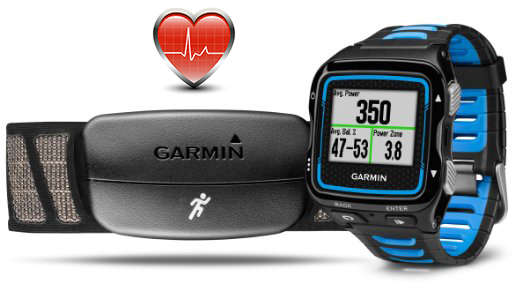 Why do you need a heart rate monitor?
During aerobic exercise you may consider wearing a heart rate monitor to measure the intensity of your workout and determine whether or not you're working hard enough to reap cardiovascular benefits or too hard and need to slow down. A heart rate moni­tor eliminates the need for taking your own pulse and figuring out your heart rate as described in the post "The Heart Rate Zones | How to Calculate Your Target Heart Rate Range?," earlier in our category cardio workout.
In other words, each specific training zone is related to a heart-rate range in which certain benefits might be expected. Without using a heart rate monitor it's going to be quite difficult to determine are you working out within upper and lower limits for your desired cardio zone. You should always stay within the upper and lower limits for you desired training zone.
What Are the Benefits of Heart Rate Monitors?
There are many arguments in favor of using a heart rate monitor to manage your training.
Improve well-being. If you train in your personal HR zone, you will improve your well-being and avoid overtraining.
More effective use of training time. Training at the right intensity is a more effective use of training time.
Improve performance and fitness. If you know your individual HR zone, you can plan your training better and more efficiently, and improve your performance more quickly.
Reliability & accuracy. Heart rate monitors are so advanced these days that they are often used in the medical field, primarily because of their accuracy, ease of use, and cost relative to expensive dedicated medical equipment.
Spot health problems more quickly. If you check your HR before, during and after working out, you will spot health problems more quickly and be able to treat them immediately. This reduces the risks of physical activity.
Keep motivation. Motivate yourself with the amount of calories burned in training calculated for you by the heart rate monitor.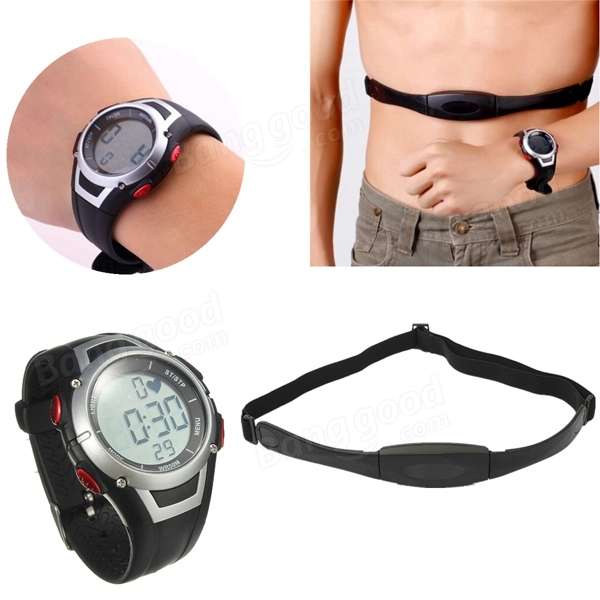 Heart Rate Monitor Features
The functional features of heart rate monitors have also come a long way since the 1970s. Originally, monitors showed only one's instanta­neous heart rate – how fast the heart is beating right now. But today's model offers many fea­tures, including the following, depending on which monitor you choose.
Heart rate. This is the most basic feature and is found on all devices.
Time of day. Besides time of day. many also feature dual time zones for conven­ience when traveling.
Memory. As you work out with your heart rate monitor, it stores time as being in, below, or above your heart rate zone (or zones).
Stopwatch. The stopwatch mode is used to time your workout and can also record lap or "split" times for later review. This is useful when you're doing interval workouts.
Alarms. Not only do most monitors pro­vide an alarm clock to make sure you wake up in time for your workout, they also offer target zone alarms. These notify you when you are out of the targeted training or rac­ing zone.
Timers. Some units have independent countdown or count-up timers.
Calories burned. You often want to keep track of how many calories you burn while training.
Fitness measurements.
Pace. For a runner or walker, the most valu­able data besides heart rate is pace or power how fast they are moving.
Altitude. If you often tram or race on hilly terrain, it can prove insightful to know how much climbing and descending you're doing.
Barometric pressure.
Temperature.
Compass.
Computer upload.
Closing thoughts
The best way to ensure that you are achieving your target heart rate (THR) (also called training zone) while you exercise aerobically is by wearing a heart rate monitor. There are two main points to consider when purchasing and using a heart rate monitor.

Look for a model that tells you when you're in, or out of, your THR (training zone) with an audible signal in addition to visually displaying your exercising heart rate. Look for additional features that will help you reach your total fit­ness program goals.