Single-Arm Landmine Shoulder Press
This is not a traditional single-arm exercise, but it is an alternative for developing shoulder strength. The single-arm landmine shoulder press is beneficial in developing front (anterior) and side (lateral) deltoid muscles. The main benefit of this exercise is that it works your shoulder and chest muscles in a way that is not so stressful on the joints than traditional barbell exercises. Therefore, if you may have limitations when pressing a weight overhead this exercise can be of a great help.
However, this does not mean that this exercise is only suitable for people having some kind of shoulder injury. Even if you are injury free you should do single-arm landmine shoulder press from time to time to prevent boredom and to add variety to your shoulder workout. Using a single-arm action also develops stability in the shoulder and trunk. This is the main reason why we have chosen this particular version of the exercise for this this article – standing single-arm variation. However, there is nothing wrong with performing this shoulder exercise with two hands on the bar or while in a staggered stance
Exercise Instructions – Proper Technique
SETUP: Place one end of a barbell in a landmine apparatus. If a landmine apparatus (attachment) is unavailable, place one end of a barbell into the bottom corner of a wall. Make sure it's a sturdy wall, though; the last thing you want is a hole in your gym wall. Place an appropriate weight plate at the opposite end of the barbell.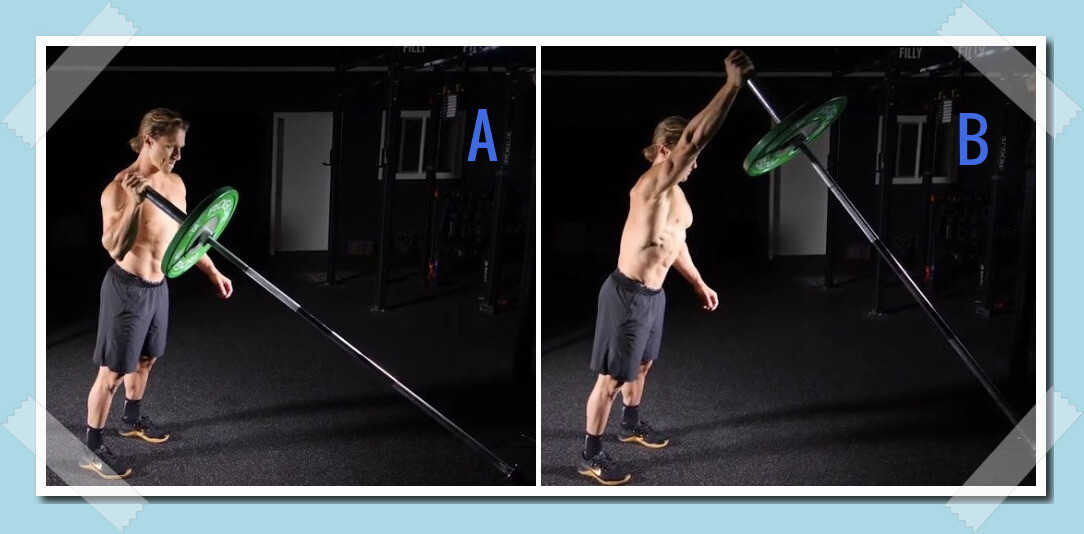 ACTION: Standing with the hips and knees flexed in a good defensive stance, grab the weighted end of the bar with the left hand and lift the bar up, rotating the elbow forward so the bar is resting in the palm at shoulder height. Maintain an elbow position close to your body. Maintaining your solid defensive stance, extend the arm holding the barbell up and forward until the arm is fully extended. The landmine's path does not have to be straight. The person pressing has the ability to press up and around making it easier to achieve desired scapula movement. Slowly lower the barbell to the starling position. Perform the prescribed number of repetitions. Switch to the other side – repeat the exercise using the right arm.
Single-Arm Landmine Shoulder Press Key Points
Here are some useful tips & tricks that will help you to perform this exercise efficiently, correctly, and safely.
Male sure your feet are wide enough that you are in a good stable stance.
Your butt is out and your knees are slightly bent.
Make sure your core is in a neutral position. Don't let your lower back to hyperextend away from the bar itself.
Your body is in a slightly forward lean position (your whole body from toes to head; not just your torso).
You don't want to start with your elbow sticked tightly to your body because when you go out you will only be able to perform a straight shoulder flexion pattern. You should aim to achieve around the roll pattern that drives a good upper rotation of the shoulder blades. So do allow a little gap between your elbow and the body.
While pressing imagine almost leaning into the bar.
Don't drop your elbow too far down (behind your body) while you descent.
To target your shoulder muscles you arm should almost be in line with your spine. To target more your upper chest muscles you should press the barbell up and out and away from the body.
Muscles Engaged in Single-Arm Landmine Shoulder Press
The single-arm landmine shoulder press works the following muscle groups in your body:
Primary muscles: Anterior deltoid, lateral deltoid, supraspinatus
Secondary muscles : Pectoralis major, posterior deltoid, trapezius, triceps brachii
Exercise Variations
Although there are many versions of this exercise, the most effective are the following three versions:
Standing Double-Arm Landmine Press. You may perform this exercise with two hands on the bar.
Staggered-Stance Landmine Press. You may perform this exercise while in a staggered stance.
One Knee or Double Knee Landmine Press. You may perform this exercise in a kneeling position. Keep in mind that the one-knee option is more stable.

Video Demonstration
Replacement Exercises
Any other front deltoid exercise that generates shoulder pressing movement will do the work.
Standing barbell shoulder press
Closing thoughts
If you're aiming for shoulder development, the standing single-arm landmine shoulder press is your best bet. This pushing exercise is quite similar to all those overhead pressing variations you've done, except with one key difference; it requires less shoulder flexion. We are all familiar with the fact that many people report pain with full range of motion bench press and direct overhead movements such as military press and push press. If this is you. you can experiment with landmine press.