What if someone tells you that there is a super simple approach to make your muscles grow faster? Even more interesting, one that doesn't involve spending longer in the gym, doing different exercises, increasing the number of sets and reps, or lifting heavier weights. All you need to do is shift the way you focus when you lift—and the growth will follow. This article explains the importance of creating and maintaining a focus while strength training.
The importance of attentional focus in weightlifting
Actually, it can't be more simple. Attentional focus simply refers to what you think about during a particular movement or activity.
When it comes to weight training, many people think that it is just a matter of moving weights, and this will lead to progress and results. Often, though, this only leads to confusion and aching joints, and rarely to the expected results.
The reason behind this is that many people lack the necessary focus and have little in the way of a connection between mind and muscle.
It seems that most people in the gym simply pick up a weight and just move it from A to B. These same people come into the gym year after year looking the same way. This lack of progress can often be attributed to the wrong training program and an insufficient diet, but many of these people could have seen some results if only they had focused and felt the muscle as it was being worked.
The intense, precise, zen-like focus that can lead to much bigger, more noticeable results can only be achieved through a non-distracted focus on your objective, along with feeling exactly how muscles are being stimulated during exercise.
During your exercise routine, focus on applying the powers of your mind to weight training to create a mind–muscle connection. To do this, before executing a set, think about the exact muscles you intend to stimulate. Every time you perform an exercise, think about the muscle expanding and contracting. Feel the muscle as it contracts to lift the weight and as it stretches to bring it back to its original position. This is something known as internal attentional focus.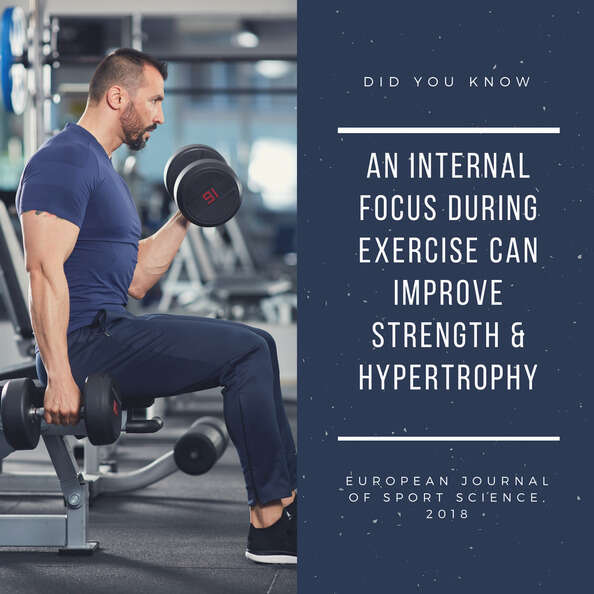 For example, when you work out the chest, contract the muscle as you move the weight up, and stretch it as you slowly move the weight back down. For the biceps, focus on squeezing the muscle when lifting and slowly stretching it when lowering.
On the other hand, an external focus involves directing your attention outside the body. An example of an internal focus during the squat might be to "squeeze your glutes on the way up," while an external focus could be to "drive the floor away from your body."
To achieve bodybuilding results one must also focus during the workout itself. Engaging in things like texting or chatting pulls all the focus away from the workout. A lack of focus and dedication to your training will get you nowhere in a hurry.
Finally, another great help to your bodybuilding endeavors is to focus on what your goals are. If your ultimate goal is to compete in a bodybuilding show, you need to focus on that, visualizing how you will look and taking the actions necessary to begin your path toward that goal. You will need to embark on a very demanding training and nutrition program, which will test the limits of your mental endurance.
Staying focused on your ultimate goal will keep you on track and prevent you from deviating from your path. This is not an easy feat, but having such focus will put you on a laser-guided path towards success.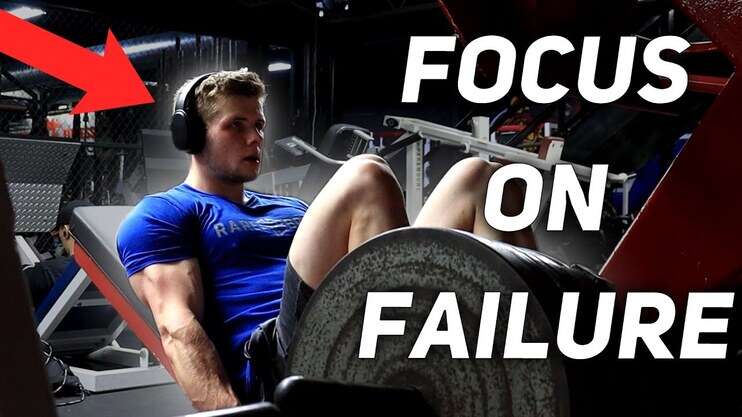 Summary – Improve focus when weightlifting
Improving focus takes time. It's not something that'll happen overnight. However, be sure you'll get better results (in certain exercises at least) by focusing intensely on the muscles you're supposed to be working, rather than just shifting a weight from point A to point B.
Doesn't sound like it would make much difference, does it? Okay, but the science shows that it does. For example, after telling subjects to "pull with their back, instead of with their arms, by adducting the scapulae and concentrating on the tension in the back musculature," the researchers found that muscle activity in the lats (while doing lat pull-downs) was up by nearly 20 percent. You have to agree, it's not a negligible difference!