For ages, bodybuilders have used the mind-muscle connection to bring attentional focus to the working muscle. Attentional focus is what you think about while performing a movement or exercise.
Therefore, contrary to popular belief, weightlifting is more than just a physical endeavor. There is a large mental component associated with the activity, and harnessing your mental acuity can substantially improve results while decreasing the potential for injury. In fact, two people using identical workout routines will achieve vastly different results depending on the level of mental focus that they apply during training.
What is a Mind-to-Muscle Connection in Weight Training?
In essence, a mind-to-muscle connection is an ability to visualize a muscle and to feel it working through a complete range of motion during exercise performance. Rather than thinking about where you feel a muscular stimulus, it requires you to think about where you are supposed to feel the stimulus. By bringing consciousness to the area you're targeting, you're directing more neural drive to the muscle, which increases tension and activation.
This might seem like a foreign concept to many, and its relevance to training might not be initially apparent. However, until you are able to develop a mental connection with your muscles, the effectiveness of your training efforts will be severely limited.
Many trainees believe that weight training is merely the action of lifting a weight from point A to point B. Unfortunately, while these individuals might perform an exercise with what appears to be a satisfactory technique, they fail to adequately stimulate their target muscles.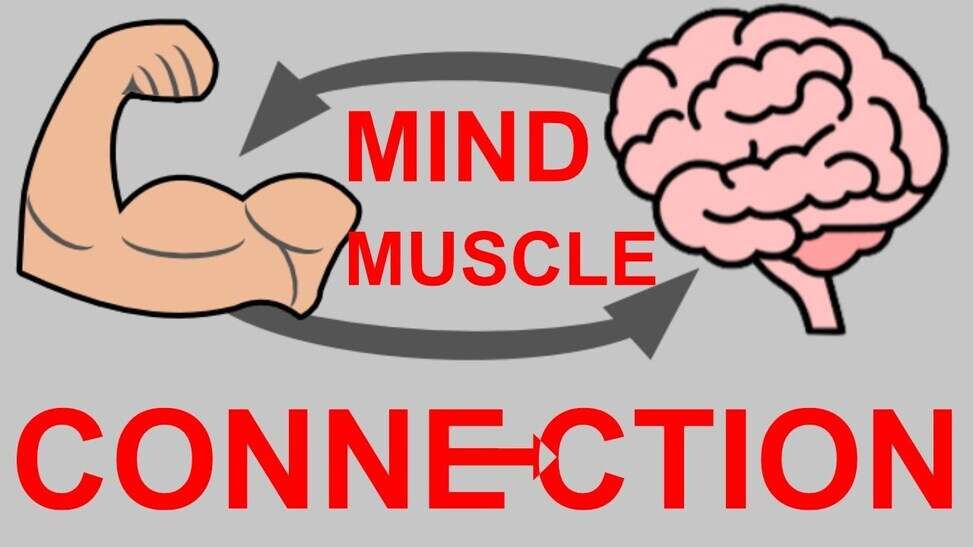 What are the Benefits of Establishing a Mind-to-Muscle Connection?
A mind-to-muscle connection is beneficial on two levels.
First, it ensures that your target muscles perform the majority of work during an exercise. Without this connection, your supporting muscles and connective tissue tend to dominate the lift, which diminishes results.
Second. when you've mentally locked into a movement, your form tends to automatically fall into place. This both improves exercise performance and reduces the possibility of injury.
Example of Developing Mind-to-Muscle Connection While Doing Lat Pull-Down
For example, in the lat pull-down, it is quite common for a trainee to feel the majority of stress in his biceps and forearms. Because the biceps and forearms initiate the movement of weight in this activity, the arms necessarily receive a good deal of stress during the lift. Hence, without applying the mind-to-muscle connection, the trainee can be inclined to use his arms, rather than the target muscles of the upper back, to lift the weight. Obviously, this diminishes the overall effectiveness of the exercise.
To maximally induce muscular stress, you must consciously visualize the target muscle and use that muscle exclusively to raise and lower the weight. You must be oblivious to your surroundings, with all outside distractions purged from your mind. As you perform each repetition, the target muscle must remain under continuous tension, and you must make sure it is the primary mover throughout the movement.
In the lat pull-down, for example, your entire focus should be on sculpting your back to muscular perfection. Accordingly, you must make an effort to pull the weight down with the muscles in your upper back without assistance from supporting muscles. When you reach the bottom phase of the movement squeeze your shoulder blades together and feel a distinct contraction in your lats, mid traps, and rhomboids.
As you let the weight ascend, your back muscles should resist the pull of the weight. It is all too common for a trainee to concentrate only on the positive (concentric) portion of a movement and to mindlessly let the weight drop without control on the negative (eccentric) portion. Not only does this release tension from the muscle and compromise results, but also it substantially increases the risk of bodily injury. Maintaining muscular control throughout both phases of a movement results in optimal benefits.
As you return to the starting point of the lat pull-down, you should feel a complete stretch in the lass, and you should proceed without hesitation to the next repetition. Keeping your mental focus channeled in this manner directs the majority of stress to the muscles of your upper back and maximizes muscular stimulation to the region.
Example of Establishing Mind-to-Muscle Connection While Doing Hip Thrusts
Say you're doing barbell hip thrusts. As you perform the movement, you put all of your mental focus into squeezing and activating your glutes. As you lower the weight, you're tuned into the tension building in the muscle.
While elevating your hips to reach full hip extension, you're directing all of your attention into contracting the muscle to achieve maximum activation. This is the mind-muscle connection at work. It is also referred to as internal attentional focus.
If you neglect the mind-to-muscle connection, meaning you're not thinking about activating your glutes when you perform exercises that involve the glutes, you work your glutes less, and other synergistic muscles, like your quads and hamstrings, compensate so that you can carry out the task (lift the weight).
How Can You Develop a Better Mind-Muscle Connection?
Choose the Right Exercises. If you're looking to turn the focus inward, choose single-joint exercises instead of compound ones. Isolation exercises target muscles better than multijoint exercises. In general, it is difficult not to feel a muscle targeted by an isolation exercise.
Use Visualization. We are literally talking about thinking of your muscle fibers pulling on one another as they shorten to pull the muscle. So picture the muscles contracting and relaxing in your mind as you count and perform the exercise. This brings your attention to focus eliminating external distractions and noises.
Touching The Muscle. Not often talked about, touching a muscle is a great way to establish a mind-muscle connection. Feeling your muscle contract is a terrific way to actually feel your muscles working and pinpoint exactly what you want to happen.
Warm Up for Each Exercise. This will help get your blood flowing and activate the general muscles you need for your training session. In addition to your general warm-up, you likely have specific warm-ups for your heavy barbell lifts.
Move Slowly. Lifting slowly increases your time under tension. The more time under tension you have, the better you're able to really feel each rep. And feeling each rep is what your mind-muscle connection is all about.
Lift light. Lifting heavier can cancel out the potential benefits of focusing on your muscle contractions. If you use too heavy of a load, it will be too heavy to elicit higher activation. Further, when you are lifting heavy, the last thing you want to do is go really slow nor think about the contraction.
Use Cues. Focusing on cues during an exercise can draw your attention to muscles to enhance activation. For example, while performing a squat, focusing on centering your weight through your heels will engage the glute and quad muscles more.
Turn Off Distractions. Focus on your workout and turn off TV, podcasts, and other distractions.
No Mirrors. Instead of focusing on how your muscles look in the mirror, turn away from your reflection. Focus instead on how your muscles feel through the full range of motion.
Flex Between Sets. Flexing tends to help you maximize your connection to your muscles because you have a vested interest in calling every part of your muscle out to the party.
Closing Thoughts and Summary: Mind-to-Muscle Connection in Weight Training
It's pretty clear now that there's much more to weight training than simply lilting a weight from point A to point B. In fact, two people with 100% identical routines will achieve vastly different results depending on their mental approach to training, or their mind-to-muscle connection.
Simply stated, a mind-to-muscle connection is the melding of mind and muscle so that they become one. Visualize the muscle you are training and feel that muscle contract throughout each repetition. Rather than thinking about where you feel a muscle working, you must picture where you are supposed to feel the stimulus. Make this practice a ritual throughout each set. In short order, it will become a habit.