Strength training isn't a matter of just going to the gym and using whatever machine you find there; it has to be done in a deliberate and efficient way for you to achieve the desired physiological outcomes. A physiological outcome is the way the body changes – in this case, how your muscles adapt. Four possible physiological outcomes can be achieved through a strength training program:
Muscular strength: the amount of weight that the muscles can move in a single effort.
Muscular hypertrophy: an increase in muscle mass, or size.
Muscular power: the ability to move the body quickly through the use of very fast muscular contractions.
Muscular endurance: the ability of a muscle to withstand repeated use over a period of time.
Although muscular strength plays an important role during certain tasks, muscular power is often a more critical factor. Fast use of muscular strength (popularly known as one's power) is one of the important requirements of sportspersons.
It's very important to remember that strength training doesn't necessarily mean you will bulk up. Far too often we hear the excuse, "I don't want to lift weights because it will make my muscles too big." That's just a simplistic generalization of what happens during strength training. The increased size is only one possible outcome, and you don't have to train for hypertrophy if you don't need to / want to.
What is muscular power or explosive strength?
Muscular power is the ability to contract the muscles with speed and force in one explosive act. Muscular power, or explosive strength, is the combination of strength and speed of movement. The energy for our muscular power comes from the anaerobic system.
So, muscular power is one's ability to produce maximum muscular strength (force) in the shortest time. In other words, power means one's capacity of work output per unit of time. Mathematically: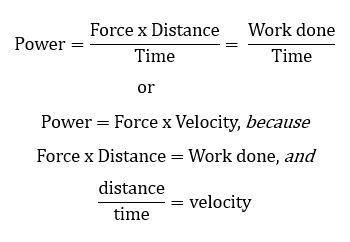 From the above equations, it's obvious that:
Power is defined as "work done per second";
Power may be defined as the "product of force and velocity";
The force x velocity relationship is one of the most important to understand when designing training programs. It is evident that when the load is high, velocity is low, and thus so is muscular power. Similarly, when movement velocity is high, the force generated by the muscle is relatively low, and thus so is the power. Maximal muscle power is usually produced when training with 30% of the maximum velocity and 50% of the maximum force.
Lifting a bar rapidly loaded with 50% 1-RM is difficult to execute, particularly in the final phase of the movement. The athlete must decelerate and stop the bar in order to keep it under control. This deceleration activates the antagonist muscles negatively affecting power output and hindering the required adaptations.
Ballistics and plyometrics avoid this problem, as there is no deceleration. The athlete is free to jump as high as possible or throw an object as far as possible without rest.
However, if free weights exercises are used for power training, you should apply the intensity as shown in the table: "Explosive strength (or muscular power) training guidelines".
What are the two types of muscular power?
Muscular power is of the following two types :
Athletic Power: It is the muscular power expressed in terms of the distance through which the body or an object is propelled in space. For example, Sargent Jump. Broad Jump etc.
Work-Power: Muscular power dealing with the computations of work (force x distance) or work done per unit of time (work/time), is known as work-power. For example, Margaria Anaerobic power test.
What is the difference between power and strength?
Muscular power may also be differentiated from muscular strength. Where as strength is the maximal work done or torque (movement of a system of force tending to cause rotation) developed during a maximal voluntary muscular contraction.
Power is the maximal rate at which muscular force is released. Unlike strength, it has a speed component. Strength is that component of power that does not usually refer to time and distance. In strength measurement, the object of resistance is nearly representing the maximum load.
In power measurement, the object of resistance is released with the idea of gaining distance or height where as in strength measurement, the distance or height is fixed as in weight-lifting. The units of strength are Newton meter or Joule or kilogram meter and the common units of power are watts (one Joule per second), kilogram meters per second or foot-pounds per minute, or horsepower (one horsepower = 745.7 watts).
Example of muscular power
Consider an example. Two individuals can each bench press 200 kg, moving the weight the same distance, from where the bar touches the chest to the full extension of the arms. But the person who can do it in 1 s (Athlete C) has twice the power of the individual who takes 2 s (Athlete B) to perform the lift. This is illustrated in Table 1.
Strength, Power, and Muscular Endurance of Three Athletes Performing the Bench Press
Component
Athlete A
Athlete B
Athlete C
Strength*
100 kg
200 kg
200 kg
Power*
100 kg lifted 0.6 m in 0.5 sec
= 120 kg m/s
= 1.177 J/s or 1.177 W
200 kg lifted 0.6 m in 2.0 sec
= 60 kg m/s
= 588 J/s or 588 W
200 kg lifted 0.6 m in 1.0 sec
= 120 kg m/s
= 1.177 J/s or 1.177
Muscular endurance*
10 repetitions with 75 kg
10 repetitions with 150 kg
5 repetitions with 150 kg
*Strength was determined by the maximum amount of weight the athlete could bench press just once (i.e., the 1RM)
*Power was determined as the athlete performed the 1-repetition maximum (1RM) test as explosively as possible. Power was calculated as the product of force (weight lifted) times the distance lifted from the chest to full arm extension (0.6 m, or about 2 ft), divided by the time it took to complete the lift.
*Muscular endurance was determined by the greatest number of repetitions that could be completed using 75% of the 1RM.
From this table, we can see that although Athlete A has half the strength of Athletes B and C, he has twice the power of Athlete B and is equal in power to Athlete C. Therefore, because of his fast speed of movement, his lack of strength does not seriously limit his power output.
What is the importance of developing muscular power?
Although absolute strength is an important component of performance, muscular power is the functional application of both strength and speed of movement. It is a key component in almost every sport and competitive activity. In football, for example, an offensive lineman with a bench press 1RM of 200 kg may be unable to control a defensive lineman with a bench press 1 RM of only 150 kg if the defensive lineman can move his 1RM at a much faster speed. The offensive lineman is 50 kg stronger, but the defensive lineman's faster speed coupled with adequate strength could give him the performance edge.
What is the training protocol for muscular power?
Number of sets per training session
What scientific research has shown is that for each goal there is a range of sets that provides the most benefit. For power or strength, this is between 3-6 sets.
Number of repetitions per set
The number of reps you complete in each set of an exercise greatly influences the result of that exercise. To develop muscular power perform 1-6 reps/set.
Training intensity – choosing the right weight
Whether performing traditional or ballistic resistance training, there is considerable controversy over the resistance to be used for the development of maximal power performance. If training is limited to traditional resistance techniques then heavy (>80% 1RM) resistances are preferable because it is not possible to overload the muscle sufficiently using light resistances while stopping the weight at the top of the range of motion.
When using ballistic resistance there is perhaps no optimal intensity or resistance. Both heavy (>80% 1RM) and light (<60% RM) resistances have applications in the training of muscular power, with each affecting different components of muscle power production.
For single-effort events, loads of 80-90% 1 RM are recommended. For multiple effort events, loads of 75-85% 1RM are recommended.
Rest intervals
When training for explosive strength (muscular power), rest intervals should be approximately between 2 and 5 minutes.
Speed of exercise execution
Contraction velocity is the speed at which one rep of an exercise is performed. To develop muscular power keep the speed less than 1 second for concentric, and 1 to 2 seconds for the eccentric part of the lift.
Explosive Strength (or Muscular Power) Training Guidelines
Load (single effort events)
80 - 90% 1-RM
Load (multiple effort events)
75 - 85% 1-RM
Number of exercises
2 - 5
Number of reps per set (single effort event)
1 - 2
Number of reps per set (multiple effort event)
3 - 5
Number of sets per session
3 - 5
Rest interval
2 - 5 minutes
Speed of execution
Fast
Training frequency
2 - 3 x per week
How do we improve our muscular power?
Recall that power has two components: strength and speed. Speed is a more innate quality that changes little with training. Thus, improvements in power follow improvements in strength gained through traditional resistance training programs. However, high-power output exercises, such as vertical jump training and some types of resistance training, have been shown to increase power for those specific movements.
We can improve muscular power by training with relatively heavy weights but performing the repetitions at speed. Plyometrics training is also an excellent way of improving power.
Closing thoughts
Put simply, speed plus strength equals power. Therefore, power can be affected by changing either the force component or the velocity component, both of which can be manipulated through training. Programs that focus on heavy resistance training will increase muscle force production, but heavy resistance training alone is not effective at maximizing muscular power. Indeed, elite-power athletes are necessarily strong, but not all elite-strength athletes are powerful.
As is the case with training for maximal strength, power is optimally developed when resistance training is performed with high-intensity loads. Additionally, training with moderate-intensity loads at a high velocity is equally important for increasing muscular power. Increases in muscle size lead to increases in strength, which result in an increased ability to move a load quickly, which directly leads to increases in power. Therefore, some degree of hypertrophy training should be incorporated when the goal is to maximize muscular power.
Rate of force development (RFD) must also be trained, and this is accomplished by attempting to move heavy loads as quickly as possible. While training for RFD, the actual movement velocity of the load might be low, but the attempt to rapidly move the load is the key because this rapidly imparts force into the implement to be moved.