Introduction
The principle of specificity is a critically important factor in program design, although the term is often misunderstood by well-meaning, but misinformed, coaches. The term "sport specific" has been floating around the commercial fitness and strength/conditioning industries for over a decade, but it is often interpreted to mean that the exercises used in training must perfectly replicate the skills of the sport. An example would be a golfer performing a swinging motion while holding a weighted cable.
The term "sport-specific" is also often used interchangeably with "functional training," which often (and inexplicably) calls for athletes to perform exercises standing or sitting on unstable surfaces, like mats and stability balls while lifting a fraction of what they could with their feet on the floor.
In this article, we'll try to explain what the principle of specificity in strength training really means and why this concept (along with the principle of progressive overload) is of such great importance.
The Principle of Specificity at Work
A well-designed weight training program is based on the principle of specificity—the crucial factor in any exercise program. With regard to training, specificity simply means that the program is written for the goal of the user. If your goal is to gain as much muscle as possible, a powerlifting-based program will help, but not as much as a program designed specifically for bodybuilding (a program for muscle hypertrophy). Likewise, if your goal is improved strength and power, a bodybuilding-based program will be better than nothing, but not as helpful as a program based around the Olympic lifts or power lifts.
If you have taken up weight training primarily to improve your skills in a particular sport, you will benefit from specificity training, that is, a weightlifting program that emphasizes the muscles you use in your primary sport.
As mentioned previously, sports strength training has to be designed to mimic the sport you are training for. For example, if you train for a triathlon, then the movements you produce during the swim, bike, and run can be mimicked in a weight room with a little creativity. For example, a squat will definitely make your legs stronger, but when in a triathlon are you pushing off with both feet at the same time? Never!
However, during cycling, you extend the hip, knee, and ankle of one leg at a time, over and over. So all you have to do is develop an exercise that allows you to mimic this one-leg squat to create a sport-specific exercise for cycling.
At the same time, an exercise that is not exactly sport-specific can have a positive benefit for your sport. For example, football players spend a lot of time working on their bench press strength. If you think about a football game, if a player is lying on their back and pushing up, they are probably trying to get another player off of them – meaning the play is over.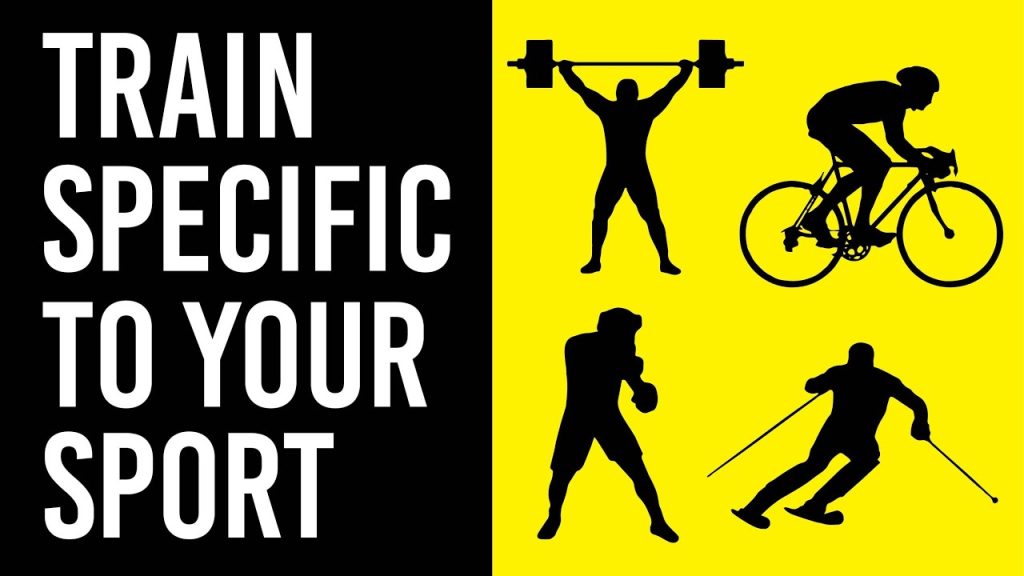 So the bench press isn't exactly a sport-specific exercise for football. Or is it? If you can picture the same bench press position, but standing, you can see how a football player who is standing up and pushing against another player is very sport-specific.
The point is that some exercises have a carryover effect that has little to do with the position you are in during the exercise. As mentioned earlier, a one-leg squat simulates the movement you use in cycling. However, if doing a one-leg squat is too difficult, then a two-leg squat is your solution. You will still get a strength benefit, and you will work both legs at the same time. It's not exactly a sport-specific movement, but it will improve your strength for cycling and maybe you will eventually be able to successfully complete the more sport-specific movement.
If you participate in a sport recreationally or for aerobic exercise, you may prefer to do just the opposite of specificity training, in order to exercise the muscles that are somewhat neglected by your primary sport. For example, runners and joggers may feel that their legs get plenty of exercise already, and they would be quite justified in choosing one of the workouts emphasizing the upper body.
Closing thoughts
Simply put, if you want to achieve a specific result, you need to design and then follow a specific training program. For example, the hypertrophy toning program will cause your body to become more muscular. Furthermore, when you select an exercise for each muscle group or body area, you apply the principle of specificity: to train the chest muscles, you choose a chest exercise, not a leg exercise, for instance.
The principle of specificity is also important to incorporate into your program if you are training to improve your sports performance. Exercises should mimic the movement patterns that occur in your sport. For example, if you are a basketball player, you understand the importance of jumping. To apply the principle of specificity, you need to select weight training exercises that are similar to jumping so that your jumping ability will improve.
Therefore, you would choose to perform the squat exercise rather than the leg extension or leg curl exercise. Although the leg extension and leg curl exercises train the leg muscles involved in jumping, the squat exercise more closely mimics the actual jumping motion.