Smith machine squats Vs free weight squats
Smith machine squats vs barbell squats? It's a debate as old as time. Is one type of squat better or worse than the other? Is there a problem with squatting with a Smith Machine and if so how can we solve it or compensate for it? This is what we'll try to answer in this article.
What are the main differences between the barbell squat and the Smith machine squat?
There are two major differences between the barbell squat (free weight squat) and the Smith machine squat. The first one is how far you can bring your feet in front. With the barbell, there is only one possible position – feet directly under the bar. You can't do it any other way because you will lose balance. In contrast, the Smith machine follows a fixed path, thereby removing the need to balance it, so you can bring your feet out to various distances. This has its advantages and disadvantages, as you will find out from the text below.
The second noticeable difference is that you are more likely to be considerably stronger while performing squats using the Smith machine than when performing them using the barbell. The strength increase for the Smith machine squat is due to the reduced need for balance, thus allowing a focused effort on driving the bar straight up. Your 1 RM (one-rep max) will be higher when you squat using the Smith machine.
What strength coaches are saying on this subject?
The Smith machine is for sure far away from being the ideal piece of exercise equipment. Despite that we encourage our readers to use it for squatting. However, not all strength coaches agree. In fact, a lot of trainers contradict themselves by saying that unstable surface training is bad because your muscles don't fire optimally. But those same trainers will say that Smith machines are stupid because they're too stable. So free weight offers just the right stability and therefore is all you should do? It's nonsense. We've said it before and we'll say it again: the more stable the exercise, the safer and easier it is to perform. This is great not only when you're first learning to squat and trying to dial in your coordination, but also to supplement in your training.
What are the main advantages of the free weight squats (barbell squats) over the Smith machine squats?
You have a freedom of movement. The bar can travel in an arc. This is not the case with the Smith machine squats – they force you to follow the bar path dictated by the machine, but the bar path should be dictated by your body.
Barbell squats allow you to descend while leaning torso slightly forward but still maintaining a neutral spine and neck/head.
When doing free weight squats (FWS), your stabilizer muscles contract in order to keep your body steady. Since stabilizer muscles are important to free-weight movements, it makes sense to train those using free weights.
Free-weight squats activate the quads almost 50 percent more than Smith machine squats. This is due to the position of the feet. Placing the feet closer under the body (like in barbell squat) results in greater moment about the knee (meaning more work done by the quadriceps).
What are the main disadvantages of the Smith machine squats in comparison to barbell squats?
The bar must travel straight up and down (it is locked into a fixed pathway) instead of in an arc as it does in a barbell squat. When you squat, the barbell isn't supposed to move in a straight line. This places more stress on your lower back. The bar should move forward and back a little bit throughout the motion.
Because of the stability of the Smith machine, you can easily keep your balance. This means your stabilizer muscles are not recruited (or trained optimally).
When your feet are forward, you lose the natural inward curve/arch in your lower back because your hips are forward and away from their ideal position. Your hips may even move well in front of your shoulders, which produces severe rounding of the lower back. While you may wrongly think you are sparing your knees of a lot of stress, a back injury is around the corner.
As you descend with your feet forward, there is exaggerated friction between your feet and the floor (to stop your feet slipping forward). This produces a shearing force in your knees that, internally, is trying to wrench open your knees. If you bring your feet back so they are directly beneath your shoulders, all looks well until you go down in the squat. Your knees will travel forward in front of your toes when your thighs are parallel or near-parallel to the floor, and the stress on your knees is hugely exaggerated.
Quadriceps activation is almost 50% lower when compared to the free weight squat.
Limited or poor implication on activities of daily living since there is a lack of specificity on the angles and muscles used during the exercise.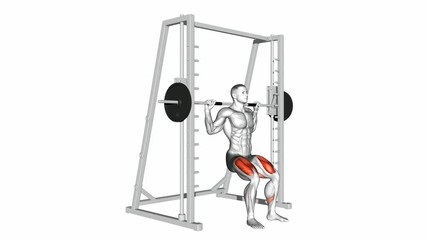 What are the advantages of the Smith machine squats in comparison with barbell squats?
Top 3 pros
Safety. Smith machines can be a good substitute for free-weight squats because the guidance they offer reduces the likelihood of accident due to a loss of balance.
Especially suitable for beginners. The movement is far easier on a machine because it is completely guided and you do not have to balance the bar. This lessens the chance of injuries due to a loss of balance as your muscles tire. Deteriorating technique as a result of fatigue is also less likely. Therefore, if you are a beginner, a machine is safer than free weights until you master the movement. The Smith Machine is excellent for this purpose.

Convenient for those coming back from an injury. It's easier on your joints, making it a great tool to use when you're feeling beat up or coming back from an injury.
Other benefits
Allows you to you bring your feet in front to various distances. Placing your feet farther out during a SMS may result in more glute and hamstring activation than during a FWS where the feet are naturally closer to your center of gravity. This effect can prove especially beneficial if your hamstrings and glutes are undertrained or underdeveloped when compared to your quads.
You do not have to take a barbell from stands, step back to perform your set, and step forward at the end of a set in order to return the bar to the stands.
Supplementing or taking some time away from free weights might actually improve your strength, with one big caveat—you perform the squat in the Smith machine just like you do with free weights. This means that you don't position your feet in front of you like you would in a hack squat machine, and you end up leaning forward around 45 degrees at the bottom of the movement. The vast majority of people don't Smith machine squat this way, but you can indeed make your Smith squat feel very similar to your barbell squat.
Your 1-rep max will be higher during the Smith machine squat when compared to the free weight squat.
You can easily perform SMS with one leg only (isolate one leg) because you're fully balanced. You only have to focus on lifting the weight, while balance and stabilization is a non-issue here.
What are the main disadvantages of the free weight squats (barbell squats) over the Smith machine squats?
You can't bring your feet in front. An attempt to adopt such a position in a free squat will cause you to fall backward. You can position them only directly under the bar.
Since you can't bring your feet in front during a FWS, glute and hamstring activation will be

smaller than during a SMS.

You can't isolate one leg because you're not balanced like you are during a SMS.

Placing the feet closer under the body

means lesser moment about the hip joint (meaning less work done by the gluteus and hamstrings).
The verdict: Smith machine squats Vs Barbell squats
Smith machine squats Vs barbell squats? Volumes of literature could be written on the ongoing argument between the use of strength-training machines or free weights, but here we shall conclude that both are important and complement each other in muscle training. Therefore, get the benefits from both worlds!

You should incorporate both exercises into leg training. Although the Smith machine squat has been shown to allow heavier training and the forward adjustment of foot positioning, the fixed nature of the Smith machine doesn't call numerous stabilizer muscles into play. Over time, this can decrease strength and even increase the risk of injury later, when you are not using a machine, as it does not develop the stabilizer muscles. Yet, because the Smith machine version of the squat can allow for heavier training and can put greater emphasis on the glute and hamstring muscles, it's recommended in addition to barbell squats.

Most people are training for physique purposes anyway. So what we are going to say to a client who just wants better legs and loves the Smith machine—that he or she can't use it because it's too stable? No way! We would prefer that client do both free weight and Smith machine squats. We want them to use the Smith machine if they happen to like it because it's more stable, meaning they're less likely to get injured. And they can adjust their stance to be more like a free weight squat or more like a machine hack squat depending on their preference for that session. Therefore, both the FWS and SMS serve different purposes but which to choose depends on your goals and training preferences.