Definition: unilateral versus bilateral
A unilateral exercise is one that works only one leg at a time. Bilateral works both at once. Exercise performance with only one leg or with two legs simultaneously affects the neuromuscular adaptations to strength training differently. Optimal strength training may involve the inclusion of both bilateral and unilateral contractions, with the ratio of bilateral to unilateral contractions based on the needs of the sport. You will understand this best by looking at the benefits of each of these two exercise modalities.
The logic behind one-leg exercises
The logic of one-leg strength exercises is impeccable: Most actions in sports – from running and jumping to throwing and kicking – are produced with force generated by one leg, while the other acts in support. But because the exercises are hard to teach or supervise, especially in a group setting, and because their benefits aren't as easy to quantify as those of bilateral exercises like squats and deadlifts, they're sometimes an afterthought in strength and conditioning programs.
The benefits of single-leg exercises
As a general rule, two-leg exercises such as a traditional squat or deadlift are mastered before incorporating one-leg versions of the same movement. Indeed, a one-leg version of a squat or deadlift requires considerably more balance and coordination (i.e., neural activation) to get the technique dialed in. You will for sure notice a difference in how the muscles are getting worked, and often, you'll find you get a rather interesting core workout from the effect of maintaining side to side stability. That is one reason it's such a valuable addition to any training program.
The other reason is arguably even more important: One-leg exercises reduce compression stress through the spine.
Finally, any one-leg exercise allows for correction of side-to-side imbalances. In other words, one-leg exercise allows you to take the dominant side out of the equation, isolating the weaker side (leg) and thus forcing it to become stronger and/or more developed.
Some trainers will even go so far as to say that lower body bilateral training is unnecessary. We strongly disagree. Every time you take a break from bilateral work for any significant amount of time, you'll most probably notice that your overall strength has declined.
The benefits of two-leg exercises
Two-leg (bilateral) exercises are the traditional squats, deadlifts, stiff leg deadlifts, etc. The big advantage of these are that you can simply lift more weight (allows for more loading) that way as there is less balance and stabilization necessary. This will result in much bigger recruitment of the prime movers.
As already stated, performing exercises one leg at a time involves added difficulty. However, this is mainly true during free-standing body weight exercises. When exercises such as leg extensions or leg presses are performed in a machine, the elements of balance and coordination are minimized. It's much better for those exercise to be performed with two legs simultaneously.
The benefits of incorporating both one-leg and two-leg exercises into your training regimen
Another way to vary exercise performance is to alternate between unilateral (one-leg) and bilateral (two-leg) exercises for the same prime movers. The level of muscle activation differs when you perform an exercise bilaterally versus unilaterally. Unilateral training may increase bilateral strength (in addition to unilateral strength), and bilateral training may increase unilateral strength, as well as reduce the bilateral deficit. This term describes the fact that the maximal force produced by both limbs together is smaller than the sum of the limbs contracting unilaterally. The bilateral deficit may be minimal in well-trained individuals. Thus, unilateral and bilateral exercises are both recommended.
Examples of one-leg exercises
Before we move on it's important to clarify what exactly we mean by a one-leg exercise. Ostensibly, it means that only one leg is on the ground throughout the entire movement, such as a one-leg squat or deadlift. But that's not necessary to reap the benefits we just covered. Any split squat, lunge, or step-up variation will also unload the spine and require greater neural activation than a two-leg exercise. So for the purposes of this article, any of the following lower body exercises will be categorized as a one-leg exercise: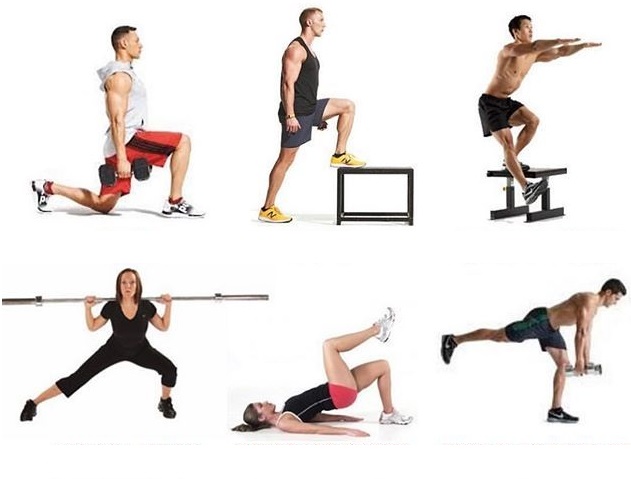 One-leg deadlift
Walking lunge
Single leg press
Single leg extension
Single-leg straight-leg bridge
Single-leg flexed-leg bridge
Rotating two-leg and one-leg exercises between workouts is a good idea. For example, if a deadlift is programmed on Monday a lunge, step-up, or similar one-leg variation should be programmed on Wednesday or some other day. This allows you to keep training your lower body with plenty of load and intensity without straining your intervertebral discs. Performing a two-leg squat or two-leg deadlift exercise for each workout can put considerable strain through the spine, which is stressful to your discs and requires a longer recovery.
Closing thoughts: Two-Leg Versus One-Leg Exercises
Proponents of unilateral training (exercises that work each leg independently of each other) will have you believe that this is the most functional way to train that is tremendously useful in working the stabilizers, especially at the knee. True, but if you need to get as strong as possible, you'll be able to shift more weight (resulting in much bigger recruitment of the prime movers) from using a bilateral exercise such as a squat (both legs are used together to move the load). Therefore, it's not really a case of one is better than the other and you'll probably use both approaches at some point in your training and we strongly believe this is the best approach. So alternate between one-leg and two-leg exercises when training your legs!