One of the more common injuries in weightlifters is bicep tendonitis. If you've lifted weights for any significant amount of time, the odds are that you have struggled with bicep tendonitis. Maybe you didn't know it was bicep tendonitis, but you have certainly experienced this unwanted condition to a greater or lesser extent. After reading this article you will surely be able to answer that question.
Definition
If you have dull or sharp pain in the lower part of your biceps muscle close to your elbow on the front of the elbow joint, you could be suffering from biceps tendonitis. It is the inflammation and irritation of a biceps tendon — a fibrous structure that attaches muscle to bone. Common in beginning weight lifters who lift too much weight too fast (especially lifters who perform biceps curls or preacher curls), biceps tendonitis usually leads to severe pain the day after lifting.
Synonyms
Biceps tendinopathy;
Biceps tendonosis;
Bicipital tendonitis;
Other symptoms
Notable pain in the lower part of your biceps muscle close to your elbow on the front of the elbow joint is the main and the most recognizable symptom of biceps tendonitis. Other symptoms include not being able to fully extend your elbow due to the swelling and spasms in the overstressed biceps muscle fibers. In some cases, the pain is so severe and the range of motion is so restricted that the sufferer can't raise a fork to his or her mouth to eat.
Common causes of biceps tendonitis in weightlifters
Lifting too much weight too fast (typical for beginners in bodybuilding);
Poor technique;
Performing biceps exercises too often (keep in mind that every back exercise also works your biceps significantly);
Excessive sets and repetitions;
Veteran weight lifters making too big a step up in the weights that they are lifting;
Not allowing for enough recovery between biceps workouts;
Always performing one specific type of biceps curls;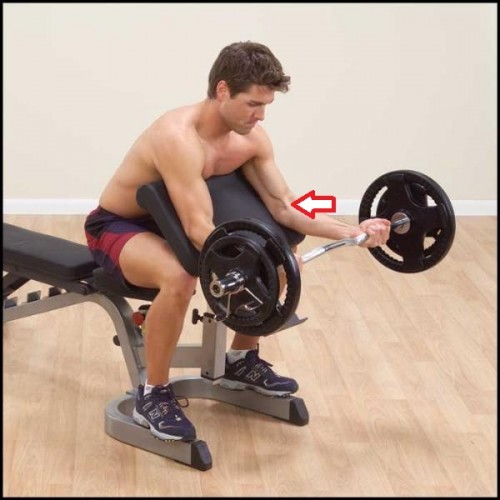 Treatment
The treatment for biceps tendonitis involves resting the elbow and icing the area for 20 minutes at a time, three to four times a day for the first two days following the injury. If you notice some improvement after the first two days, you can start a gentle stretching program to help relax and lengthen the muscle fibers so you can completely bend your elbow once again. During this time, you should try to carefully straighten your elbow often to restore your full range of motion. Try to do this on and off for three or four days. You should be able to return to play once you have full range of motion and strength in your elbow.
Nonsteroidal anti-inflammatory medications such as aspirin or ibuprofen will help relieve swelling and pain.
Also, it's important to change or modify your gym exercises to avoid repeating the same path of motion. For example, changing from biceps curls to hammer curls or from pull-ups to lat pulldowns usually helps. Also, changing the wrist grip for pulling exercises from palm down to palm up is often better. Strengthening the biceps muscle starting at a lighter weight and increasing slowly and progressively aids in pain relief.
Avoid biceps tear
The biceps tendon at the elbow is at risk of tearing. Continuing to exercise with elbow pain from biceps curls can lead to tears in the tendon — which could eventually lead to a full rupture. Once the tendon is fully torn, only surgery can correct the injury.
Summary
Biceps tendonitis, or inflammation, is characterized by pain in the lower portion of the biceps muscle where it attaches to the elbow. It is a common phenomenon in beginning weight lifters who overstress themselves. However, even experienced weight lifters who make too big a step up in the weights that they are lifting are prone to develop biceps tendonitis. The pain usually occurs the day after lifting. A limitation in the range of motion occurs as the result of inflammation and spasm in the muscle fibers. Treatment consists of icing and rest in the acute phase. Adjustment in training intensity and form is necessary, as is rehabilitation exercise.