Difference Between Compound & Isolation Exercises
Compound Exercises  = Multi-Joint Execises      Isolation Exercises  =  Single-Joint Exercises
Compound exercises are multi-joint movements that work several muscles or muscle groups at one time. A great example of a compound exercise is the squat exercise, which engages many muscles in the lower body and core, including the quadriceps, the hamstrings, the calves, the gluteus, the lower back and the core.
Remember, a compound exercise is one in which multiple joints are involved. One of many other examples is a rowing exercise for back, in which both shoulder and elbow joints are initiating the movement; other examples are chest and shoulder presses.

Isolation exercises work only one muscle or muscle group and only one joint at a time (isolation exercises involve movement at only one joint). Examples are biceps curls and triceps extensions, in which only the elbow moves; lateral raises for the shoulders, in which the elbows remain stationary and only the shoulders are working; and flys for the chest, where again, only the shoulder joints move.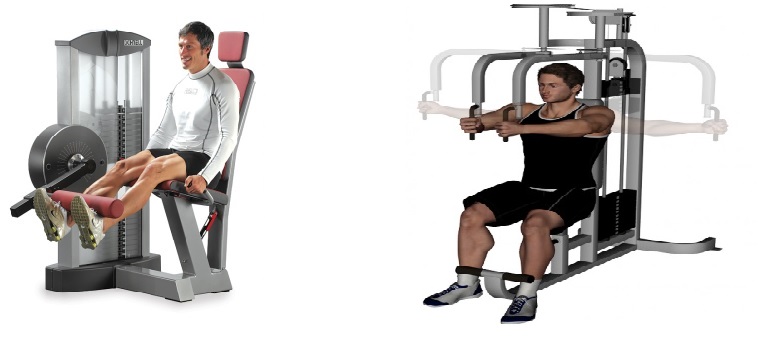 Because they involve multiple joints and call on more muscles to help move the weight, compound exercises are better for building size and strength because you're able to lift more weight. For smaller muscle groups such as biceps and triceps, most exercises involve only one joint (the elbow in this case). You can train triceps by doing close-grip bench presses and dips, both compound movements, but you'll find that virtually every other triceps exercise is a single-joint move.
Compound exercises are a better choice for beginners. They work a lot of muscles and are less likely to cause injury. Advanced lifters mainly do compound exercises, as well. However, they'll supplement their basic plan with isolation exercises to develop weaker muscle groups. If your goal is massive size, this is good approach. Stick with compound exercises and add the occasional isolation movement to build up areas that need more work.
Compound Exercises
Work primary and secondary muscles
Stress high amount of fibres
Build muscle mass fast
Stimulate testosterone and HGH production
Save you time at the gym and give you max recovery benefits
Isolation Exercises
Work primary muscles only
Stress low amount of fibres
Don't build much muscle mass, and slowly
Don't stimulate anabolic hormones production
Take a long time to work all the muscles that you could train with a complete exercise
Some examples of isolation exercises would be:
Bicep curls
Preacher curls
Leg extensions
Calf raises
Triceps extensions
Peck Machine Fly's
Lateral raises
Some examples of compound exercises would be:
Dumbbell or barbell bench press
Rows
Lat Pull-downs
Pull ups
Deadlifts
Squats
Overhead Shoulder Press
Dips