Plantar Fasciitis in Athletes and Sport-Active People
Plantar fasciitis is a common musculoskeletal condition among sport-active people. Although it is not a typical weight-lifting injury the plantar fasciitis in athletes is a common occurrence. In fact, plantar fasciitis is so common in running that is it nicknamed "Runner's Heel". The plantar fascia is a thick band of tissue that stretches from the heel to the base of the toes, supporting the arch of the foot. Plantar fasciitis (also known as painful heel syndrome) is a chronic condition in which the plantar fascia becomes inflamed. This is one of the most common causes of heel pain. Often, when an X-ray is taken of the plantar fascia, a calcium deposit-known as a heel spur-is found over the calcaneus (heelbone).
Plantar fasciitis is a common occurrence in different sports mainly in running and soccer athletes. Treatment and return to sport after plantar fasciitis can be lengthy. That's why the main purpose of this article is to educate you about the causes, symptoms and diagnosis, and possible risks and complications. We will also give you the best possible advises on how to fix it and prevent it.
Key questions and answers about the painful heel syndrome
Here are some frequently asked questions and answers about the plantar fasciitis in athletes:
What is plantar fascia?
The plantar fascia is a thick fibrous band (like an elastic band) of connective tissue. It runs along the bottom of the foot, starting at the calcaneus and dividing into five smaller bands running along the base of the toes. This tissue helps support your foot's arch and give it shape, and it aids in stability when your foot strikes the ground and then pushes off.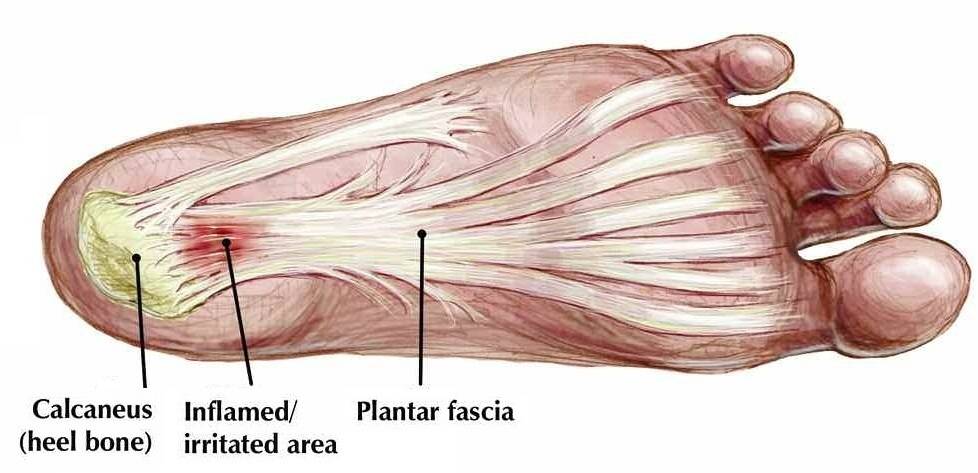 What is plantar fasciitis?
Plantar fasciitis is an inflammation (swelling) of plantar fascia. It causes foot pain.
The injury to the fascia usually begins where the fascia connects to the bony bump on the bottom of the heel called the calcaneal tuberos­ity, one of the most fun anatomical terms.
Heel spurs occur when the heel bone ts irritated by the tendon that attaches the plantar fascia to the heel bone, causing the bone to deposit calcium in the area of the irritation. Heel spurs sometimes occur with plantar fasciitis, but not always. About half of people with this condition also have a bone spur attached to the heel bone, but the spur itself doesn't cause pain.
What are the most common symptoms of plantar fasciitis?
Here are the most common symptoms you will experience:
Sharp or dull, achy pain in the bottom of the heel.
This pain is usually worse during first steps after getting up in the morning or getting up after a rest. Pain usually gets better with walking.
Pain may stop during exercise but will return afterward; you may also feel pain after a prolonged period of rest.
Grinding or clicking sensation at the point at which the tendon crosses your heel.
Some­times pain spreads from the heel toward the toes, and the heel becomes swollen or bruised.
Plantar fasciitis in athletes?
Plantar fasciitis is a common occurrence in different sports mainly in running and soccer athletes. These sports (along with many others) involve repeated stress to the underside of the foot, causing the toe joints to bend and putting pressure on the heel end of the plantar fascia, leading to inflammation. No one is spared – neither recreational nor professional athletes.
How to diagnose plantar fasciitis?
The doctor makes a diagnosis from the symptoms and a physical foot examination. Typically, a physical exam is all that is needed to diagnose someone is having plantar fasciitis. Other tests, including x-rays of the foot, bone scan, and magnetic resonance imaging (MRI) may also be done to confirm the diagnosis.
What causes plantar fasciitis?
Plantar fasciitis occurs in sports with a lot of running and jumping, and those that are played on hard surfaces, such as basketball.
Shoes that do not cushion the foot sufficiently, or support the arch.
Being overweight significantly increase your risk for plantar fasciitis.
Being on the feet for long periods in inappropriate footwear.
Shape of the foot. People with high arches are especially prone to plantar fasciitis because the arch itself also contributes tension to the fascia.
What is the connection between the plantar fasciitis and calf muscles?
The calf muscles (specifically, the gas­trocnemius and soleus) connect to the heel bone via the Achilles tendon. When those mus­cles are tight, the tendon pulls on the bone from above, stretching the fascia and causing strain.
What are the treatments for plantar fasciitis?
Plantar fasciitis is a condition that can respond to a wide variety of treatments. Most cases of plantar fasciitis in athletes will resolve with conservative treatment. There are many treatments for this problem because no one treatment has stood out as the most beneficial.
Avoid standing for long periods and rest the foot often.
Los­ing weight will also decrease stress on the heel and lessen pain.
Putting an ice pack on your heel. Putting an ice pack on your heel for 10 minutes a few times a day helps reduce the inflammation. An easy method of icing is using a frozen bottle of water to massage the bottom of your foot.
Employ dynamic rest. Take a break from the offending activity. Stick with intense upper-body activity that doesn't load your foot.
Custom orthotic devices. Custom orthotic devices are specially molded to your foot and help correct the underlying structural abnormalities causing the plantar fasciitis. They will support the arch region but more importantly they will correct the heel alignment.
Try an NSAID. An anti-inflammatory like ibuprofen or naproxen can help reduce pain and inflammation.
Stretch. Be gentle and slow. You're trying to relieve the tightness in the area, not prepare for a game or race. As the injury heals, adopt the stretching habit permanently. There are many excellent  stretching exercises for plantar fasciitis.
Consider night splints. Wearing a night splint allows you to passively stretch your plantar fascia and calf muscles while sleeping. This can help reduce morning pain. Foot splints are available (usually from $20 to $60) and can help if worn at night. It's best to have a doctor recommend the best one for your case, as there are several varieties.
Shockwave therapy. This is a non-invasive surgical procedure that uses high intensity sound waves to break up adhesions on the plantar fascia and to help activate your body's healing response.
Ease yourself back into the game. Don't restart strenuous lower-body activity until you're pain free. If you mess around with this, you'll simply aggravate the injury and be out even longer.
What is platelet rich plasma therapy for plantar fasciitis?
Another potential therapy involves platelet-rich plasma (PRP). It's new but a lot of pro athletes have used it and gotten results. In areas of the body that don't have great blood supply, healing is slow. The doctor injects your own platelet-rich plasma into the injured area to promote faster healing. The upside is that it works for most people. The downside is that it's generally not covered by insurance. But if you can't get results from any other therapy, it doesn't hurt to investigate it.
What can you do to keep plantar fasciitis from coming back?
Wearing supportive shoes that have good arch support and a slightly raised heel can help reduce the stress on the plantar fascia. When buying shoes, they should be comfortable the moment you buy them.
Avoid going barefoot or wearing flip-flops without support.
Perform low-impact cardiovascular exercise like cycling or swimming or instead of running on the treadmills, rope jumping or using stair climber machines.
Lose weight if you're overweight or obese. Excessive weight puts more pressure on the bottom of your feet.
Continue doing leg and foot stretches. Stretch your calves, Achilles tendon, and the bottom of your foot often.
Obtain custom made shoe inserts (insoles) for extra cushion and added support.
What are the risks and complications that can result from untreated plantar fasciitis?
Untreated plantar fasciitis will usually worsen, making walking painful. You may also experience knee, hip, and lower-back problems. An untreated heel spur may make your surrounding tendons inflamed, encouraging calcium deposits and worsening your heel spur.
Do you need surgery?
Not likely. Surgery is only required in extreme cases that don't respond to normal treatment.
When I will be fully fit?
Plantar fasciitis should heal within a few months.
Closing thoughts: Plantar fasciitis among athletes and sport-active people
Plantar fasciitis is inflammation of the plantar fascia (plantar means the bottom of the foot, and its fascia is the band of connective tissue running from your heel bone to the front of your foot). There are many causes of heel and foot pain. Therefore, a careful history and physical examination are once again very important to make the diagnosis. The most common cause of plantar fasciitis in athletes is too much motion in foot causing excess pulling on the plantar fascia.

One characteristic sigh of plantar fasciitis in athletes (but also in general population) is pain that is worse in the morning or after a period of rest just distal to the heel pad at the origin of the plantar fascia on the calcaneus.

Provision of health instructions to athletes would help in prevention of plantar fasciitis. Athletes should watch for their training mistakes and should maintain good muscular strength and balance.