Shin splints are a common injury in people who engage in sports, whether professionally or recreationally. This injury is often caused when constant pressure has been put on the shin bone, also known as the tibia. Some people are unsure what shin splints are and what causes them. If you often get shin splints then it is time you should learn about them. In this article, we will talk you through what shin splints are and how to treat them.
What are shin splints?
Shin splints, also known as medial tibial stress syndrome (MTSS), usually occur in the lower part of your leg, where your tibia is. This is a general term that is often used to describe exercise-induced pain felt in the front of the lower leg. It can happen if you have been performing exercise a lot and using your legs for most of those exercises. It usually occurs when you perform high-impact exercises such as running and jogging.
Anatomy and physiology
The tibialis anterior muscle originates from the lateral condyle of the tibia and inserts into the medial and plantar surfaces of the medial cuneiform bone. Tibialis anterior is responsible for dorsiflexing and inverting the foot and is used frequently during running to toe up with each step. When the muscle and tendon become inflamed and irritated through overuse or improper form, it will cause pain in the front of the shin.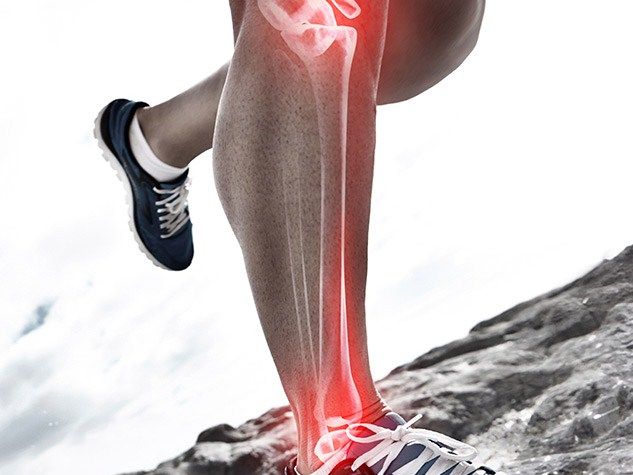 Causes of injury
Shin splints may have various causes but it is usually a result of exercise.
Repetitive stress on the tibialis anterior muscle leading in inflammation.
Repetitive pounding force on the tibia, as with running and jumping.
Failure to warm up properly before running, or an abrupt increase in training intensity.
Running on hard or inclined surfaces, poor technique, or foot abnormalities that place stress on the leg.
Medical specialists are unsure how shin splints exactly occur. Nonetheless, repeated stress on the tibia seems to be the primary cause of this injury.
It is common in run­ners, and about 10-20 percent of runners will experience it in their careers. Athletes in other sports, especially those in ballistic activities like foot­ball, soccer, basketball, and dance, are often susceptible. About 60 percent of all overuse injuries to the leg in runners are MTSS.
Symptoms of shin splints
You have just come back from your long-distance run. It is your fifth run of the week and you are feeling pain in your shins, suspecting it is shin splints. The pain could be throbbing or it may be sharp. Below are some of the symptoms of shin splints.
Dull, aching pain over the inside of the tibia starts when you are exercising your legs
The pain can sometimes get better when you are exercising
The pain is no longer there when you are resting after exercise
The area around your tibia is tender (especially over the inner side) every time you touch it, with possible slight swelling.
Diagnosis
If the pain is unbearable when running or resting, it is time to see a specialist. A physiotherapist or your local GP will be able to help you with your shin splints. Whilst you are there, they will likely check for other things that could be causing the pain.
Your physician will diagnose the condition through physical examination, and rule out other conditions with an MRI. If the pain persists with each exercise or gets worse and the pain is tender and in a small area you likely have compartment syndrome.
Self-help shin splints
There are many ways to treat shin splints without requiring a health specialist. Some of those include:
Stop performing exercises that cause your shin splints. You should rest your legs between 2-6 weeks, depending on how painful they are.
For pain relief, we advise you to take paracetamol or ibuprofen that you can get in a shop.
Ice packs are also a quick solution to your shin splints and can ease the pain for a short time.
Stretching the calf muscles is another good temporary cure. We recommend doing this on a step in your home. Stand on the edge of the step, raise yourself on the balls of your feet then gently lower yourself below the platform. Repost this around 20 times or when the pain stops.
When exercising, wear shock-absorbing insoles that will help cushion your feet. You can also buy special running shoes to ease the pain of this.
It is important to use low-impact activities, such as swimming or cycling, to maintain conditioning levels while recovering.
Doing any of these will ease the pain of your shin splints. Furthermore, once you have rested and have not felt the pain for over two weeks, gently ease your way back into exercising.
Specialist treatment of shin splints
If the pain is unbearable and you struggle to get rid of the injury, we advise you to see a local physiotherapist or GP doctor.
Physiotherapy
Physiotherapy is advised in some cases of shin splints. This will include exercises that will stretch and strengthen muscles in your lower leg. These stretches will also reduce the stress in your lower leg. Finally, they will likely advise you to improve your diet. Encouraging you to eat foods high in calcium that help with bone recovery.
Orthotics
These are specialist insoles that are made for your feet. These are advised if your shin splints are re-occurring. Additionally, these insoles can help change the way you walk or run which could reduce the chances of getting shin splints again.
When I will be fully fit?
You should be fully fit within 3-6 months. In rare cases, you may require surgery in which case your recovery time will be 3 months.
Long-term prognosis & Complications if left unattended
Medial tibial pain syndrome can be effectively treated with no long-term effects. Only in rare cases does the condition fail to respond to rest and rehabilitation, leading to chronic inflammation and pain. Surgery may be required in those rare cases.
If left unattended, shin splints can cause extreme pain and cause cessation of running activities. The inflammation can lead to other injuries, including compartment syndrome. It may even cause stress fractures of the tibia.
Summary
Shin splints can be a common injury for many people. Training errors are the most common cause of MTSS, most commonly a sharp increase in intensity, especially in the early season of training when athletes are highly motivated to get in competitive condition. Run­ning surface is another issue, when athletes may switch surfaces without a concomitant change in intensity.
Nonetheless, they are easy to cure and are not major injuries. However, they can rule you out of exercising for a while. If you suffer from shin splints a lot, we advise you to wear shoe inserts (Orthotics) to help change the way you run. So, rest up, put away your gym leggings, and use one of the treatment methods above to treat those shin splints.