The first thing to decide when developing a workout schedule is the frequency with which you will train. Weight training frequency refers to the number of exercise sessions you perform in a given period of time (usually reported on a weekly basis).
The correct training frequency depends on many factors; type of training (whole body training or split training), intensity, volume, fitness level, time allotted, and training goals all factor into how many sessions you will train per week.
As a general rule, at least three resistance training sessions per week are necessary to maximize muscle development, but a greater frequency can potentially augment results, at least up to a given point. Train too frequently for too long and overtraining ultimately sets in. You can optimize results by periodizing training frequency so that you push your body to the brink without going over the edge.
Weight training frequency with respect to rest periods between sessions
Another important consideration with respect to training frequency is how much time to allow between sessions that train the same muscle group. Of particular relevance here is the time course of protein synthesis. After an exercise session, protein synthesis is markedly increased. This increase lasts for about 36 to 48 hours postexercise. Muscle recovery, however, is an individual thing. It depends on many factors such as lifting experience, intensity of the workout, and total volume, proper nutrition and supplementation.
Training a muscle group before protein synthesis has completed its course can impair muscular gains. Compare the process to getting a tan. If you are very light skinned and bake in the hot sun for an hour, you are going to burn. In this case, you surely wouldn't go back to the beach the next day because that would only make the burn worse. The burn will subside only if you take a break from the sun. Better yet, your skin adapts during this break by producing more melanin. Because of it the next time it's exposed to the sun you tan instead of burn.
As with a sunburn, going back to the gym before the repair process has fully run its course interferes with the adaptation process. In effect, by not allowing sufficient recovery time you keep breaking down the muscle at a greater rate than the body can rebuild it. The muscle can't keep up with the needed amount of protein synthesis, which hastens the onset of localized overtraining.
The impact of exercise frequency on strength levels
Shortchanging the recuperative process also has a negative effect on your strength levels. Studies show that force production is decreased for up to 72 hours after high-intensity resistance workouts (Logan and Abernethy 1996). This reduces the amount of weight you can lift, decreasing muscular tension and thus impairing muscle development. Taking all factors into account, allow a minimum of 48 hours between exercise sessions that work the same muscle group.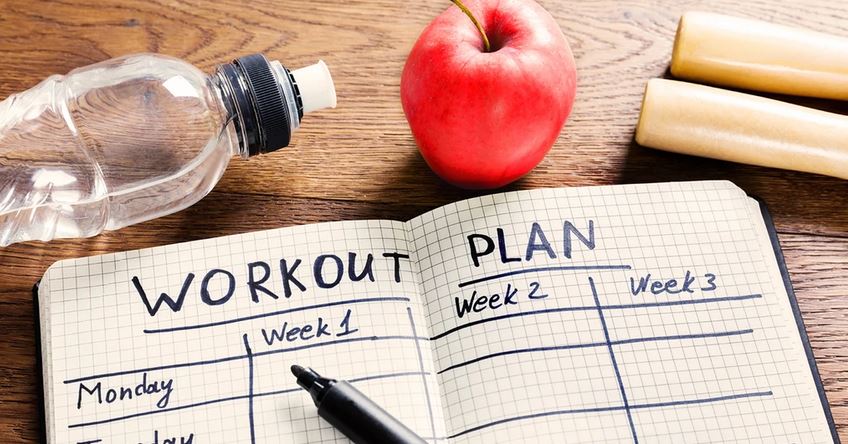 Taking into account the recovery of secondary muscles
As already stated in the previous paragraph, a rest period of at least 48 hours between weight training sessions which target the same muscle groups is crucial. This is the minimum amount of time it takes for the body to repair the damage. It is for this reason that the majority of training programs designed specifically for the purposes of muscle gain favor a split training approach, targeting a different group of muscles in each session. If you have done chest training today, your next chest workout should not be within the next 48 hours.
However, there is something else to consider. You also have to take into account the recovery of secondary muscles that have played a strong role. Exercises such as pull-downs and rows require substantial muscle contribution from the elbow flexors (biceps brachii). Pressing movements (like bench press) involve a significant contribution from the elbow extensors (triceps brachii). Structure your routines to give adequate recovery time to all muscles receiving significant work in a session. In other words, don't think only on a primary muscle group you hit on a certain workout. Otherwise, you run the risk of localized overtraining of the involved muscles.
Training frequency and total training volume
Also note that exercise frequency has a direct effect on total training volume. Assuming that volume within each session remains constant, more frequent workouts will necessarily increase weekly training volume. It therefore follows that, all other things being equal, increased training frequency increases the potential for overtraining. Thus, it's unwise to continue to train on successive days over long periods of time, even if individual muscles are afforded sufficient rest between workout sessions.
Training frequency with respect to type of training (training system)
To an extent, training frequency is limited by how you structure your routine. Specifically, you can train either in a total-body fashion (whole body training system) in which you work all the major muscles in a single session or by various types of split routines in which you perform multiple exercises for a given number of muscle groups in a session.
A benefit of total-body training is that you can train each muscle with a greater frequency (not greater intensity) than in split routines. This is particularly advantageous when the goal is to enhance strength and metabolic adaptations.
Total-body routines generally don't work quite as well when the goal is to maximize muscle development. Compared with full-body routines, a split routine allows you to maintain total weekly training volume while performing fewer sets per training session and affording greater recovery between sessions. This may enable you to use heavier daily training loads and thus generate greater muscular tension.
Moreover, split routines can increase metabolic stress by prolonging the training stimulus within a given muscle group, thereby increasing acute anabolic hormone secretions, cell swelling, and muscle ischemia.
Therefore, you can have 3 full body workouts per week. That way you give yourself at least 48 hours in between. And this is more than enough. Why? Because you will need to train up to 11 major muscle groups (chest, shoulders, back, quadriceps, hamstrings, biceps, triceps, forearms, trapezius, calves, and abdominals) in each workout, the number of exercises and sets you can do per muscle group is minimal. This allows you to train each muscle group more frequently because it receives a limited amount of stress at each workout.
Training frequency for beginners
Beginners are able to advance and see strength gains when they undertake any sort of resistance training. Having a lower workout frequency when you are starting out allows your muscles to experience the appropriate rest and recovery between sessions. As you establish consistency with your workouts, gains become more difficult to achieve. Adding more days to your program allows you to achieve greater results.
When you start weight training, you are generally full of enthusiasm and energy. You feel like working out every day so you can make a lot of progress. This much enthusiasm at the beginning could turn into disillusionment as well as fatigue (overtraining), and then you could lose motivation. Therefore, be patient!
Closing thoughts: Weight training frequency
Workout frequency is generally considered the number of workouts a person completes each week. The frequency at which you train your muscles can be more critical than any of the acute variables of training discussed previously in our posts. The reason has to do with recovery.
The ideal frequency of workouts varies depending on each individual and the type of training, but most people see the best results with three to four resistance training sessions per week, never working the same muscle group two days in a row. This is especially true for people who do not do any other activities other than weight training. For athletes who are already training intensely for their sports, one or two weight training sessions per week will suffice.
Training the entire body over the course of five days (using 5-days split training system) allows you to train only one (or two) muscle group in most workouts. In this scenario (split training routine) you don't have to worry about getting adequate rest between workouts since you will hit each muscle group only once per week. Perform your leg workout between the two upper body workouts; this allows more recovery time for those muscles that assist in both upper body sessions.
You will experience greater results when you are able to "hit the gym" more often in a given week. However, you have to balance this greater frequency with proper rest periods to maximize the gains. Although a greater frequency will result in greater overall gains, you should not be discouraged if you only have one or two days on which you can train. You can still achieve positive results with as few as two days per week. However, to continue making strength gains, you should increase your workout frequency as you become more experienced in the gym.