Cardio equipment: cycling on a stationary upright bike
Stationary upright bicycle resembles a regular bicycle but is immobile. It comes fitted with a seat/saddle, pedals and handlebars; and a console is located at the centre of the handlebar.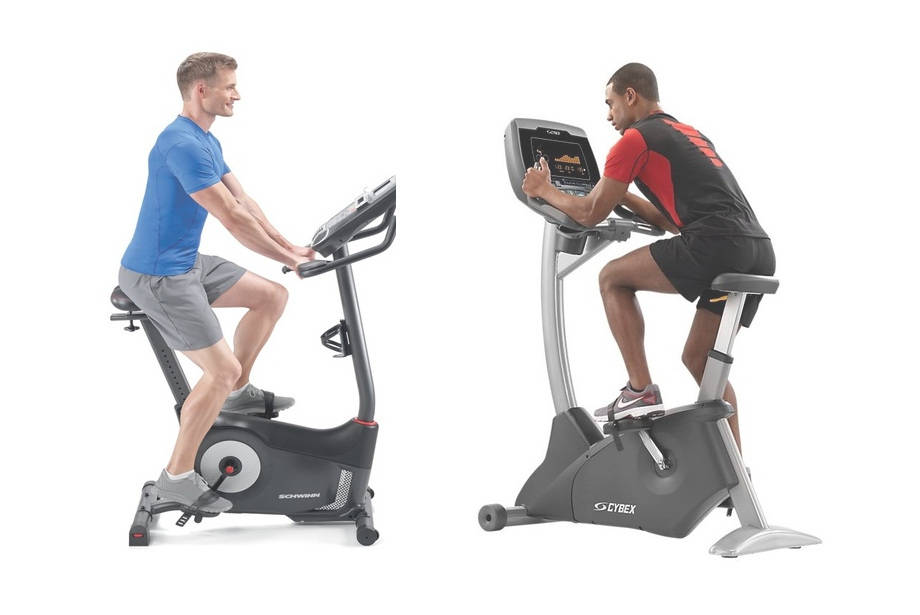 As with a treadmill, your weight, program, level of intensity and duration of workout have to be keyed in before you begin your session; a preset program is then available for your workout on the basis of your inputs. The display screen on the console gives similar readings to that of the treadmill, including speed, time elapsed since the workout started, level of resistance, heart rate, calories burnt and distance/laps covered. Certain stationary upright bicycles also come with accessories such as a cup holder, a cooling fan, a magazine ledge and so on.
Nevertheless, cycling on an upright is a comfortable activity for many because cycling does not have as great of an impact on the joints compared with other cardiorespiratory equipment such as a treadmill or a stepper.
Types of stationary bikes
On the market, you will find different types of indoor exercise bikes.  Most gyms have two particular types of stationary bikes. One is the standard upright model (explained in this post), and the other is the recumbent bike, where you are seated with your legs pedaling out in front of you. Spinning-type bikes do not appear so often as the first two types.
Recumbent stationary bicycles
In recumbent stationary bicycles, the seat is positioned lower than in an upright bicycle and is actually placed behind the pedals; the seat is also reclined and has a backrest, allowing you to sit back in a comfortable position. Your weight is distributed over a larger area, preventing stress to a specific area. If you have problems with your lower back, it would be wise to opt for this type of bicycle since the seat supports the back; it also supports the muscles of the buttocks, inner thighs and abdomen.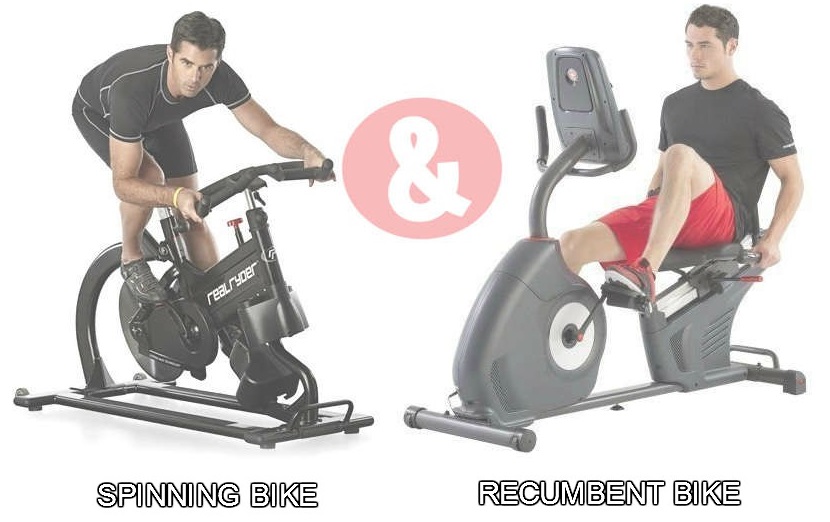 Spinning bicycles
Spinning-type bikes, originally used for indoor group cycling classes, have become increasingly popular on the health club floor and in the home. These bikes are smaller and sleeker than traditional stationary bikes and look more like outdoor bikes. They have a fixed gear, racing handlebars, pedals equipped with clips or cages to accommodate cycling shoes, and adjustable seats.
A spinning-type bike gives you the feeling of cycling outside and offer resistance options as well. You can stand as well as sit on the cycle, giving you a workout that can simulate an outdoor ride without the wind and other weather elements. These cardio workouts give you the opportunity to take your cycling indoors and can provide an effective off-road training experience because you can perform most any technique that you would on an outdoor ride. A typical program led by a certified instructor lasts about 40 minutes.
Correct technique – first time on a stationary upright bike
Using the correct exercise technique is essential. You should keep your chest up, shoulders back and down, ears in line with your shoulders, and spine in a neutral position. Hands rest on the handlebars; arms will be slightly bent. Avoid getting the upper body into the effort. Unlike some other cardiorespiratory equipment, riding an upright bike is not a total-body workout. Your feet should be strapped into the pedals, allowing you to push down and pull up the pedals in a circular motion, which creates a smooth and efficient pedal stroke.
It is important that you stretch your back and legs before you begin your workout on a stationary bicycle. Back exercises are especially important if the bicycle is not a recumbent model.
How to choose a stationary bicycle?
Buying a stationary bicycle will involve considerations similar to buying a treadmill. You also need to decide which of the three types of stationary bicycles (upright, recumbent or spinning-type) is best going to serve your needs. It would be useful for you to know that for the same workout program, duration and intensity, you will burn more calories using a treadmill than using either kind of stationary bicycle. But between an upright and a recumbent bicycle, an upright will burn more calories for the same program, duration and intensity. However, for beginners, it is better to start working out with recumbents since they are safer and more comfortable.
What parts of the body does a stationary bike work (muscles engaged)?
Riding a stationary bike strengthens the quadriceps and hamstrings and involves the use of the gastrocnemius, anterior tibialis, and ankle joint. Although stationary bikes do not specifically target the abs and back muscles, when cycling, you do have to keep your body in the upright, vertical position to maintain alignment of the pelvis and prevent hyperextension of the back.
What are the benefits and drawback of indoor cycling?
The upright stationary bicycle has its own advantages. Uprights allow you to choose a standing or sitting position while you work out, providing a harder workout than recumbents. Such bicycles are also cheaper than recumbent bicycles.
Furthermore, riding a stationary upright bike is a great way to remove all the elements you would be forced to face when riding outdoors and ensure a precise training session. For example, indoors there is no chance of plans being thwarted by the weather's capricious tendencies. With a stationary upright bike you become the virtual architect of the exact road you desire for your training and eliminate the extra time and effort you would otherwise need to dedicate to finding that road outdoors.
However, cycling on an upright puts pressure on your lower back, arms, wrists and feet if you are cycling for long periods. You are also more prone to injuries if your posture is incorrect. But compared with other cardiorespiratory equipment (such as a treadmill or a stair climbers), riding a stationary upright bike has minimal negative impact to your knees and ankles.
Closing thoughts
Workouts on stationary bikes are low-impact; yet enable the biker to burn lots of calories. Perhaps the best feature of a stationary bike is that the chances of hitting an unexpected mud puddle are slim to none. It's not a bad way to spend an hour or so while exercising.