Three Easy Tips to Rapidly Improve Your Pull-Ups
Pull-ups are one of the most effective exercises known to man—quite literally, power over gravity. They are fantastic for building strength, endurance and, even more importantly, confidence. Many people are afraid to do sets of pull-ups in front of others for fear of tiring in the middle of a set. But once you're able to complete sets of pull-ups using perfect exercise technique, the other gym rats will look at you differently. In this post we'll show you three easy tips to improve your pull-ups. If you are not familiar with this back exercise, you should first spend some time learning the basics of pull-up exercise and then return back to this post for additional tips. These three easy tips to improve your pull-ups will be of great help to move one step forward to perfection.
Best Tips to Improve Your Pull-Ups
To improve your pull-ups, we will show you 3 easy tips to get the most out of this movement.
Activate your back muscles before you perform pull-up;
Try to imagine that the resistance in right under your elbow;
Do your pull-ups slowly and under control to prolong time under tension;
#1 Activate your back muscles before you perform pull-up
The most strength for your pull-ups comes from your back and not your arms. This is why you should activate your back muscles first before you bend your arms and pull yourself up. Therefore you need to know the difference between the passive and the active hang.
In the passive hang (dead hang), you just hang from a bar with straight arms and nearly no activation of your back muscles. You simply allow your shoulders to relax and to cover your ears. In the active hang, you pull your shoulder-blades down and together which is called depression and retraction. In both positions, you don't bend your elbows at all.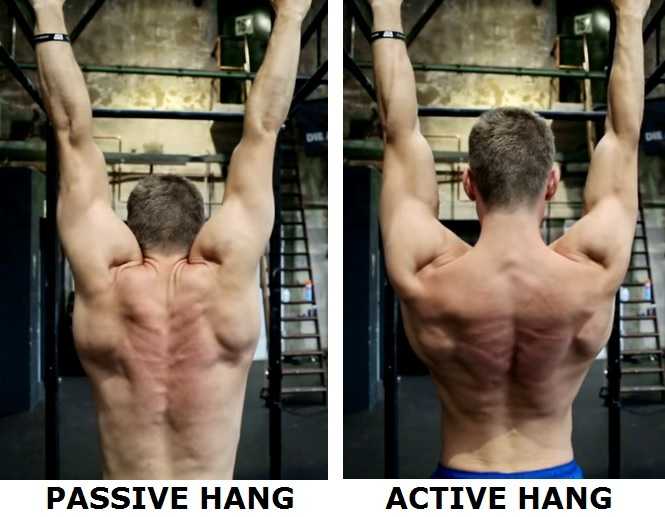 The passive hang is mostly about grip strength and can also be used to stretch lats and pecs which will result in better opening of your shoulder. The purpose of the active hang is to activate your lats, traps and rhomboids. So when you pull up the first thing you should aim for is the active hang position.
You only use your shoulder-blades without bending your arms to get the movement started. This is essential to engage a lot more muscles in your back and keep your shoulder girdle strong and healthy. You can do your pull-up with the release of the active hang and switch to the passive hang for each rep which is very good to learn a right technique. But you can also hold the active hang during the complete motion without even going to the passive hang position. No matter which variation you choose, always fully extend your arms when you're in the bottom position.
From a completely passive hang, simply bring the shoulders down, away from the ears, and retract the shoulder blades (pinch them together). Then from that position of the active hang perform the pull-up. In other words, avoid doing pull-ups directly from the passive hang position.
#2 Try to imagine that the resistance in right under your elbow
The next tip is also about the optimum back engagement.
When you do a pull-up, try to imagine that the resistance in right under your elbow. Driving your elbows down to your body as much as you can will activate your back muscles in an optimal way.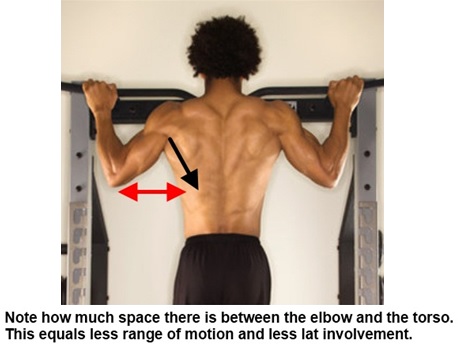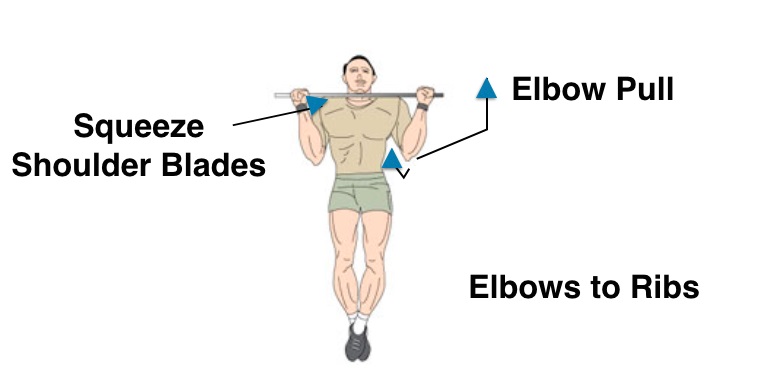 When you do this, your arms will bend automatically and of course you'll work your biceps, brachialis and brachioradialis during the movement.
But to maximize the outcome in terms of back activation, you should visualize this elbow movement. To get the right imagination, you can practice this with a resistance band. Fix the band right under your elbow and pull it down without grabbing it with your hands. By doing so, you only pull the band down with the elbow. And this will lead to right neuromuscular input.
#3 Do your pull-ups slowly and under control to prolong time under tension
The last tip is about the muscle tension. Time under tension refers to how long the muscle is under strain during a set. In other words, time under tension is the total time a muscle resists weight during each set.
There are different ways to do a pull-up. You can do them either explosive or slowly to add more control. If your main goal is to increase your explosive strength, you're welcome to quickly move up and down. However, you should never smash into your joints when you hit the bottom. Most people want to do as many pull-ups as possible to set the new personal record.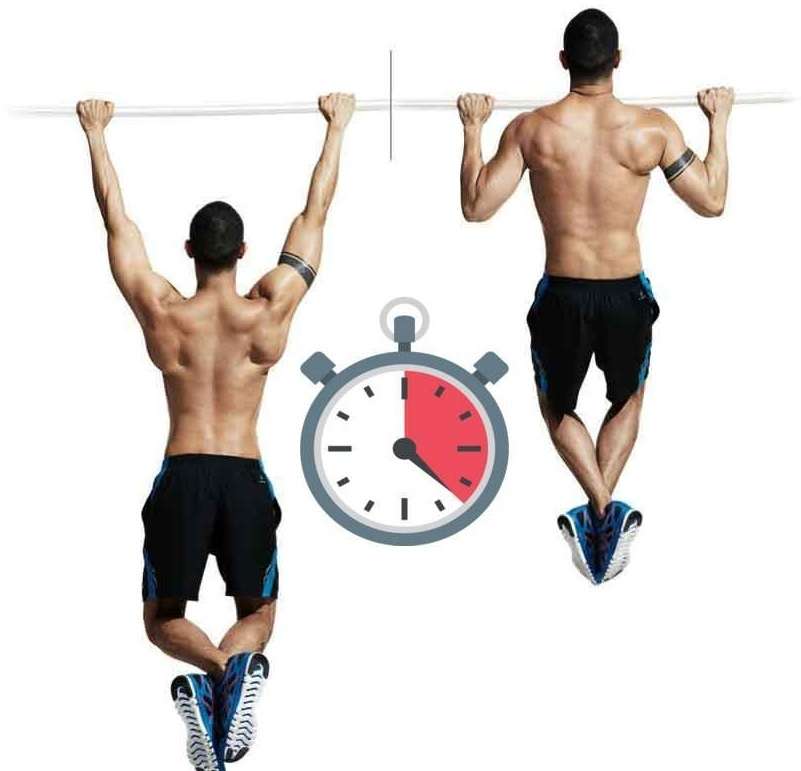 But when it comes to building solid strength and muscle mass, the time under tension is very important. If you pull yourself up explosively and let you fall down quickly, your muscles will be under less tension than if you do your pull-ups slowly and under control.
Here is a quick example. Let's compare 2 people with the same height and weight at the experience and training. Person 1 is able to do 15 pull-ups in 15 seconds by pulling up explosively and falling down quickly with nearly no tension. Person 2 is able to do 10 pull-ups in 30 seconds by also pulling quickly but going down much slower and under total control.
As you can see, person 1 does more pull-ups, but he has only half the time under tension in comparison to person 2. So, person 2 is able to hold his muscles under tension for a longer period of time. He is therefore stronger than person 1, although he does less reps.
Closing thoughts
The pull-up is one of the greatest muscle building exercise in existence, and should be permanently included in any rigid strength training plan. If you wondered why it takes so long to improve your pull-ups, check if you considered our tips to improve your pull-ups. And if not, implement them into your workouts.