Bodybuilders and fitness enthusiasts, always seeking effective routes to muscle growth and recovery, have a close relationship with protein. Carnivorous or not, they need considerable amounts of protein to repair damaged muscles and encourage their growth. This is where tuna – a protein powerhouse – comes into play. With a high protein-to-calorie ratio, tuna provides an efficient way to meet this dietary need without unwanted extra calories. Combining these significant benefits with its convenience and versatility, it's no surprise that bodybuilders and fitness enthusiasts find their pantries often stocked with cans of tuna. Easily incorporated into meals throughout the day, from power-packed breakfast scrambles to post-workout salads, tuna is not only a nutritious choice but an adaptable and enjoyable one, too.
But what makes this fish such a nutritional superstar? And how does it compare to other protein sources such as salmon? Sit tight as we uncover the myriad ways tuna can support your bodybuilding journey and even share some tasty ways to integrate it into your daily meals.
The benefits of tuna for bodybuilding and fitness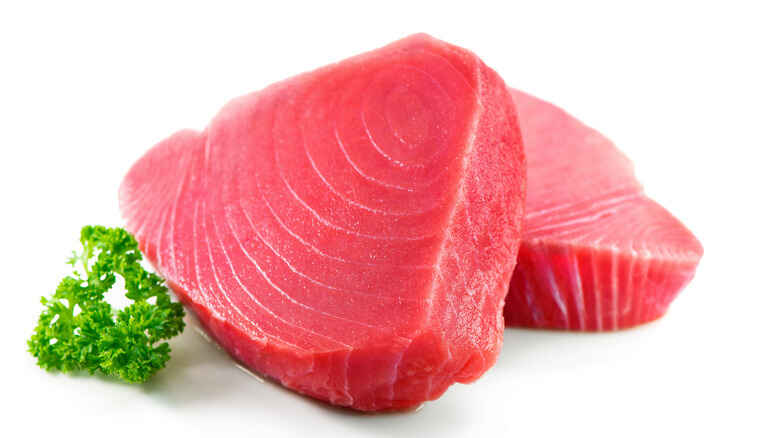 #1 High protein content
Tuna is superior in terms of protein content, making it an excellent choice if you're aiming for muscle growth. Packing a whopping 30 grams of protein per 100 grams (canned tuna in oil), tuna is indeed a protein powerhouse, a critical nutrient for those involved in bodybuilding and fitness. Protein fuels muscle growth, aids in muscle repair after strenuous exercise and helps keep hunger at bay, ensuring you're fueled and ready for your next workout.
#2 Rich source of omega-3 fatty acids
Omega-3 fatty acids, found in abundance in tuna, are essential for bodybuilders and anyone looking to maintain overall health. A 100-gram serving of tuna typically contains around 160 mg (0.16 g) of Omega-3 fatty acids. The amount of Omega 3's in the different types of tuna varies and may contain 80 – 240 mg per serving of EPA and DHA combined. They play a critical role in muscle growth and recovery. After a strenuous workout, your muscles need to repair and grow, and for this process, omega-3 fatty acids are vital. They have anti-inflammatory properties that help reduce muscle soreness, allowing for quicker recovery times.
Besides their valuable contribution to muscle health, omega-3s are proven to support heart health. Regular intake may lower the risk of coronary heart disease and high blood pressure, conditions that can impede your fitness journey. In addition, they support brain health, improving cognitive function and potentially preventing mental decline, so you'll not only feel good physically, but mentally too.
#3 A valuable source of important micronutrients
Tuna is rich in essential vitamins and minerals, not only fueling your workouts but also promoting overall well-being. Vitamins B6 and B12 found abundantly in tuna, are crucial for bodybuilders – these vitamins help the body produce energy, making your workouts more efficient. The presence of Niacin, another B Vitamin, aids in the metabolism of fats, proteins, and carbohydrates, thereby optimizing your workout results. What's more, tuna offers a good amount of Vitamin D, which is essential for bone health. That's particularly important for individuals involved in heavy-weight training, as it helps prevent bone injuries. Apart from strengthening bones, Vitamin D also aids in muscle contraction and growth.
The mineral composition in tuna is equally impressive. Both selenium and iodine are found in appreciable levels in tuna. Selenium, a powerful antioxidant, plays an important role in maintaining immune health while iodine assists in maintaining a healthy thyroid function – an often overlooked aspect of fitness. To sum up, the rich vitamin and mineral profile of tuna strengthens your body, optimizes your training, and nourishes your health – just a few reasons why it stands as a go-to protein source for bodybuilders and fitness enthusiasts alike.
#4 High satiating power
Tuna stands out among other fish when it comes to satiety, largely due to its high protein content. This protein-rich fish provides a satisfying sense of fullness, or satiety, which is key for weight management and muscle growth. This satiety value not only helps you keep hunger pangs at bay but also provides a steady release of energy, promoting lean muscle development and recovery.
When it comes to macronutrients, protein stands out due to its significant satiation and satiety effects. Conversely, fat doesn't pack the same punch in those areas. So, what's the implication? If you consume the same calorie count from both protein and fat, protein is more likely to satisfy your hunger quickly and also keep you feeling full longer than fat would.
#5 Supports your weight loss journey (cutting phase in bodybuilding).
Now, if you're on a cutting cycle — a period where bodybuilders and fitness enthusiasts aim to shed fat without losing muscle — making the right dietary choices plays a vital role. Due to its lower calorie (144 kcal/100 g) and fat content (4.9 g on a 100g serving), tuna might be your best bet. Not only does it keep your calorie intake in check, but the high protein content also helps you feel satiated, reducing the chances of overeating.
The nutritional profile of tuna
| | | | |
| --- | --- | --- | --- |
| Type of Tuna | Fresh tuna, 100g, Bluefin (Wild), raw | Tuna, canned, in water, no added salt, drained solids, 100 g | Tuna in oil (canned), 100 g |
| Calories | 144 | 116 | 198 |
| Protein | 23.3 g | 25.5 g | 28.0 g |
| Fat | 4.9 g | 0.8 g | 8.5 g |
| Carbohydrate | 0 g | 0 g | 0 g |
| Saturated fat | 1.3 g | 0.2 g | 1.5 g |
| Omega-3 fatty acids | 1.298 mg | 279 mg | 225 mg |
| Sodium | 39 mg | 82 mg | 354 mg |
| Vitamin A | 2.183 IU | 56 IU | 73 IU |
| Niacin (B3) | 8.7 mg | 13.3 mg | 23.5 mg |
| Vitamin B12 | 9.4 mcg | 3 mcg | 12.5 mcg |
| Selenium | 36.5 mcg | 80.4 mcg | 125 mcg |
*Nutrition facts for raw and canned tuna (for a 3.5-ounce or 100-gram serving)
Comparing tuna and salmon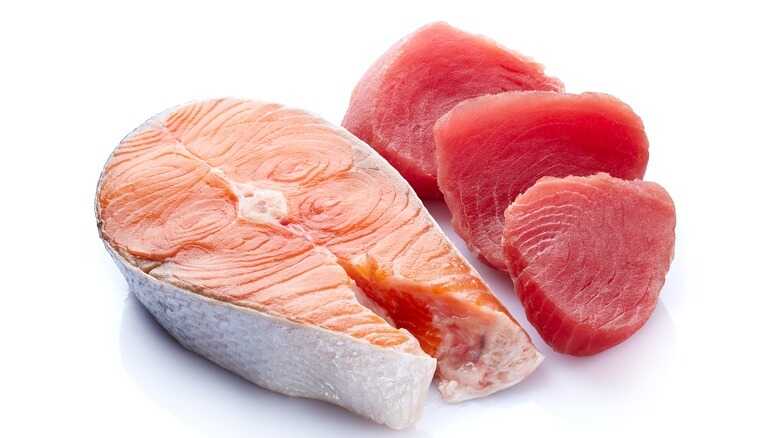 Both tuna and salmon are considered fatty fish and are excellent sources of protein and essential nutrients, but they have slightly different nutritional profiles (although there are many nutritional similarities as well). Let's examine, without burdening ourselves with specific numbers, what these similarities and differences are.
It's notable to mention that both salmon and tuna have zero carbohydrates, meaning they neither contain sugar nor fiber.
Tuna leads in terms of protein content. One reason why tuna typically has more protein than salmon is due to its lower fat content. Tuna, especially yellowfin and skipjack varieties, are leaner fish, meaning that they carry a higher proportion of their weight as muscle or protein. Simply put, gram for gram, if you compare the meat of a tuna to that of a salmon, the tuna will often yield higher protein content, making it a go-to choice for bodybuilders and fitness enthusiasts seeking to increase their protein intake.
Salmon packs roughly a third more calories than tuna. This is largely due to its higher fat content. But for an active guy, that's not so bad. The fat in salmon, however, should not be a deterrent; the majority of it is Omega-3 fatty acids, which are incredibly beneficial for the heart and brain, among other things. Both wild and farmed variants of salmon distinctly surpass fresh tuna when it comes to omega-3 content. The difference is even more noticeable if we compare salmon with canned tuna. Canned tuna has much of its omega-3 content removed in the canning process.
When it comes to micronutrients, there's a noticeable difference between salmon and tuna. Salmon is superior in terms of Vitamin D and B12 content. In order to ensure optimal calcium uptake, promote bone health, and curb inflammation, it's crucial that you get an adequate amount of vitamin D. On the other hand, tuna shines with its high levels of selenium and niacin. Selenium, abundantly found in tuna, stands out for its numerous health benefits. This important mineral acts as a powerful antioxidant, protecting your cells from harmful free radicals and thus, reducing inflammation in your body. Moreover, selenium boosts your immune system, aiding you in staying fit and protecting you from a myriad of diseases. Notably for bodybuilders, it's crucial in maintaining thyroid health, which regulates your metabolism and controls growth and development – essential aspects for anyone striving to build muscle and increase overall fitness. To add the cherry on top, studies have indicated that selenium could play a role in reducing the risk of certain cancers.
In summary, salmon takes the lead with its abundance of healthy omega-3 fats and Vitamin D. However, if your focus is a higher protein intake with fewer calories, tuna easily tops the list. Ultimately, your health objectives and personal taste will guide your choice. Opt for salmon when you need an omega-3 and Vitamin D magnifier, and go for tuna when your aim is increased protein with a lower calorie count.
How can you integrate tuna into your diet?
Whether you prefer your tuna fresh or from a can, there is no shortage of options. Fresh tuna finds its way into our meals in the form of robust steaks, handy frozen fillets, and delicate slices for sushi and sashimi. Those who opt for the convenience of canned tuna can choose from versions packaged in water or oil. Five main species dominate the commercial supplies of this versatile fish. The revered Albacore species, also known as the white meat of tuna, is a common favorite. 'Light' tuna is typically derived from the skipjack species (Katsuwonus pelamis). In light tuna cans, you might find a mix of skipjack and Yellowfin, although the latter often stars in 'ahi tuna' steaks. For sushi and sashimi lovers, bigeye tuna is the go-to option. Bluefin tuna, the most prestigious on the tuna hierarchy and exclusive to sushi and sashimi, comes with a heftier price tag.
To maintain excitement in your meals while obtaining the benefits, here are some tuna recipes specifically geared towards bodybuilding and fitness enthusiasts:
Tuna Stir-Fry: Sauté tuna with a mix of colorful veggies like bell peppers, zucchini, carrots, and broccoli, in a little olive oil. Spice it up with some soy sauce and ginger for a quick, protein-packed dinner.
Tuna Avocado Wraps: Toss together tuna, diced avocado, red onion, and a squeeze of lime. Scoop the mixture into lettuce wraps for a light, but satisfying meal.
Tuna Breakfast Scramble: Scramble some eggs with a can of tuna and vegetables like spinach, tomatoes, and onions, for a protein-rich, filling breakfast.
Spicy Tuna Sushi Bowl: For a homemade sushi experience, combine sushi rice with canned tuna, sliced avocado, diced cucumber, and a sprinkle of sesame seeds. Don't forget the soy sauce!
Baked Tuna Patties: Blend tuna with breadcrumbs, an egg, and spices of your choice, form into patties and bake in the oven. These are great plain or on a sandwich.
Tuna Stuffed Peppers: Hollow out bell peppers and stuff them with a mix of rice, tuna, tomatoes, and cheese, then bake until the pepper is tender. Here's the complete recipe for the tuna stuffed bell peppers.
Protein-Packed Tuna Pasta: Combine cooked whole-grain pasta with tuna, mixed vegetables, and a simple olive oil, garlic, and lemon dressing.
Tuna Salad: Mix a can of tuna with Greek yogurt, a squeeze of lemon, and flavor with spices or fresh herbs.
Remember, incorporating tuna into your diet doesn't have to be boring. Variety is key for keeping things interesting and sustainable. Get creative and enjoy!
Adverse effects
Many types of fish are high in mercury and should be consumed in limited quantities during pregnancy and breastfeeding to avoid harm to the baby. When considering mercury content, tuna, especially larger species like bluefin and albacore, are known to contain higher levels of mercury compared to salmon. Salmon, particularly wild-caught, is typically lower in mercury, making it a safer choice for regular consumption if you're concerned about mercury exposure.
Are there any alternatives to tuna for high-quality protein in bodybuilding?
While tuna stands high on the list of protein-rich foods ideal for bodybuilding, there are certainly alternatives worth considering. Eggs, for instance, are a reliable source of protein, fortified with essential amino acids that fuel muscle growth and recovery. Additionally, you can consider lean meats like chicken and turkey breasts or lean beef.
If you're seeking a plant-based protein source, tempeh, lentils, and quinoa are fantastic options, supplying not only high-quality protein but a slew of other nutrients and fiber as well. Lastly, don't disregard dairy products such as Greek yogurt and cottage cheese, both of which offer substantial protein content and provide additional benefits like healthy gut bacteria and high calcium levels, respectively. Finally, as a valuable addition, you can take protein powder – it's convenient and available in many varieties including whey, casein, and plant-based options.
Closing thoughts
In wrapping this discussion up, one can confidently conclude that the nutritional benefits of tuna go far beyond its role in bodybuilding and fitness. The high protein content makes it a favorite among fitness enthusiasts, but its other nutritional properties – such as high concentrations of selenium – are equally beneficial. These properties support general wellness, bolster metabolism, and may even offer potential protective effects against certain types of cancer. By incorporating tuna into your day-to-day diet in an enjoyable and creative manner, you open the door to enhanced overall health and well-being. So, if you are on a quest for a healthier, fitter lifestyle, tuna provides a nutritious, tasty, and versatile solution to fulfill that quest.
Also, it's essential to understand that there's no definitive winner or loser when comparing tuna and salmon, particularly when it comes to muscle building. Both fish are champions in their own right. They are loaded with quality proteins, critical for supporting muscle growth and recovery, and are rich sources of essential fats, playing crucial roles in body functions. That said, whether you reach for tuna or salmon primarily depends on your personal tastes, dietary requirements, and fitness goals. Both offer incredible nutrition and are worthy additions to any bodybuilder's diet. It's perhaps not about choosing one over the other but about integrating both into your diet for varied benefits.