Bodybuilding and fitness enthusiasts understand that a high-quality diet is as crucial as the workout itself. You're, of course, aware that protein holds the ticket to muscle growth and recovery. However, not just any protein source will do; you need quality over quantity. If you're on the hunt for a protein source that's not only abundant in quality protein but also loaded with numerous other health benefits, welcome, my friend, you've hit the jackpot: say hello to salmon. High in essential nutrients and an excellent source of Omega-3 fatty acids, salmon isn't just your average fish. It's a powerhouse protein source that's perfect for your bodybuilding and fitness journey.
The benefits of salmon for bodybuilding and fitness
Why should you consider salmon? Well, here are the most important bodybuilding & fitness benefits of eating salmon:
High-quality proteins for building new muscles: Salmon's protein helps repair and rebuild muscle tissues, aiding your bodybuilding goals.
Fantastic fats: Salmon doesn't just bring proteins to the plate, but also a healthy amount of omega-3 fatty acids – essential for brain function, inflammation reduction, and potential anti-catabolic effects (muscle loss).
Necessary nutrients: Beyond fats and proteins, salmon is a wealth of other nutrients including Vitamin D, B12, iodine, and selenium.
High satiating power: Salmon may help you stave off cravings.
Good for cutting: With salmon's relatively low-calorie content and its rich range of essential fatty acids, it can aid in lean muscle preservation while assisting in reducing body fat.
#1 Source of high-quality proteins
Eating salmon is a fantastic asset to any athlete's diet, particularly for those invested in bodybuilding and fitness. When talking about the protein profile of salmon, it's important to note its high-quality nature. Proteins are split into two categories: complete and incomplete. Salmon falls into the 'complete' category as it contains all nine essential amino acids the human body cannot make on its own. Each serving (2.5-ounce or 100 grams) of salmon carries about 22-25 grams of these complete proteins. This protein density can fuel your bodybuilding workouts, aid in faster muscle recovery, and stimulate muscle growth. Moreover, the bioavailability of salmon protein is high, which means your body can efficiently utilize this protein for muscular development and repair. In summary, the exceptional protein profile of salmon signifies it as an optimum choice for anyone aiming to improve their fitness and bodybuilding outcomes.
#2 A fantastic source of omega-3 fatty acids
What truly sets salmon apart is the presence of omega-3 fatty acids which help in optimizing heart health, reducing inflammation, and even boosting your mood. This concentrated source of 'good fats' may also help to protect against muscle loss, particularly beneficial during intense training or weight loss periods.
#3 Excellent nutritional profile (nutrient-dense food)
Salmon is not just a source of protein and omega-3. It is packed full of vitamins and minerals, notably B Vitamins, Vitamin D, Selenium, and Zinc. These aid in energy production, bone health, and strengthening immunity, all playing their vital part in your overall workout and recovery routine. Trace minerals like iodine and selenium not only support metabolic function but also improve joint health – a definite plus for those heavy-lifting days.
#4 High satiating power
Contrary to popular belief, incorporating salmon into your diet won't leave you feeling unsatisfied or hungry. In fact, laden with high-quality proteins and healthy fats, salmon can promote a feeling of fullness, keeping those hunger pangs at bay. In contrast to many other kinds of fish, the satiating power of salmon may help you stave off cravings, making it a superb choice for those looking to build muscle mass or enhance their overall fitness.
#5 Excellent for bodybuilders during the cutting phase
Indeed, salmon makes for a fantastic choice during the cutting phase in bodybuilding. This nutrient-dense fish is full of high-quality protein, which is vital for muscle repair and maintenance – even when you're operating on a caloric deficit. With salmon's relatively low-calorie content and its rich range of essential fatty acids, it can aid in lean muscle preservation while assisting in reducing body fat. Moreover, the Omega-3 in salmon is known to have anti-inflammatory properties which could speed up muscle recovery after rigorous workouts. In other words, incorporating salmon into your diet can ensure you retain that hard-earned muscle mass while shedding off unwanted pounds.
Salmon nutrition facts
When you hear protein and fats, you may wonder about the calorie count. Let's put those fears to rest: A standard portion (100g) of wild salmon carries approximately 182 calories, of which 8g are fats and 25g are proteins. As a bodybuilder or someone into fitness, these numbers should delight you! What you get is a protein-rich, moderate-fat, low-carb food source that's seriously beneficial for muscle growth without piling on unnecessary calories. Therefore, it's a perfect balance for those trying to increase their muscle mass without unwanted fat gain.
| Salmon type | Wild salmon (cooked) | Farmed salmon (cooked) |
| --- | --- | --- |
| Calories | 182 | 206 |
| Protein | 25 grams | 22 grams |
| Fat | 8 grams | 12 grams |
| Carbohyrate | 0 grams | 0 grams |
| Vitamin B12 | 127% of the DV | 117% of the DV |
| Vitamin B6 | 56% of the DV | 38% of the DV |
| Selenium | 85% of the DV | 75% of the DV |
| Niacin | 63% of the DV | 50% of the DV |
| Pantothenic acid | 38% of the DV | 30% of the DV |
| Thiamine | 23% of the DV | 28% of the DV |
| Phosphorus | 21% of the DV | 20% of the DV |
*Nutrition facts for cooked wild and farmed salmon (for a 3.5-ounce or 100-gram serving)
When it comes to nutritional comparison between farmed and wild salmon, there are some key differences to keep in mind. Although both types provide a high-quality source of protein, their caloric and fat contents vary slightly. Farmed salmon tends to be higher in calories and fat, about 206 calories and 12 grams of fat per 100 grams. On the other hand, wild salmon is leaner with around 182 calories and only 8 grams of fat for the same serving size.
That said, the caloric content may differ based on the salmon's source and the method of cooking, but in general, it's a great low-calorie option for your protein needs.
Furthermore, farmed salmon usually contains more omega-3 fatty acids, that's essential for muscle recovery and growth, due to the feed it's given. However, wild salmon has a more favorable omega-3 to omega-6 ratio, an important factor in preventing inflammation and supporting overall health.
Additionally, wild salmon has a nutritional edge in terms of minerals and vitamin content. It often contains higher levels of Vitamin D, potassium, and zinc, all of which are critical for bodybuilders in terms of bone health, muscle contraction, and immune function.
It's also important to note that wild salmon has a lower risk of containing environmental toxins. However, both farmed and wild salmon are considered safe to eat, with the benefits of their protein, omega-3 fatty acids, and other nutrients far outweighing potential concerns. In the end, it comes down to personal preference and nutritional needs – both types of salmon can fit into a balanced diet for bodybuilding and overall fitness.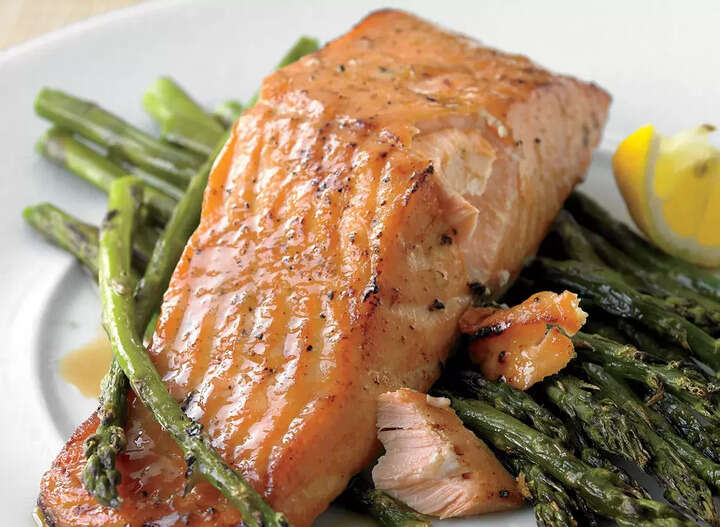 Are there any alternatives to salmon for high-quality protein in bodybuilding?
Of course! While salmon is a fantastic source of high-quality protein, it's not the sole option for those in bodybuilding. Several other sources also provide top-notch proteins that are essential in muscle development. Let's examine a few:
Chicken & Turkey Breast: An infallible protein source for bodybuilders, chicken & turkey breast packs a lot of protein, essential vitamins, and minerals. Just as with salmon, it aids muscle recovery and growth.
Lean Beef: It offers high-quality protein, and a good dose of zinc, iron, and Vitamin B. All of this contributes to the maintenance and growth of muscles.
Quinoa: This superfood isn't just a high protein source—it ensures a good supply of fiber and iron too. Its complete amino acid profile makes it a unique plant-based protein source perfect for bodybuilding. Also, quinoa has a low glycemic index and glycemic load.
Eggs: Packing a serious protein punch, eggs also boast essential amino acids, choline, healthy fats, and Vitamin D. They're not called the perfect protein source for nothing!
Cottage Cheese: Cottage cheese is underrated in the world of bodybuilding. However, its high-casein protein content, a slow-digesting protein, keeps the muscle protein synthesis ongoing. This means it continues fueling muscle growth even when you're not working out. 
While the focus here is on protein though, let's not forget that effective bodybuilding is about more than just protein intake. Achieving your bodybuilding goals also requires a balanced diet, rigorous exercise, and adequate rest.
How can you integrate salmon into your recovery meals?
You might be wondering how can you incorporate salmon into your recovery meals. It's easier than you might think! Salmon is notably versatile, it can be baked, grilled, smoked or even eaten raw in sushi. Here are some quick and nutritious recipes:
Grilled Salmon Salad: Mix grilled salmon with mixed greens, cherry tomatoes, cucumbers, and your choice of a healthy dressing for a protein and nutrient-packed recovery meal.
Salmon and Quinoa Bowl: The combination of salmon and quinoa makes these bowls super high in protein. Combine olive oil-cooked salmon, cooked quinoa, chopped vegetables, and your favorite spices for a balanced post-workout meal that aids recovery.
Salmon Avocado Toast: Place pan-seared salmon on whole-grain toast, and top with sliced avocados, a pinch of sea salt, and pepper for a light yet protein-rich snack.
Conclusion: How does eating salmon benefit bodybuilding and fitness?
When striving for peak athletic performance or trying to shape your physique, your diet plays a crucial role. Consuming high-quality proteins like salmon can fuel your progress and give your body the essential nutrients it needs. Not only is salmon packed full of high-quality protein, promoting muscle growth and aiding recovery post-workout, but it's also brimming with other nutrients that further enhance your fitness endeavors.
Being a lean source of protein, salmon offers a caloric content that is favorable for those managing their weight alongside a fitness regimen. Importantly, it's rich in omega-3 fatty acids – which can help curb inflammation, improve heart health, and support brain function. Additionally, the other vitamins and minerals found in high quantities within salmon, like vitamin D and selenium, contribute to various aspects of health and well-being, further enhancing its place in a balanced diet.
With myriad delicious and diverse recipes out there, adding salmon to your diet needn't feel like a chore. Whether you prefer it baked, grilled, or smoked, its unique flavor makes for delicious meals that also contribute to your fitness goals. In conclusion, incorporating nutrient-dense foods like salmon into your diet can accelerate your progress toward your fitness goals while also benefiting overall health. It is a jackpot of nutrition that not only complements your bodybuilding regime but also validates the saying – 'You are what you eat'.