Amino acids themselves are not proteins but they are molecules that combine to form proteins. Thus amino acids and proteins are the building blocks of life.
Definition of amino acid supplements
Amino acid supplements are a common type of dietary supplement that is popular among bodybuilders, athletes, and fitness enthusiasts. Amino acids are the building blocks of protein, which is essential for muscle growth and repair. While many people get enough amino acids from their diet, athletes and bodybuilders often require higher amounts to support their intense physical training.
Amino acid supplements come in various forms, including powders, pills, and liquids. They can be categorized into two types: essential and nonessential amino acids. Essential amino acids are those that the body cannot produce on its own and must be obtained from the diet or supplements. Non-essential amino acids are those that the body can produce on its own, but may also be obtained from supplements.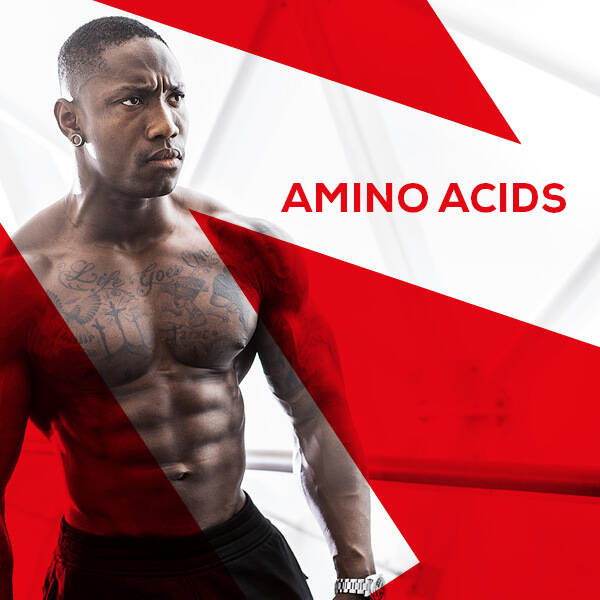 Benefits of taking amino acid supplements (AAS) for bodybuilding
Amino acid supplements can provide several benefits to bodybuilders and athletes. Firstly, they can help to increase protein synthesis, which is the process by which the body builds new muscle tissue. This can help to promote muscle growth and recovery after exercise.
Additionally, amino acid supplements can help to reduce muscle breakdown during exercise, which can lead to improved endurance and performance. Some amino acids, such as glutamine, can also support immune function and reduce the risk of illness or infection.
The advantage of taking amino acids as a supplement rather than eating whole protein foods is that the amino acids have already been broken down and, therefore, can be absorbed more easily into the bloodstream. Food, on the other hand, needs to be broken down and digested before the amino adds from the protein can be assimilated.
Most popular amino acids among bodybuilders
There are several different types of amino acids that are commonly included in supplements, including branched-chain amino acids (BCAAs), which include leucine, isoleucine, and valine. BCAAs are particularly popular among bodybuilders and athletes because they can help to reduce muscle breakdown during exercise and improve muscle recovery. Remember, a bodybuilder is trying to tear down muscle tissue during a training session but wants to prevent the body from dipping into the muscle cells to use these branched-chain amino acids. That is why supplementing with BCAA is a good idea because you don't want to take anything from the muscle cells themselves.
The second most important amino acid is L-glutamine. Glutamine is the most abundant amino acid in the blood and muscle cells. It comprises more than 60 percent of the free amino add pool in muscle tissue. When you work out, your muscles release glutamine into your system. If your body does not have sufficient storage for your workout needs, it will take its supply from the glutamine stored in your muscles, pushing your body into a catabolic – muscle-consuming – state. Glutamine supplements are designed to prevent this from happening. Glutamine supplements help in muscle recovery, reduce muscle soreness, and boost the immune system.
Other common amino acids found in supplements include arginine, which can help to increase blood flow and improve nutrient delivery to muscles, and creatine (made from two amino acids: arginine and methionine), which can help to increase strength and power during exercise.
We will also single out the following amino acids: arginine, citrulline, beta-alanine, and creatine.
Arginine is a non-essential amino acid that helps in improving blood flow and increasing the production of nitric oxide in the body. It also helps in muscle growth and recovery. Citrulline is an amino acid that helps in improving blood flow, reducing muscle soreness, and increasing endurance. It is often used in pre-workout supplements. Beta-alanine is an amino acid that helps in increasing endurance, reducing fatigue, and delaying muscle fatigue. It is often used in pre-workout supplements. Creatine can help to increase strength and power during exercise.
Choosing the right amino acid supplement
You have several options here to choose from.
You can choose to buy a supplement containing all the 20 amino acids that make up the proteins found in the human body. Out of the 20 amino acids, 9 are the essential amino acids, and the others are non-essential amino acids.
Valine, leucine and isoleucine (BCAAs)
Lysine
Threonine
Phenylalanine
Methionine
Histidine
Tryptophan
Glutamine
Aspartate
Glutamate
Arginine
Alanine
Proline
Cysteine
Asparagine
Serine
Glycine
Tyrosine
You can also buy a supplement containing only the branched-chain amino acids (BCAAs): leucine, valine, and isoleucine. Very often you'll find supplements containing BCAAs + glutamine. A good example of such a product is Swolverine's BCAA 2:1:1. Then you can choose a supplement containing only the amino acid L-glutamine. Great examples are MuscleTech's Platinum 100% Glutamine and Glutamine Drive from Nutrex Research. In fact, you can find each of the listed essential and non-essential amino acids as a separate supplement. What you ultimately choose depends largely on your specific needs.
Whey protein or amino acid supplement
Every better whey protein already contains BCAAs and glutamine (and all other necessary amino acids) in a sufficient dose.
Closing thoughts about amino acid supplements for bodybuilding
Overall, amino acid supplements can play a vital role in bodybuilding, providing a range of benefits for muscle growth, endurance, and recovery. Whether you're looking to build muscle mass or improve your overall fitness, amino acid supplements can help you achieve your goals. So, if you're serious about bodybuilding, consider adding amino acid supplements to your supplement regimen. However, it is important to choose a high-quality supplement and to use it in conjunction with a balanced diet and regular exercise routine for maximum benefits. Since there are different types of amino acid supplements available in the market (each with its unique benefits) it is essential to choose the right supplement that meets your specific needs and goals.