Preventing Weight-Lifting Injuries
Preventing weight-lifting injuries is not a hard goal to accomplish if you commit to it. The most important way to prevent in­juries is simply to work out correctly. Use good form and don't neglect your warm-up and stretching exercises. Read and re-read the safety rules for weight-lifting. In addition, here are some general tips for staying healthy on a weight-training program.
If you follow these few simple rules, you can look forward to a lifetime of injury-free strength training.
10 Tips for Preventing Weight-Lifting Injuries
#1 Use excellent exercise form
When you lift weights, the bottom line is exactly the same no matter who you are, what your goals are, or where you train. If you want your training to be successful, and not cause injuries, you must use excellent exercise form. Properly done, all weight-training activities are safe and hugely satisfying. But too few people experience the rewards of weight training—and largely because they use poor exercise form. A key to preventing weigh-lifting injuries is to not only use perfect form, but to lift in a slow, controlled manner. Don't jerk the weight.

#2 Stretching and warming up
Top athletes in all sports know the importance of stretching and preparing their bodies for a strenuous workout. If you don't stretch, you're far more likely to strain a muscle, ligament, or tendon. Even a mild injury can keep you out of the gym for several days or weeks, significantly slowing down your progress. Weight training, even when done properly, places tremendous stress on your body. While the stress of resistance to weight is what leads to muscle growth, lifting heavy weights can damage your body if you haven't prepared it properly. That's where warming up and stretching come in. They are actually two different steps, although they're often lumped together.
Warming up involves motion. The best example is light aerobic activity, such as riding a stationary bike or walking on a treadmill. The purpose is to elevate your heart rate, boost your breathing, and get your blood pumping harder. You're literally "warming up" your body for a full workout.
Stretching, on the other hand, is static—that is, you stand or sit in place as you slowly extend your muscles to make them more limber. The more you can stretch your muscles, the larger they can become. Most experts recommend that you warm up before you stretch. Why? If you stretch when your body is cold, you're far more likely to pull a muscle.
#3 Specific warm-up exercises
The specific warm-up should include range-of-motion exercises that mimic (without weight added) the resistance exercises you'll be performing. Move your limbs through a full range of motion before using a given weight machine or lifting free weights. Then, do a warm-up set with very light resistance. Now you are ready to perform your serious sets.
#4 Proper diet
Eat a balanced, nutritious diet. From the point of view of weight training, you should espe­cially make sure you get enough minerals. For more information on diet, as it relates to weight training and general fitness, see our posts regarding bodybuilding nutrition.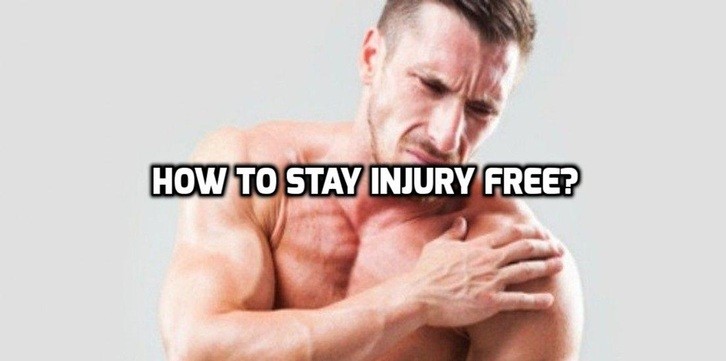 #5 Sleep (Recovery)
One of the most important exercise concepts is often the most overlooked and under-planned. Get plenty of sleep. Remember that sleep plays a vital role in the recovery process. It is during sleep that your muscles undergo the beneficial changes brought about by weight lifting. The reason sleep is so helpful during the recovery process comes down to growth hormones and blood flow. Growth hormones evidently stimulate growth, while aiding cell reproduction, cell regeneration and regulation of your body's metabolism to literally repair you while you snooze. When asleep, your general energy consumption is lowered as, most of the time, your body and brain is at rest. This means more energy can be used to restore your bones and muscles.
#6 Water
Drink plenty of fluids (water is ideal) while you're working out, and also when you're not. Water is the body's most important nutrient. Water regulates body temperature, keeps your body moist, helps carry waste products, improves concentration and performance, and allows nutrients and oxygen into the cells to reach all areas of the body. Are you familiar with the fact that proper hydration is also an important part of preventing weight-lifting injuries? Dehydration affects your muscles and Joints in a bad way. Without proper hydration, you have a higher risk of developing cramps. Water and electrolytes help cartilage repair itself when it's injured. Drinking water also reduces friction in the joints. This water and synovial fluid cushions your bones when they bear weight or pressure. If you hope to avoid injury, replacing water and electrolytes needs to be a pillar of your sports training routine.
#7 Weight belts
When doing certain exercises, you may wish to wear a weight belt. Weight lifting belts come in a variety of materials; find one that fits your body and your needs. Weight belts are use­ful for all chest, back, and shoulder exercises, and leg exercises done in a standing position. Unless you have lower-back trouble, a weight belt is nec­essary only for those using heavier weights.
#8 Weightlifting gloves
Leather weightlifting gloves, available at sporting-goods stores, pro­vide an element of safety by allowing you to grip the dumbbell better and avoid slippage. In addi­tion, they increase comfort and protect your hands from becoming callused.
#9 Avoid overtraining
Overtraining is a common problem that occurs when a person gets too en­thusiastic about weight training. It merits a sec­tion of its own — read on!
#10 Respect all safety tips and precautions
Injuries are an athlete's worst enemy. Follow all of these weight training safety tips so you don't break your stride and keep working out. Remembering these weight training safety tips will spare you from many troubles and possible dangerous injuries.
Closing thoughts about preventing weight-lifting injuries
The greater muscular fitness achieved through resistance training helps prevent general injury during sports or daily activity. However, weight training itself can cause injuries such as muscle or tendon strains, ligament sprains, fractures, dislocations, and other joint problems. This is especially true if the lifter pushes for an unrealistic overload. Injuries tend to occur while using free weights, but you can prevent them by getting proper instruction and guidance, and by heeding a few basic suggestions. Preventing weight-lifting injuries has never been easier. Train smart and avoid all causes of weight lifting injuries.