Once you have mastered the wide-grip pull-up, you can start to work with the rock-climber pull-up. This exercise probably did originate with actual rock climbers, as they need to be able to traverse left and right as well as straight up. The rock climber involves pulling more with one arm than the other and will give you a small taste of what it is like to work with one-arm pull-ups.
Exercise instructions
Here are step-by-step instructions on how to perform the rock climber pull-ups using the perfect form.
STARTING POSITION
Grab a pull-up bar with an overhand grip, with your hands as widely apart as they are in a wide-grip pull-up.
Before you start the pull, shrug your shoulders down.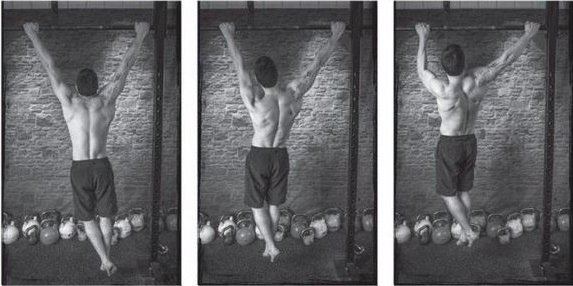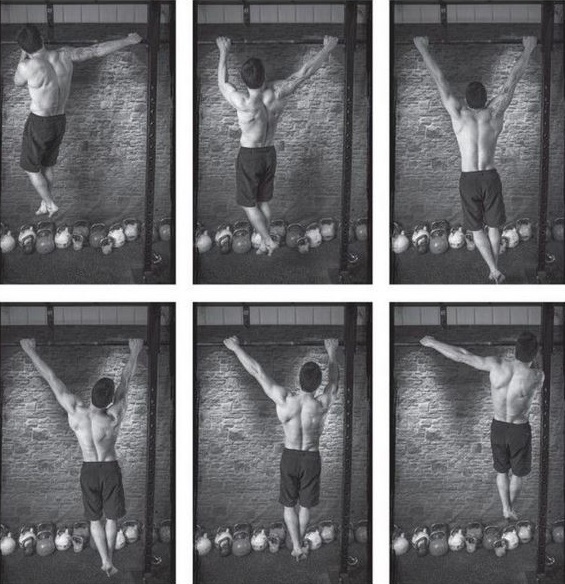 ACTION (MOVEMENT)
From here, pull yourself strongly to one side, so that your whole body moves toward one hand. At this point, one arm will be more bent and the other will be nearly straight.
Now lower yourself back down to the start position. This counts as one repetition. Alternate sides, so that next you pull yourself up toward the opposite hand. You should aim to perform three sets of eight repetitions, with four repetitions on each side.
What muscles do rock-climber pull-ups work?
This is an excellent (although very demanding) exercise that targets the overall back muscles (latissimus dorsi in particular), as well as the biceps, a part of the triceps, and the forearms.
MAIN MUSCLES: latissimus dorsi, biceps (short head), teres major
SECONDARY MUSCLES: pectoralis major (lower and outside), triceps (long head), teres minor, rhomboids, brachioradialis, biceps (long head), deltoid (front and rear)
ANTAGONISTS: deltoid, pectoralis major (upper), triceps
Replacement exercises for the rock-climber pull-ups
Negative pull-ups
Towel pullup
Closing thoughts
Pull-ups are a standard part of most climbing workouts. And for good reason: It seems obvious that the more pull-ups you can do, the easier it will be to drag yourself up the wall. But as many climbers know, there is much more to climbing training than simply yarding on a pull-up bar. However, pull-ups are indeed the most important link in the chain. From all the different pull-up variations out there, we can rightly say that the rock-climber pull-ups are essential for any serious rock climber because they faithfully imitate the real-life situation during ascent.