Types of bones in the human skeleton
You may not have known that your bones have so many jobs. But, you probably did know that bones come in different shapes and sizes. There are five major types of bones in the skeletal system. Their shape, size, and proportion of bone tissue determine their classification. The categories include long bones, short bones, flat bones, irregular bones, and sesamoid bones. After reading this article you'll be able to classify all major bones of the human skeleton into one of these five categories.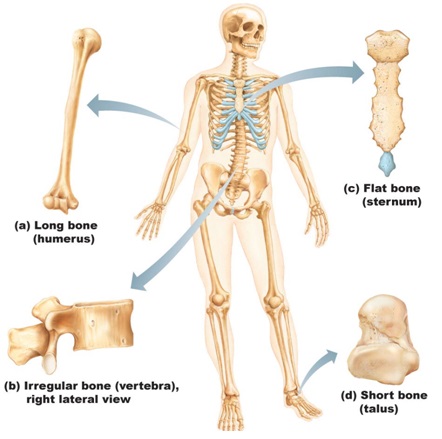 Five major types of bones of the human skeleton
Just as there are various purposes for bones, there are also various types of bones.
Long bones
Long bones act as levers. You can find them in your legs and arms. There are also some smaller long bones. These are found in your hands and feet.
The long bones of the upper body include the clavicle, humerus, radius, ulna, metacarpals, and phalanges, whereas in the lower body there are the femur, tibia, fibula, metatarsals, and phalanges.
They have a long thin section called a shaft, which has an enlarged head at each en. These bones are shaped much like a beam and exhibit a slight curvature that is necessary for efficient force distribution. Long bones are very strong, but they are not heavy. This is because they have a hollow in the middle of the shaft (marrow cavity).
Long bones help us to move our body when we are playing sport, and it is therefore important to know how they are struc­tured. Generally, they are made up of two types of bone tissue:
Compact bone is an extremely tough material that forms the outside layer of a bone, and is the tissue we find in the shaft of a long bone.
Spongy bone is located inside the heads of long bones. It resembles a honeycombed criss cross pattern like scaffolding, giving the bone strength without a large amount of weight.
Short bones
Short bones are cube shaped and much smaller in size. They consist predominantly of spongy bone tissue to maximize shock absorption. The carpals of the hands and tarsals of the feet fit this category. All short bones in our body are very strong and also quite similar in length and width.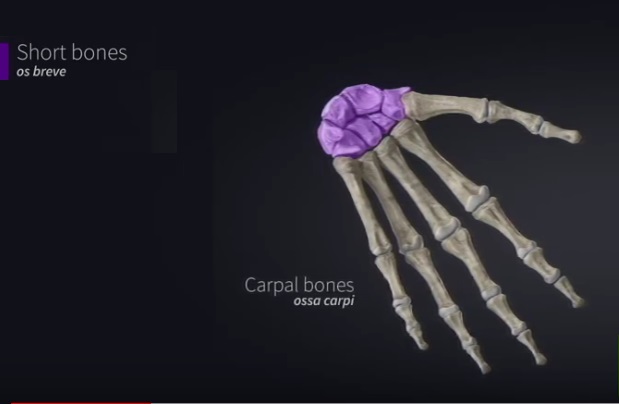 Flat bones
Flat bones are thin and flat. These broad, plate-like bones provide attachment for the powerful muscles required to control the freely movable shoulder and hip joints.
You will find them in your head, trunk, shoulder girdle and pelvic girdle, where they give protection to the delicate internal organs. Flat bones include, for example, your ribs, sternum, pelvis and shoulder blades.
Irregular bones
Irregular bones are very complex in form and can take a variety of different shapes and sizes. Therefore we can rightly say that irregular bones are bones of unique shape and function that do not fit the characteristics of the other categories. They consist of a mass of spongy bone covered by a thin layer of compact bone. These normally have bits that stick out, known as projections.
They support your weight, protect your spinal cord, and help you move.
You'll find them in your spinal column and in the middle ear. The vertebrae of your spine, for example, are irregular bones.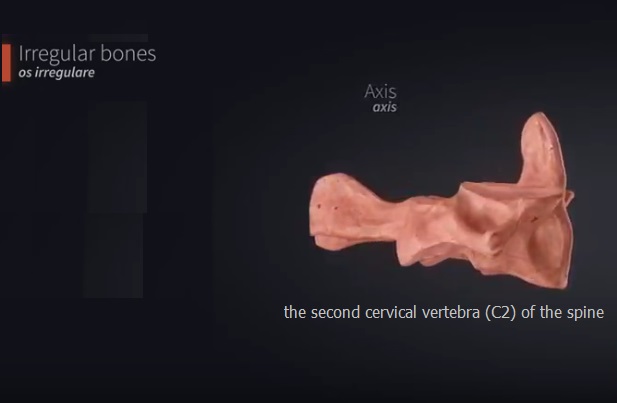 Sesamoid bones
A fifth type of bone is called a sesamoid bone, and is located entirely in a tendon. The two knee caps (known as patella) are examples of this type of bone. They serve to improve leverage and protect the joint from damage. The presence, location and quantity of sesamoid bones varies considerably from person to person. Only the patella is present in all normal human skeletons.
Related topics
Final note: Types of bones
The human skeleton consists of 206 bones differing in size, shape, weight, and in some cases, composition. This diversity is related to the structural and mechanical functions of the skeleton, which include supporting the body, protecting the body cavities, acting as levers for muscle activity, and providing a site for blood cell development.